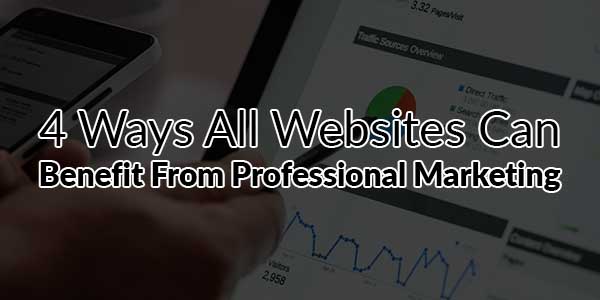 Web-based businesses have made commerce and the exchange of information more convenient for both buyers, sellers, and researchers. With that usefulness comes a rise in popularity that makes for a competitive market. Getting your website out there for clients to see might seem like a tough battle at first. If your small business or blog needs a push in the right direction to hit the spotlight, effective marketing campaigns can help.
1.) Adaptable Solutions:
Your blog or small business may have so many things that need your attention that keeping up with changes to your client base becomes difficult. Your core demographic could change over time. The types of things your clients want from your business could also morph. If you want to stay on top of the needs of your customer base, it is important to keep tabs on any of these changes. Professional marketing assistance can recommend changes you might need to make to engage with a new client type.
2.) Marketing Agency Expertise:
You don't have to know a lot about marketing to get a great strategy that works for you and you. A professional marketing agency in your area can work with you to find the best solutions for your needs. Most agencies will take a look at your company and its goals. They also study the habits of consumers to devise the appropriate strategy for getting your business out there and making it interesting to potential clients. In many cases, they can design custom solutions that work for your industry.
3.) Social Media Engagement:
Social media is an umbrella term that encompasses several ways people interact with each other and groups or businesses online. Although it can be confusing to navigate these waters, a professional marketing team can do it for you. They'll be able to take the pulse of the usual customers in your industry and decide how best to get the word out to them. They'll also know how to make your products or services sound appealing in order to draw traffic to your business.
4.) Building Trust:
If your business is new, potential customers may be less likely to engage with your site. People like to find what they are looking for, but they also appreciate a sense of the familiar. Every business or blog has to start somewhere, and a solid marketing campaign can put strategies in place to build trust. A blogger may be able to foster trust by meeting and collaborating with other known entities in the industry. A marketing team may recommend using email blasts or online review discussions to increase customer satisfaction for small business owners.
In addition to selling goods or services, business or blog is also about selling yourself. Some parts of that may come naturally to you, but others can be harder to pin down. A good marketing team can help you find the selling points that work well for you.