The Amazon Kindle Fire HDX has been recently launched in the United States with quite big gathering of Tech personals. Although currently it is not yet known when this new tablet coming to Europe and around the world, because Amazon offering some additional services for U.S. customers that are not available in other places around the world This makes the Kindle Fire in the States is set quite attractive in USA .In this we have done review of this featured and innovative tablet introduced by Amazon.

Design And Specification:
Technically, absolutely convince the 7-inch Amazon Kindle Fire HDX. The display with a resolution of 1920 x 1200 pixels is a feast for the eye. It provides the contents that are extremely sharp and brilliant. It has beveled edges with black color. It's quite light in weight actually. In combination with the new Android 4.2.2 Jelly Bean version, and Fire OS 3.0 and 800 Snapdragon processor running on the tablet is absolutely liquid. It has all sort of button for physical control like power button, volume control buttons.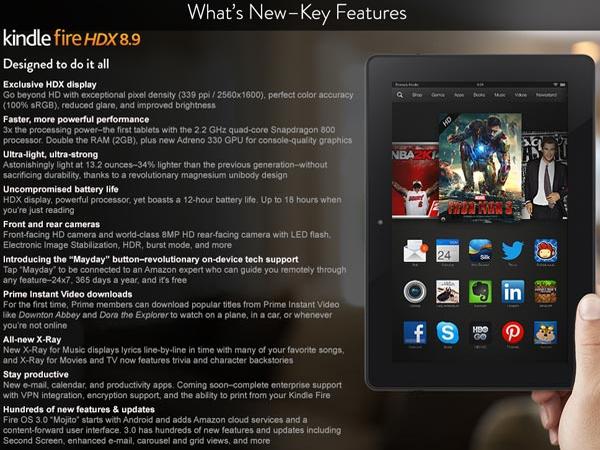 Even with intensive use one reaches a term of up to 2 days. If you use it as normal now and again, then will give you also 4 to 5 days backup. It comes with choice of 16 GB,32 GB, 64 of Storage with built in ,Wifi, LTE service which are compatible USA leading companies like AT&T and Verizon etc . Like other major brands it has no memory slot for memory expansion.
Operating System And User Interface:
The software house Amazon has properly caught up and it has now installed a multi-tasking bar in user interface. This makes it possible for users to quickly switch between different apps. Furthermore, one has the integrated system-optimized apps for mail, etc., but still cannot compete with Google apps like Gmail. It is precisely what is missing on the Kindle Fire HDX. There is still no access to the Google Play Store on HDX, user is bound by the choice of content in the Amazon App Store.
There are many apps and games are available on amazon, but these are often not up to date. The link to Amazon Services is perfect, after all it deserve with Amazon tablet for no money, but only with the content that will be implemented over it. In the U.S., it brings lot more free content, which do not exist as in other outside countries.
MAYDAY Feature:
This tab has comes with amazing feature termed as Mayday function which bring amazon support guy online in 15 seconds when things are jammed at user end. A small window will open up in middle of the screen in which user can say technical staff ready to help, Amazon has introduced this feature to help users to understand the Amazon Kindle closely and to help resolve user issues if required. If we look in other tabs available in market, no doubt Amazon kindle with come up as most innovative and advanced tab in the market.
Video Review By "Mashable":
Conclusion:
Amazon Kindle Fire HDX is great tablet for those who want some different and unique. It has some quite interesting and innovative feature like "MayDay" feature, offering 24/7 support services for tablet clients. Its specification are quite advanced with quite heavy processor and quite screens resolution of 1920 x 1200 pixels and it comes with latest android OS having featured apps. Initially Amazon Kindle Fire HDX is offering its featured services for USA customer, we hope in near future it will be available for other countries.
About the Author:
This article is contributed by Rose Waring. She is featured Android Application Developer, blogger and Professional blogger for leading company in California. She has contributed lot of articles and blogs/review on leading and innovative gadgets introduced around the world.