Not long ago, companies and corporations across the world were working as normal, turning a profit and enjoying their usual work week. Then the coronavirus came and uprooted everyone from those nice offices, instead forcing them to remain locked down in their own homes whether they like it or not.
In an attempt to adapt, some organizations have taken steps such as moving to a cloud-based work environment but one aspect that is unfortunately routinely neglected, are the employees themselves. If you or your organization is having trouble adapting to the new way of working, here are a few tips to help make sure your employees are properly equipped to work from home during the pandemic.
Check That They Have What They Need:
This may sound obvious but as we mentioned above, employees are often neglected by upper management who may think that they can look after themselves and already have everything they need at their disposal. Assuming that everyone has everything necessary to do their jobs will inevitably lead to delays and a huge drop in productivity. Many employees, especially younger ones potentially fresh out of school and university, will likely not have a home office and may not have things like a laptop to work on.
Be sure to contact all the members of your team to check that they can keep working to make the transition to remote work as smooth as possible. Whether your employees need a work laptop, special software, or even a better internet connection, try to accommodate their needs because not everyone is fortunate enough to have all these things already. We mentioned cloud-based solutions before and if your company has not yet implemented something similar then it is definitely worth considering.
Re-Imagine The Way You Communicate:
Communication is a critical factor in keeping things moving as smoothly as possible and just because you will not be in as close proximity to your employees, does not mean that your communication has to suffer. Video conferencing technology has been around for years and applications like Zoom, Skype, and Microsoft Teams are great options for both one to one communication as well as virtual meetings with multiple participants. There are also plenty of features available with these applications that help to keep you professional and productive.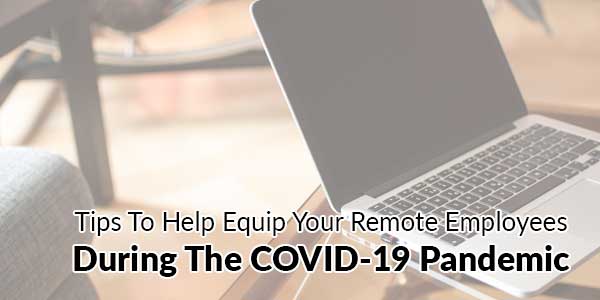 If you have a messy house, sensitive data on show, or even if you just have distractions behind you, professional zoom backgrounds can be used to maintain your appearance without compromising your privacy. Additionally, features like screen sharing can be used as a great way to effectively share information by sharing your screen or even just a single application with anyone you choose. Virtual whiteboards are another feature that can be used to share information, brainstorm ideas, and discuss topics just as if you were in a physical room with the rest of the attendees of the meeting.
While virtual meetings can seem daunting at first, there are plenty of resources available online to ensure that both you and your employees are ready to attend one without technical issues or distractions. Remember you can also communicate using direct messages like texts, Facebook chat, and many others to stay in touch without having to gather everyone at the same time.
Keep An Open Mind:
Finally, it is crucial that you keep an open mind and adapt to the current situation. Making the switch to working from home can be jarring and include a steep learning curve for both you and your employees. Remember to communicate with your team and take their feedback to heart to see if you can improve the situation in any way.
Since there are obviously no guidelines for how to remain working effectively during a pandemic, it is important that you remain flexible and take on challenges as a team to get through them together. This sort of open communication and teamwork will not only help your company survive, but it will ensure that you come out stronger on the other side, as opposed to other companies that will not take this approach and will likely struggle to make it through with their head above the water.