With the Coronavirus outbreak, businesses are facing disruptions on every level and it has become imperative for businesses to ensure employee safety while maintaining a high level of customer service quality. Not stopping at that, Ameyo has come up with its unique work from home model to not only ensure business continuity but also allow exceptional call quality monitoring.
With Ameyo, you can set up a remote contact center in as early as 1 hour. Here's what you need to know:
Become Work from Home Ready: With the ardent technology, Ameyo is successfully providing Cloud Contact Center solution to allow remote call center agents to work efficiently. Let's look at it this way, your customers are looking for quick customer support because of the delayed delivery of essential goods, your agents can turn up without any laptop and install mobile agent app to respond faster than ever.
Assure Quality Customer Service: Ameyo's cloud contact center for home-based agents will allow the supervisors to monitor each agent's performance with the enhanced call quality monitoring solution. While your agents are busy dealing with the customers, you can keep track of and manage each agent's activity. This allows you to work more efficiently and effectively without losing the monitoring capabilities of an enterprise contact center.
Remove Laptop/Desktop Dependence: Are you struggling with managing your remote call center operations? With Ameyo's unique solution, your agents can handle all calling operations with mobile devices irrespective of internet availability. Agents do not need a laptop or desktop to resolve customer issues anymore, with Ameyo's Agent Mobile App, it becomes easier for them to be present for all customer problems.
Train Agents Online: Now that none of your agents have a face to face interaction, how would you train and onboard them? With an online knowledge hub of training modules created for your agents, you can train and monitor all your agents. With complete call log activities, you can set exemplary performance and help agents learn and interact with each other.
Benefits Of Remote Call Center Agents:
With a cloud contact center solution, you can go remote in an hour, get full contact center monitoring and get all contact center features without worrying about the infrastructure readiness.
Reduced Operational Costs: With most of the businesses going remote, contact centers can save big from the infrastructure cost involved in an on-premise contact center. You do not have to worry about managing your hardware, you can just have a laptop and internet connection and you are all set to go remote in less than an hour.
Work Across Geographies: Working across the globe won't be a problem anymore. You can stay connected online while sitting at your home and keep a track of all the activities of your agents sitting on the other side of the world. It will become easy for you to hire the best talents around the world and deliver a great experience to your customers.
When you can order food online, you can also handle call center operations online.
Break the Internet Barrier: If internet connectivity is stopping you from solving customer queries, then we've got you covered with Ameyo's unique solution. This will allow you to handle calling operations via mobile phone and you can fasten the query resolution process.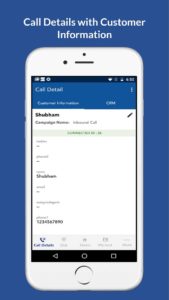 So, are you struggling to take your on-premise contact center remote? Ameyo's Work from Home ready solution can help you take all your call center operations remote in as early as 1 hour. Get ready to onboard with us now!