The demand for the trucking business is constantly growing. Adding this to the shortage of drivers and massive revenue generation of the trucking companies, it is a good time to start your own trucking business. The trucking business alone generates over $700 billion in revenue every year and contributes to over 5 percent of the Gross Domestic Product (GDP) of the United States of America.
If done right, the trucking business can be incredibly profitable for you, given the rising demand. So, how do you go about starting one? Well, you first have to establish a foundation on which you would build your company, and for that, you can use the simple tips mentioned below:
What kind of goods will your company transport?
Have you done your research?
Do you have a business plan?
What is your business structure?
Do you have the funds required to get started?
Did you get your licenses and insurance?
Have you sourced the necessary tools and equipment?
What Kind Of Goods Will Your Company Transport?
The first thing you should think about is what you want to transport. Different places have different demands and regulations for different goods. Explore your options and decide on what is best for you.
Here is are some things you should consider:
What goods are in demand in your operational area?
Is it profitable to haul those goods if you are just getting started?
What kind of trucks should you use to haul those goods for maximum revenue generation?
How will your competitors affect you?
What will be your profit margin?
Have You Done Your Research?
Before you get all pumped up about the business, do thorough market research so that you have realistic expectations. Read case studies about other trucking businesses, not just the successful ones but also the unsuccessful ones. Stories of failure tend to teach a lot more than the stories of success.
Jot down the numbers that you are expecting from your company. Compare that with the trends of the market. Make an analysis of the good and the bad, and don't forget to factor in any worst-case scenario.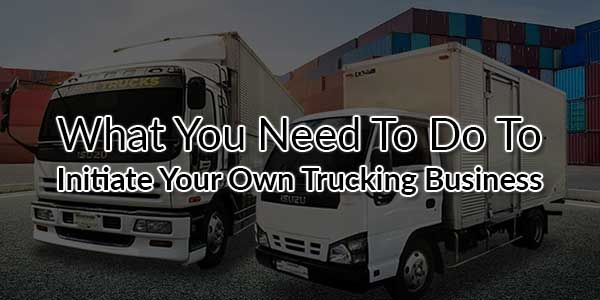 Do You Have A Business Plan?
Starting your business without a proper business plan is like setting sail to fairyland in a small boat across a vast ocean. Business plans act as a road map for your company to help you run your business as smoothly as possible.
That is not it! Business plans are a great way to attract investors because that how you can show them that you know what you are doing. Just talking about your vision and expectations without anything backing them up will not make the investors put their money on you.
There different formats for business plans like the "traditional business plan" and the "lean start-up plan". Learn about them and choose what suits you best.
What Is Your Business Structure?
You should also decide the kind of business structure your company will have. Is it going to be a one-person operation, or will you employ many people?
Some structures are:
Solopreneur or sole proprietorship.
Partnering with another company or service.
A Limited Liability Corporation (LLC).
A complete corporation.
Once you have successfully decided on the best suiting structure for you, then you can go forward with the next steps.
Do You Have The Funds To Get Started?
Starting a trucking business is not something you can do with few pennies in your pocket and an internet café. You need a substantial amount of money. You have to invest in buying trucks, registrations, marketing your company, a storage space, the tools and equipment for your carriers, hire a truck driver, and so much more.
According to Apex Capital Corp, the cost of starting a trucking company can easily be as high as $15,000 without including your equipment.
Spending such a high amount from your own pockets is a big risk unless your pockets are deep enough. So, do your research well and make a decision.
Another way to get the funds you need is through pitching your business to investors, but this would mean you would have to sacrifice a part of your ownership. If you are good with that, then a good business plan and a great speech can fetch you a lot of investment.
Did You Get Your Licenses And Insurance?
You will need licenses and insurance to stay compliant with the rules and regulations of whichever state you are operating your carrier in.
A Commercial Driver's License (CDL) will probably the first thing you will apply for.
You will need:
Trucking authority
Process agent
Truck insurance
You should be compliant with:
USDOT number
Operating authority
Heavy vehicle use tax
International Registration Plan (IRP)
International Fuel Tax Agreement (IFTA)
BOC-3 filing
Have You Sourced The Necessary Tools And Equipment?
Trucking is a demanding business activity. You cannot take care of all the things by yourself, but you also cannot employ a whole bunch of people for every task because you will not have the money to pay all of their wages, especially if you are just starting out. So, the best solution for this is to use tools and equipment that are made for commercial carriers.
The equipment you will need will vary from one vehicle to another. But, generally, all the necessary equipment will cost you a few thousands of dollars again. So, this is another factor that you have to take into account while choosing a vehicle for your business.
One way to cut down your costs is to rent or lease the necessary equipment in the initial stages of your business, if possible.
Things like asset management tools and fleet management software will save you thousands of dollars in the long run.
Conclusion
All in all, the trucking industry has a lot of scopes, and this beginner's guide should help you get started with your process of initiating your own trucking business. It is important to keep in mind that every business comes with its own set of challenges. It is your duty as a business owner to do your best to be prepared to meet the needs of your customers.
Tools like equipment tracking system and fleet software are game-changers and will help you save a lot in operational costs.