With constant advancements in software technologies, the expectations of users for better experience are increasing constantly. The fierce competition among businesses is motivating them to adopt every technology as soon as it hits the market floor.
Progressive Web App is one such accomplishment in the software tech world for which everyone is going gaga since its discovery. More and more businesses are redesigning their websites into a PWA to reap its benefits of superior interactivity, faster loading speed, push notification function, zero memory needs and the list is actually never-ending!
Investing in any technology without getting a thorough insight into its pros and cons is not something that suits smart Entrepreneurs. Probably, this is the reason you have landed on this blog where we are talking about why one should consider building a PWA.
So, before explaining the PWA's benefits for your business, let's explore how they have already proved to be advantageous for others. Let us dive into the demonstrated history of PWA advantages in the success story of Forbes.
Forbes launched a better and new mobile web experience for its users in March 2017. This launch was a response to the steady changes in the marketplace. It was described as a product launch to respond to the way readers are consuming their content.
Soon after the release, PWA stats released an eye-catching outcome of Forbes PWA launch. here are a few for your knowledge:
Average user session length doubled
Session completion rate increased by 6 times
20% more impressions
Loading time decreased to 0.8 seconds from 3 to 12 seconds
What's your take on this? This is not the only company that has reaped the never-ending benefits from PWAs. The number of success stories of PWAs is uncountable.  Your business can also become a part of these glittery success stories of PWAs.
Before making any decision, like a smart entrepreneur, explore this technology a little more. Maybe the benefits it is providing are not what you are seeking. Possible? Let's explore what PWAs can offer to our businesses.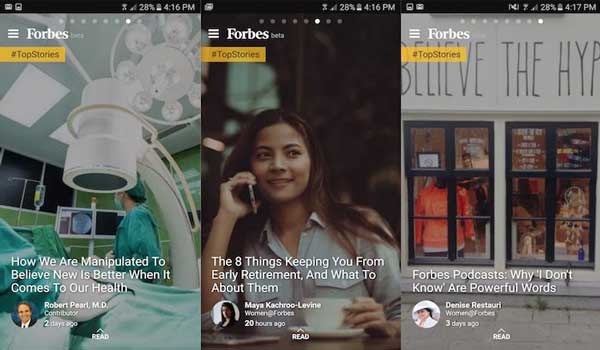 7 Reasons To Launch Your Own Progressive Web App (PWA):
1.) Websites That Behave Like Mobile App:
Navigation of progressive web apps is similar to native apps but it is free from the drawbacks of the mobile apps. It utilizes modern web technologies, browsers, and APIs to provide advanced website experience which is close to mobile apps. The link to PWA will act like an app without demanding installation.
2.) Works Well With Low BandWidth Connection:
PWAs use Service Worker as the script to perform pre-caching work. This script handles server requests and performs periodic background syncs. This stores the content for offline access which provides a seamless offline experience also. This increases their loading speed and enables PWAs to work in times of poor connectivity also.
3.) No Strings Attached With App Stores:
PWAs have no link to app stores and this, not only benefits users but also the developers. When you hire web developer for PWA development instead of mobile app development, he/she will be freed from the red tapes involved with app store publishing. They are hosted on web servers that save time and resources in deployment and updates. Moreover, this also makes progressive web app development cost-effective.
4.) Engage Users – Thanks To Push Notifications:
What do you do when a user does not return to your website? Probably, nothing because you cannot do anything. Once a user stops engaging with your website, it becomes a history which never repeats itself. For retaining such users and making them re-engage, PWAs are built.
They use push notification functionality that reminds users of your PWA again and again. Whenever a user visits your URL, PWA will seek permission for the notification. If the user clicks the allow button then you can inform them about anything you desire by sending a push notification.
5.) Never Ask For Memory Or Space:
You can install them on your device's homepage but this is not similar to traditional installing of applications. They do not take up any space in your device which means you do not have to give a share to your limited memory.
Unlike mobile apps where the user is not allowed to interact until the complete download and install process is done; users can interact with PWAs from the very beginning. Hence, you will never lose a customer during the steps of installation as the PWAs eliminates these steps.
6.) Becoming A Norm For Web Interaction:
Is responsive a choice in contemporary web and mobile app development? Absolutely, no! Similarly, PWAs are becoming a standard for web interaction. The reason behind this is the ability of PWA to get indexed like websites by search engines.
Mobile-indexing has been made a norm by Google and speed is one of the crucial factors for ranking. This gives them an upper hand in comparison to mobile apps. With high speed and lighter pages, PWAs are visible in search results in greater detail and with more convenience.
7.) Makes Word Of Mouth Easy:
PWAs are shared just like website links. A link can become a weapon for your word of mouth marketing. You can share the link to your PWA with your network and let them launch your app with a click to that link. Their linkable characteristic makes PWA extremely simple to share and promote through emails, SMS, social media, and other ways of online advertising.
Conclusion:
At the start of this blog, it seemed as if PWA is a lucrative option to enhance your business reach and achieve greater customer satisfaction. But during the research, as the facts unfolded, it does not look like an option anymore.
The ranking, cost, and functional benefits make progressive web app development a minimum standard below which nothing seems to work well. The hybrid of websites and mobile apps worked really well not only for users but also for businesses and search engines.
For further clarity, you can consult with a progressive web app development company to discover the practical benefits of PWA which are unique to every business!