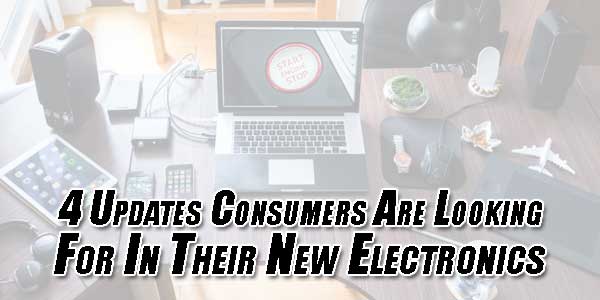 When a consumer purchases new electronics, they want them to be better than what they had before. Many consumers are looking for specific upgrades that their previous device didn't have, and they are willing to pay more money to get what they want. Here are four updates consumers are looking for in their new electronics.
1.) Better Performance:
Technology should always be improving. Consumers want electronics that have better performance than other devices that they've owned in the past. They don't want to deal with a phone that has issues processing. They want to switch between apps with ease, and they don't want to have to wait for websites to load. Fortunately, many of the newer electronics on the market come with an operating system that can handle all of this.
2.) Wider Camera:
Many consumers take quite a few pictures on their phones. Because of this, they want devices that have a wider camera. This will allow them to take better quality pictures. They won't have to try to mess around with different angles in order to get everything they want in their camera lens. It's not uncommon for some consumers to purchase a phone or similar device based solely on how well the camera performs.
3.) Longer Battery Life:
Consumers are very interested in products with developed mobile device life cycle management. They don't want to purchase electronics that don't have long battery life. It's important to them that they don't have to replace their electronics too quickly because the batteries just don't meet their needs or because the tech wears out after just a year or so. They will often buy electronics that are known to have longer battery life. Consumers don't want to have to frequently charge their items or carry around a charger with them because their device has a short life span.
4.) More Security:
It's no surprise in this day and age that security is important. Consumers want to purchase electronics that have updated security features. This may include things like facial recognition, iris scanning, or voice detection. Many developers are taking the security of consumers seriously, and they are creating items that have these enhanced security features that consumers are looking for.
Despite the fact that there are many different items available to purchase, consumers are looking for a few key things in their electronics. All of the things mentioned above tend to be common updates that are important to those purchasing new electronics. These updates allow each device to be more user-friendly and safer for consumers to use.