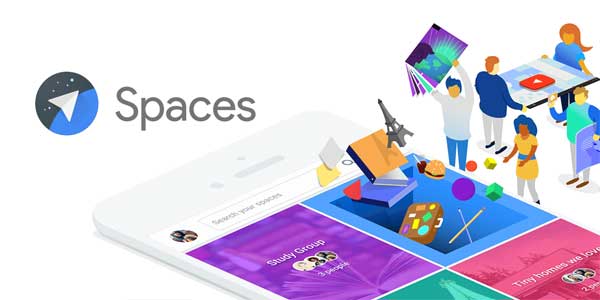 If you are not hiding in a cave, you have already known that Google just weeks before came up with its group sharing new app called Spaces. While discussions and evaluations will continue, the move seems to be a cracking effort from Google to take on the social conversation. Is Google Spaces has been conceived as the future of Google+? Or, it just embodies the long harbored ambition of Google to crack into real-time chat apps? We are still not sure but nevertheless, the entire move seems to have a lot of water underneath. Let us try to get to the bottom of it as far as we can.
The Surface Truth:
Let us begin with the basics. Google Spaces is available at present on both Android and iOS, platform and also on the desktop and mobile Web. How much breakthrough feeling it offers at first countenance? Well, as far as the look and feel go it holds not enough charm. But it is also true that it must be given time to evolve over time and then only a better evaluation be achieved.


Spaces offer a thoroughly straightforward approach for creating a conversation with focus topics. Space refers to the discussion circles around a topic. A user can start a discussion by creating a Space on that topic and by inviting people to join in the ensuing discussion.  The invitation can be sent to friends, colleagues, acquaintances and others by sending a link through email, or through a messaging app, or just sharing it on a different social platform. The main benefit is elsewhere. Unlike other social platforms where copying a link and sharing it requires switching tabs in Spaces, you have built-in social sharing options.
What Spaces Is Capable Of?
Spaces as the new social sharing platform from Google can perform few tasks better than other social platforms. Here below we mention a few of them.
On any topic of your preferred discussion, you can create a new Space. All it requires is just a single mouse click or finger tap.
As soon as you have created the Space for a discussion topic you can invite your friends, colleagues, family, and acquaintances by sending a link through email, sharing through the messaging app or social app.
Several social platforms are inbuilt allowing quick sharing of links without needing to switch tabs. The share box of Google Spaces includes Facebook, Chrome, Google Search, Google Photos and YouTube as built-in sharing options.
As for posting comments on a topic the only eligibility criterion is the membership of the respective Space.
Anyone looking for latest discussion on a topic can search with keywords and view the discussion of his choice.
Why another social sharing tool? What purpose would it serve for the audience? Well, to answer these queries in a positive way we must refer to what product director of Google Spaces, Luke Wroblewski, said just in the wake of the launch of this platform. According to him, this social discussion tool is particularly developed to make sharing of web contents and links easier for the audience. The difficulty of copying links and sharing it in posts is a chronic hassle experienced by many. Google Spaces is an answer to this problem. Once again, Google made a contribution to make our web experience better.