We live in times where the technology is advancing faster than ever. In order to keep your business competitive, you must keep your business updated with the latest technology. Cloud computing has been with us for quite some time, but some companies still do not use their benefits.
With the latest technology advances, you can improve your business productivity by a considerable margin. Cloud computing has three layers, Platform as a Service (PaaS), Infrastructure as a Service (IaaS), and Applications/Software as a Service (SaaS).
Most business owners start using cloud from the application level, which is a great way to begin infusing it into the company infrastructure.
In this article, we will go through some of the ways cloud computing can improve business productivity.
1.) High Data Security:
Even though we live in times where there are many cyber attacks, the cloud is still the best and most secure way to store your company data. There is a significant risk of losing valuable data if you store it locally, where some malfunction or attack can wipe out everything. However, things are more secured if you keep everything on the cloud. The data is easily accessible from everywhere, and you don't have to worry about increasing your hardware store. Most of the cloud systems have back up, so you don't have to worry about losing your data.
2.) Use Cloud Systems For Reducing Costs:
Cloud computing is an excellent way to minimize companies' costs. For starters, you don't have to buy expensive hardware, as you can subscribe to annual plans. Also, you will be spared from the expenses of maintaining your equipment. For some companies which still store all its documents on old fashion paper, you can easily cut down on paper costs, as well as storing all the documents in a warehouse.
3.) Remote Interaction:
The most significant benefit of using cloud computing is its function to be accessed remotely through the Internet. Easily accessible data can save you so much time, and finding the right document through the search bar is easier than ever. You don't need to download data when you are traveling outside the office just because you can access all your files with few clicks. Most of the cloud services even offer mobile apps for even easier access.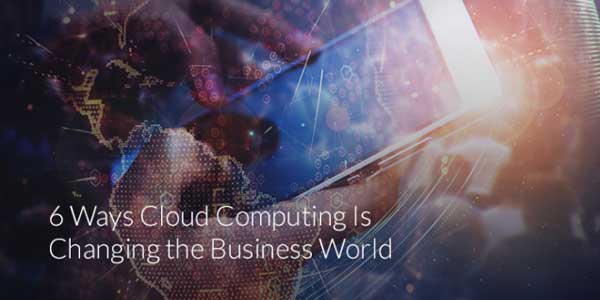 4.) Access To The Best Technologies
Using cloud computing is one of the best ways that small companies can leverage the power of modern technology, which was only restricted to larger companies. Now, even small companies can improve their work efficiency, cut down costs, and stay competitive on the market.
5.) Advanced Control On Files:
Before cloud computing, employees had to work on the same project from different computers. This means that the margin for error is significant, and there were a lot of human mistakes that can reduce the accuracy of the documents. Nowadays, when we are using cloud computing, the process is much more comfortable. Multiple users have access to the same document which means the control over the documents is much higher.
6.) Easy Data Recovery:
As we mentioned earlier, cloud computing is capable of improving data recovery in case of emergencies. Until now, small businesses that stored all their data on local servers usually cannot afford expensive recovery systems, but with the use of cloud computing, you can safeguard your data by providing effective backup. This is a huge benefit for companies, as they don't have to worry about the security of their data.
These are some of the ways cloud computing can improve your business productivity and efficiency. Nowadays, it is hard to make some things possible without cloud computing, and we even see its use in sports events like the matches between NBA expert picks. It is important that you use all the modern technology benefits, just to stay ahead of your competition and improve your company's workflow.