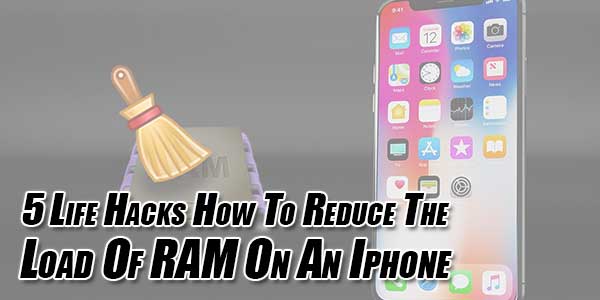 Since it first appeared on the market, over a decade ago, the iPhone became one of the most popular mobile devices. Apple invested its budgets in coming with technological updates to make the iPhone an easy-to-use and indispensable phone. Their efforts brought remarkable results. Even though they faced security challenges in the past, the iPhone continues to rule the tops. One of the most significant advantages that iOS users have is the unmatchable flow of updates and longevity. However, even an unbeatable device like iPhone can become slow sometimes. This happens because users tend to download too many apps that trigger increasing memory usage. So, if you want to keep your iPhone working for a more extended period, you should continue reading this article. It will show you how to reduce the RAM load on your iPhone in some simple steps.
5 Life Hacks How to Reduce the Load of RAM on an iPhone.
1.) Clear The RAM To Make Your IPhone Work Faster:
One of the most common problems that make an iPhone work slow is because it runs out of memory. How can this happen? In most cases, you are using too many applications at the same time. Still, no iPhone has unlimited memory. So, if you want to make your iPhone work faster, you have to clear the RAM. In general, if you use your iPhone for an extended period, its memory will inevitably start loading with various processes. An efficient method to clear the RAM is by rebooting your phone. If you know how to restart your PC when an application is not working, then you should use the same principle in this case as well.
In case you don't want to reboot your phone because you are afraid that you might lose your savings, you can try another method. You should how the power button for a few seconds until the message "slide to power off" appears on the phone's screen. The next step would be to hold down the home button until the pictogram appears on the screen. Thus, you will instantly clear the RAM without having to restart your phone. This method works great for those iPhone models that still have the home button available.
2.) Offload Apps:
Since iOS 11 was launched, users received an exciting feature. Thanks to this update, you can manage your storage space. Therefore, instead of loading the phone's memory with apps and documents, you can quickly free it up. If in the future, you want to reinstall the app, you will instantly be able to reinstate your data. The process is straightforward. You have to go to Settings, then choose the General field and choose iPhone Storage. Here, you will see which are the apps that you can offload. In general, the system will recommend you offloading those apps that you don't generally use.
If you choose to enable this option, all the unused apps will be automatically offloaded. In case you still want to keep some apps that you consider useful, you can scroll on the screen and choose specific apps that you want to offload. Thus, you will clear your iPhone's RAM, and you will be able to reinstate your data whenever you want.
3.) Delete Unused Applications:
We live in a world where technology is the king. So, we are constantly bombarded with commercials and messages presenting various apps that can make our lives better. While some can simplify processes and help us become more efficient, many apps don't have the same effect. If you are one of those users who like to download apps, test them, but forgets to uninstall them if they are not useful, then you should read this paragraph. Deleting unused apps is very simple. All you have to do is tap on the app's icon and wait for a few seconds until an X appears on the left side of the symbol. Tap on the sign, and you will receive a pop-up message asking you if you want to delete the app.
Sometimes, this solution might not work. In case your iPhone is still working slow, you should dig a bit more. For example, you can download a third-party app to help you identify the unused apps which are using too much RAM. If you don't know which app can help you with this, you can check Subjecto for reviews and articles on related topics.
4.) Delete Cookies And Data In Safari:
There are many cases when your iPhone is working slow, but not because of the apps you have installed. A common cause is coming from Safari's cookies and data. So, if you want to reduce the load of RAM, a straightforward way is to check what happens with your web browsing. One solution would be to delete the cookies and data. There are just a few steps that you need to follow. You should go to Settings and then tap on the icon with the name Safari on it. Once you open the image, you should scroll down until you find the option Clean History and Website Data. You can tap on it, and the cleaning process will start.
Even though this is a very efficient solution to unload your RAM, it also has some side effects. If you choose this strategy, you will no longer receive URLs recommendations when you access your web browsing. So, it's your decision if you are okay with this option.
5.) Turn Off Location Services:
Another cause that might make your iPhone work slow is the activation of location services. The first step you should do is take a look at the apps that need location services and are running it in the background. You will find all the details if you go to Privacy, which you find in Settings, and then tap on Location Services. There you will find a button that allows you to turn off location services for your iPhone. However, this is not the best solution, as you might need it for some essential tools. If you keep scrolling on your screen, you will discover a list with all the apps that are using location services. So, you can take a look at them and decide for which you should shut down the location services as they are useless. Thanks to this simple exercise, you will be able to speed up your iPhone.
Conclusion:
When your iPhone is working slow, it is not always necessary to buy a new phone. While it is great to keep pace with technological progress, you cannot always buy all the gadgets you want. So, it is essential to know some simple tricks to reduce the RAM load on your iPhone. Anyone can follow the five life hacks presented above. Also, you don't need any special skills to perform these tricks. With a few simple steps, you will be able to make your iPhone work faster and enjoy its functionalities.