Email marketing is one of the classic ways of promoting your brand's products or services online. Most marketers of today may cringe upon hearing this traditional marketing method, but it is, in fact, one of the most profitable and most effective ways to increase your conversion rate.
In this article, we are going to check out some proven tips and tricks for a guaranteed e-commerce email marketing campaign. You might even get some interesting ideas when planning your next campaign or when improving your current one.
Focus On Crafting Relevant And Attractive Subject Lines:
In sending emails to your target customers, you are required to make a subject line along with the body of your email. Many marketers focus on the creativity and the content of the body that they, most often than not, write lame and boring subject lines.
Just in case you have not get the gist of it, here are a few reasons why subject line is important in email marketing.
There are five times as many people who read the subject line as compared to the headline. So, if your subject line does not appeal to their interest, then consider that email a waste.
It is the window to your campaign, so avoid too much use of "salesy language." Give more relevant information about the services instead. People like to know the benefits that they can reap other than simply buying your product.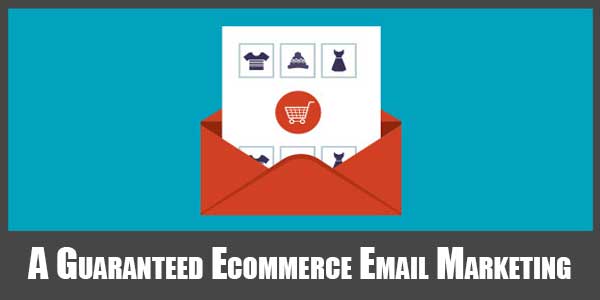 Test Your Subject Lines Before Using Them To Your Target Customers:
If you are not quite sure what type of subject lines will work, it is best to launch a test first. This way, you can gather effective strategies and employ efficient practices when implementing your marketing campaign via email.
Remember the "4 seconds rule." It means you only have 4 seconds to convince potential customers to open your email. So, study your subject lines carefully, and test if the line is attractive enough to convince you within 4 seconds of reading it.
Monitor The Frequency Of The Email Sent:
There are already a lot of people who doubt the authenticity of the promotional emails that are sent to them. You don't want them to categorize your email as one. The best thing to do is to monitor how often you need to send the email.
Most experts suggest that the use of event-triggered emails is the best strategy. It is a forward-thinking technique that sends marketing emails to your customers after their site's activity is analyzed. For instance, if the clients searched about the new arrivals of your store, you can then send an email marketing that features the new products you have.
Don't Start Selling At First Email:
Do not make the mistake of selling your services at the first email you sent. Instead, send relevant and educational content like tutorials, private community invites, and updates on your services. Providing them essential information is like building your site's credibility through earning their trust. Once they know your store is reliable and relevant to them, it is quite easy to get them to sign up to your promotions.
Email marketing is indeed a challenge in the marketing industry, but if you just know how to do it right, then you can almost ensure a boost in your sales. Do you think this type of marketing works for you? Let us know and share your thoughts below!