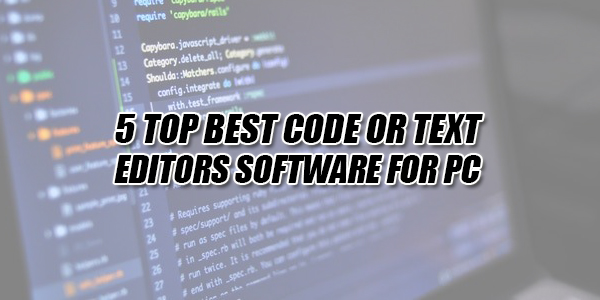 Have you ever used a specific programming language to create a file from scratch, like HTML or CSS file? Are you familiar with building files with extensions such as txt, reg, bat, js etc? Are you managed to view a text version of a file that you didn't know the format?. If the answer is yes, then you are familiar with a text editor and what it is. If you haven't done any of this then you might not have used a text editor for at least to remove text formatting such as italic, hyperlinks etc. For them, text editors are mainly used to perform the above functions. So you know what text editor is, but you probably don't know the best options out there.
Why Use A Text Editor?
A text editor lets you open a file as a text document, something that can be useful for a number of reasons:
Create a file from scratch using a specific programming language, like an HTML or CSS file for use on a website
Edit or build files that end with the TXT, REG, XML, CSV, ASP, BAT, AU3, PHP, AHK, SVG, or JS file extension, among many others
View the text version of a file that you don't know the format for
Quickly remove formatting like bold, custom font types, URL hyperlinks, etc.
1.) Notepad++:
Notepad++ is a free and open source code editor for Windows. It is easy to use for beginners and highly powerful for advanced users. It comes with syntax highlighting for many languages including PHP, JavaScript, HTML, and CSS. It also comes with a built-in FTP plugin that allows you to connect to your server and edit files directly without leaving the editor.
2.) Sublime Text:
Sublime Text is a cross-platform code editor for Mac, Windows, and Linux. It comes with all the features you would expect from a powerful code editor and then some more. It looks beautiful and you can tweak the appearance to make it more comfortable for you. Sublime Text comes with advanced code editor features which allow you to autofill, autocomplete, reference function in a file, multiple selection, split editing, and many more.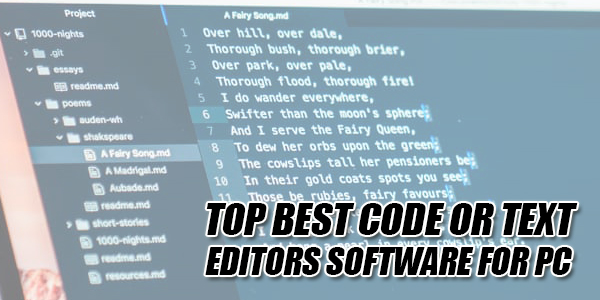 3.) Atom:
Atom is a cross-platform code editor created by developers for developers. It is open source, and much like WordPress, Atom users can submit packages and themes for the software. It looks pretty and you can change the appearance by installing themes. It comes with built-in package manager to extend it, smart autocompletion, file system browser, multiple panes, find and replace.
4.) Visual Studio Code:
Visual Studio Code is a free text editor that's used primarily as a source code editor. The program is extremely minimal and even has a "Zen Mode" option one click away that immediately hides all the menus and windows, and maximizes the program to fill the whole screen.
The tabbed browsing interface seen with other text editors is supported in Visual Studio Code as well, which makes it really easy to work with multiple documents at once. You can also open entire folders of files at once if you're working on a project, and even save the project for easy retrieval later.
5.) Espresso:
Espresso is a web development tool for Mac. It comes with a powerful code editor and built-in CSSEdit. It comes with beautiful interface and advanced features like drag and drop code snippets, code folding, navigator, live styling and X-ray preview.
Now you know which are the best text editors for your PC. If you are looking for a text editor for Windows, Mac OS or Linux, all options are covered here. All that you need to do now is to select the one that suits you the best. Let us know in the comments which one is your choice.