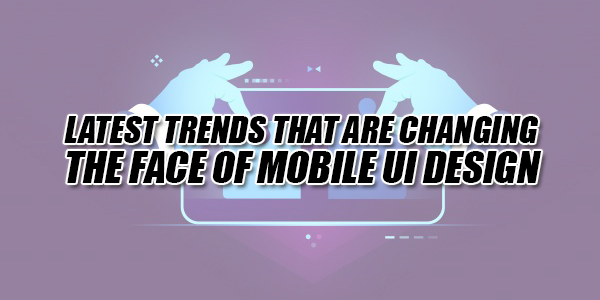 Is there any term called escaping trends? No matter if you decide to live by them or feel totally unaffected, everything designed online requires proper predetermination that comes only by a wider trend influence. The following post covers some of the top UI trends to take into account for 2019 and all the upcoming years!
If we talk about the digital universe, things keep on changing quickly! Thus, those who are willing to stay above the curve require having the foresight and prepare for new challenges around the corner. However, by this, I never mean to say that you require taking new courses every year or spending long hours watching webinars. Going through such reliable posts will also keep you updated with your industry's trends and your users' changing needs.
Now while creating a mobile application, it is very important to know that there is no surety or cookie cutter method that you would also taste the same fruit of success as Amazon, Uber, Airbnb, and such million-dollar ventures. According to relevant statistics, 60% of the mobile apps are never downloaded, and the ones which are downloaded around 21% have been used once. Reason can be any such as sluggish performance, slow loading time, lack of intuitive user interface and what not!
Down below I would like to mention a few trends reshaping the future of UX design.
1.) Self-Explanatory Illustrations:
With the trends changing in and out, engaging end users with content has become a little passé. Although, there are a couple of methods emphasizing of illustrating the app's features and functionalities. And one of the best ways to do is try storytelling technique featuring meaningful images and videos. A picture speaks more than a thousand words. Try this out! It may quite interest you to know that app designers are depicting the real human-like characters for productive interaction with the users. It can convert the regular app into a vibrant one based on the composition.
2.) Opacity:
One of the significant assets that can be offered to boost your user interface is adding the opacity feature. This will inevitably surge app transparency. All you have to do is set up different transparency settings such as the color or the illustrations for achieving a vibrant glass surface for the app interface segments. On the contrary, you can use opacity for designing the app logos as well. However, it all depends on you about how you are setting the opacity elements and getting the best-desired result in the end.
3.) User Journey Simplification:
Whenever we happen to interact with an app or a website, I am sure something is going on in our minds. And the less effort spent in achieving that particular goal, the better experience it turns out to be. Having a linear design experience with a specific beginning, middle, and end can allow a user to complete one action with each step. It also allows us to estimate how much time it's required to complete a task. In case, if your app comprises of a lot of information or actions, do you think you require showing everything-all-at-once? Web designers must learn Progressive Disclosure to make information or action visible only when a user needs it. In fact, the feature has the ability to reduce cognitive load and improve comprehension of the interface.
4.) UI Without Buttons:
Many of you have this common misconception that the user interface of the mobile app is impossible without buttons. Well, it's not so! After entering in 2019, it becomes possible for us to perceive UI designs without buttons. For instance, Instagram didn't need any button to change the stories. This UI tool is exceedingly gaining popularity within the e-commerce apps where the users do not require separate buttons for checking out the order. You can add the item to the cart just by dragging it.
5.) Content-Centered Experience
Even today, content is the king! And we are the kingmakers so make sure it is well curated and easily accessible. If found appealing to its intended users; web designers can keep content front and center. I personally emphasize removing visual clutter and improving comprehension; this makes content more appealing. Designers tend to remove irrelevant (noise) and prioritize relevant information (signal) by putting content first and elaborating clear visual language. In addition to this, have a precise order on how different UI elements can be presented to make content comprehension easier. It may quite interest you to know that strong visual signifiers (such as contrasting colors for call-to-action buttons) are used to direct the user on certain interactive elements or essential information.
Conclusion:
As time passes by, web designing and web development seem to be urging for a revolution. It will offer a new learning curve for the developers and the app designers as they would get familiar with a new tool that would be exciting to work with.