When it comes to marketing your business, there are many ways to get it done. Being unique and creative is how you can get a leg up on your competition. Here are four unique strategies for better marketing your business.
1.) How-To Webinars:
One of the most effective ways to get new people into your business is by offering them something free. In this case, a webinar with valuable information about how to do something. The key is to give your viewers some necessary information that they're looking for. This builds up your credibility with the viewer as an authority in the niche and makes them more likely to purchase items from you.
2.) Web Targeting:
One of the newest ways to uniquely market your business is to target the people in your select area. This holds true for many local businesses who won't gain many new clients from marketing to the global internet community. IP targeting software now allows business owners to target people within a select geographical area with advertisements. This ensures that your business money is well spent on advertising to only people within your local region who can utilize your products or services.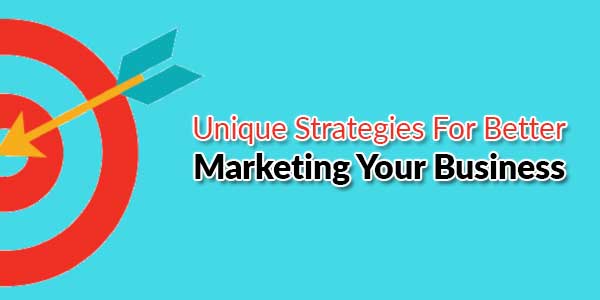 3.) Coupon Deal Sites:
If you sell your products or services online, then you can greatly benefit from marketing your business on coupon deal sites. These sites allow you to easily grab the attention of people looking for your services at a discounted rate. By offering free shipping or a certain percentage off of their first order, you can reign in some new clients for your business.
4.) Staff Incentives:
One of the best ways to get new referrals to your business is to ask for staff incentives. These allow your employees to do your marketing for you. Your employees stand behind your business services and/or products. They know the personal good they do and the value that they provide. Therefore, it makes total sense to have them assist you in the search for new clients.
By offering some sort of financial motivation, your employees will be more likely to talk about their work and get new clients on board. If your business can't afford financial incentives right now, consider other things. Vouchers are a great idea and so are sleep-in days.
Marketing your business starts with bringing creativity to the table. When you're more creative in your marketing, you can grab the attention of new consumers off guard. The above are just four unique marketing strategies to get you on the route of being more creative in your marketing in the future.