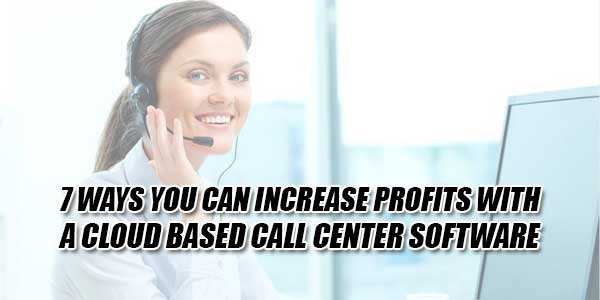 Cloud-based call center software refers to tools that can empower a business to start making and receiving calls completely through a cloud-based infrastructure. This means that businesses do not have to download any software in order to enable their phone operations. Typically, if there are not many complicated workflows, you can launch your cloud-based call center in minutes.
7 Reasons Why You Need To Switch To A Cloud Based Call Center Software To Increase Profits!
1.) Employ Call Center Agents From Cost-Effective Locations:
Business call centers require agents who will answer your calls, listen to your customers, and solve their problems. However, employing a phone team might end up draining your resources and profits. A cost-effective way is to employ a phone team from a place where you get cost-benefits. This ensures that your profitability goes up and the cost is low even while employing a fully-functional phone team. With a cloud-based call center, your phone team can be from your town, state, or a different state, country, continent.
2.) A Centralized Phone Setup For All Your Local Phone Teams:
A huge capital strain on businesses come with setting up physical offices. Now, with a physical phone system, you are forced to replicate your phone environment in every office you currently own as well as ones you will set up in future. This is a lot of phone hardware and precious capital wasted for providing phone access to all your teams. Instead, switch to a cloud-based call center software that enables you to provide phone access to all your teams across the world. You can manage your phone settings from a centralized dashboard and optimize your business call center operations effectively. Needless to say, you are more profitable using a cloud-based call center software.
3.) Zero Hardware Costs:
Phone hardware is a costly component often costing businesses tens of thousands of dollars of your hard-earned revenue. On the downside, it also takes days before all your hardware arrives at your office location and then assembled by a specialist in order to make it work. Phone hardware typically includes your desk phones, cables, a local routing server etc. You also have to ensure that there is no single point of failure which means purchasing a redundant hardware system for emergencies. Your capital just got locked in a needless investment and you cannot aim to profit out of it anytime soon. You could opt for a cloud-based call center software which removes the need for any hardware equipment. You purchase licenses for your agents, get phone numbers and start calling immediately. It is that simple.
4.) Zero Maintenance Costs:
Any physical hardware also means that there is a greater possibility of breakdowns for your phone operations. Hardware requires constant maintenance and employment of maintenance engineers across all your office locations in order to keep your phone line up and running. All this is unnecessary if you are using a cloud-based call center. There will be zero maintenance costs and no specialists are required to maintain your business call center
5.) Limitless Scalability:
Physical phones require you to plan carefully ahead of time in terms of your growth. You cannot possibly accommodate more members than phones available. In time, you will also need to upgrade your routing server, add more phone lines etc. Cloud-based call centers, on the other hand, allow you to scale up or down as per your requirement. You do not have to worry about capacity planning and can easily add more lines whenever required. Hence, your revenue remains undisturbed and only utilized for additional capacity when necessary instead of paying upfront for a future growth.
6.) NoLong Term Contracts:
Long-term contracts suck capital out of businesses. Along with hardware purchases, your precious capital will be suck without giving you any dividend for years. You cannot break away from these contracts without penalties which leads to further loss of capital. Most cloud-based call center software like Freshcaller, do not believe in tying you down with long-term contracts.
Your capital can be used to grow your business and not get stuck in building your phone operations.
7.) Work From Home Options:
An indirect benefit of employing cloud-based call center software is by utilizing the properties of the cloud to transform your workforce into a virtual one. This ensures that you can accommodate more employees in the same office location while providing the freedom for your employees to work from anywhere they like. Virtual workforce ensures numerous cost saving benefits for your business thereby increasing your profits.
The cloud has become a safe and dependable way to store and manage all business-related data and operations. Stop using the call center of the 90's and switch to the latest cloud-based call center software.