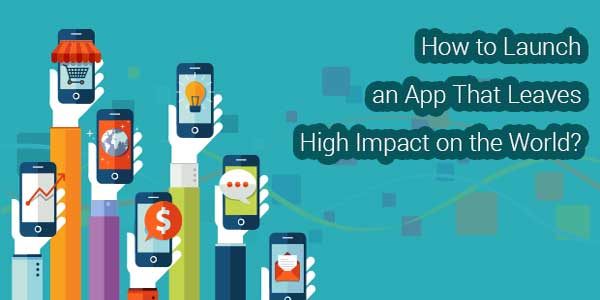 You must have seen apps going viral these days. This is normal these days but have you ever wondered how these applications go viral? Are these apps just destined to get viral or there is some kind of strategic mind behind all this? There is definitely a planned strategy behind all this. So if you too are planning to launch a mobile application that could go viral then here are some tricks that will help you in making such an app.
1.) Know Your Target:
When you have decided to create a mobile application then the first thing that you need to do is define your goal or whatever you have decided to be the successful outcome of your launch. Always have a measurable goal with which you can work in a better way. For example, you could also use the active install rate of your application, retention rate, its uninstall rates and the app store ratings for measuring the approximate outcome of your app launch.
Mostly the applications have high active installation rates during their first month after the launch is done. After this you will see a fall in the installation arte by almost 30 percent. The average rating for such application goes 3 on 5. Make sure that your target should be realistic and that you can use for benchmarking purposes after the launch of your application.
2.) Test Your App Only On Beta Version:
Always use an invite-only beta version for testing your app before you make a launch for testing and refining your products. This will help you a lot in improving the quality and functionality of your application and you would be able to provide your users with best final product. This will help you to take benefits from existing communities for creating an atmosphere of complete exclusivity and buzz, which will ultimately boost up your download rates once your application has been launched.
You can always use this beta-testing period and continue understanding and refining your audience.
3.) Make Use Of Social Media As Much As You Can:
Who does not know the power of social media? It is obvious that you will need to find your potential users for the application that you have designed but how you are going to do that? Publicizing your application is the only way to get as much customers as you want. Social media networks like Facebook, Google+, and other platforms are the best way to market your application. This will also help you to build a strong relationship with your target audience.
You can also use organic paid search engines for targeting the specific interests in your applications' target demographics. You need to optimize your App Store listings as a part of your organic search campaign which means that you are using correct keywords and are ensuring that your application has been listed under the correct categories.
4.) Focus More On Your Marketing Content:
It is your duty towards your readers and your customers to provide them with practical and informative content that will make your users understand what all you are you are providing your users with. You have to tell them what your application does and what type of problems is it going to solve. You can make use of various types of content for each channel like Press release, social media, Web Company and email marketing.
Make sure the content that you are providing should be interesting and informative. You can take some advice from professional copywriters and marketers who will tell you about how to frame the marketing story of your application. Newsworthy contents are more likely to be taken up by the journalists, bloggers and reviewers
5.) Set Up Only One Site Or A Page:
This point is actually very obvious but it would become very critical to have a dedicated website or a page for your mobile application. If you have only one stop page, this page will tell users everything about your application and whatever they want to know about your application. This one stop site should also provide them with other useful items like screenshots, videos, reviews and a download link to sign up and download your application.
6.) Go For Only One App Store:
If you choose only one application store then it will give your users a better analysis of your users' ratings. Also by selling through only one app store will make it easier for your users to get updates within the first week of its release. Once your application has been launched, you can go for other stores as well.
7.) Pitch Up Your App To Your Network And To Journalists:
When you are going to introduce your application, please deliver a strong pitch of your application to journalists and bloggers in the industry so that when they write about your app, they could provide the world with correct information. Also provide your users with Free downloads and make them answer some questions about your application.
Pitching generally happens a week or a month before the launch of your product, so your launching schedule has a very good amount of time for all this.
8.) Work With Partners:
It is okay if you work alone but it would be very good if you have partners to work with. Your partner will work in a complementary industry. For example they might be working at a media station that will give your application with more coverage or they might be working in a similar industry so that you could be able to share your application to their database.
9.) Review And Monitor Your Application's Progress:
Once you have launched your application, you have to review and monitor the outcomes of your application. Your tracking efforts will tell you about various things. For example it will give you the information about the features that your users are valuing the most, about the active downloading, including the uninstalling rate, app performance standards.
This data will tell you when and how you can fix bugs and errors (if any) and also it will inform you to continue striving for improving and refining your mobile application. At this stage, you need to ask your users for posting reviews and share their user experiences. At the end this will generate more positive results about your application and will boost up the impact of your launching campaign.
10.) Keep On Engaging Your Users:
Apps are always in progress and there are a number of apps entering the app store and are getting popular. You should always have a plan in your mind for retaining your users and improving up on their usage experiences. While most of this centre on the data and feedback that you will receive after the launch and other types of campaigns that can be used for maintaining your users engagement.
Make use of variety of channels to keep in touch with your users. Newsletters, email, push and in-app messages, SMS updates, blog spots and user queries is a list of amazing ways that will help you to keep in touch with your users always.
If you keep in mind these 10 important points you will be able to design a mobile application that will go viral definitely among your users. It's just the plan that you have to make and then focus on your targets for designing an application that will cause a high tech impact on your users. You should be aware of what the common people are looking for and how you are going to provide them with an ultimate solution. If you can provide them with their solution, nobody in this world can stop your application from being a success story. Go for it.