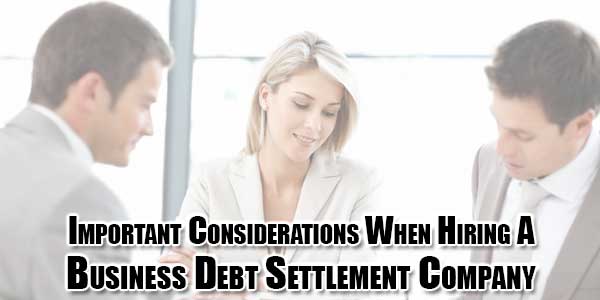 If your business is struggling with debt, choosing the right debt settlement company to help you with the problem is one of the most important decisions you will ever make as a business owner. The sheer number of debt settlement companies in the market makes choosing the right one seem tricky.
However, by quickly investigating the following aspects about the companies that you are considering, you will be well on your way to hiring the best debt settlement company.
1.) Up-Front Fees:
You need to find out if there are any fees that the debt settlement company charges before they embark on your debt settlement. Well-established firms do not usually charge fees prior to providing the service.
2.) Client Portfolio:
Find out how many clients the debt settlement company has and how many businesses the company has successfully helped in resolving their debt problems. Successful debt settlement firms will typically have testimonials from previous clients to demonstrate that they are effective in providing debt relief services.
Apart from the testimonials on the companies' websites, you can also look for unbiased and independent reviews from other previous customers to get an idea of the quality of service offered by the company.
3.) The Amount Of Money The Firm Claims It Will Help You Save:
Many debt settlement firms claim that they can help you save anything from 40% to 60% of your total debt. It is important that you choose a trustworthy debt settlement firm that will give you a realistic figure. The fact is that the amount of debt settlement you can achieve is largely dependent on your creditors and how severely your cash flow has been affected.
Good company debt help professionals will diagnose the current financial position of your business and come up with a realistic picture of what debt relief strategy you need and an estimate of how long it is going to take before you are back on track.
4.) Accreditation By Relevant Authorities And Membership In Recognized Professional Bodies:
It is important to confirm that the debt settlement companies have the necessary license to carry out debt settlement. Find out whether the business debt settlement firm has membership in recognized professional bodies or associations, such as the Trade Association of Settlement Companies (TASC).
Associations such as these set standards in the debt settlement industry, standards that your prospective debt settlement company should strictly adhere to. Membership and accreditation to relevant associations and bodies is also a demonstration that the company is committed to providing high-quality services to its customers.
5.) Qualifications Of The Staff:
When hiring the services of a professional business debt settlement company, it is well within your right inquire about the qualifications of the members of the team that is going to be handling your business account. Give preference to companies that provide their employees with continual training on industry practices and standards.
This way, you can be certain that you will get only the best debt settlement services that are tailored to your debt settlement needs instead of getting a generic solution.