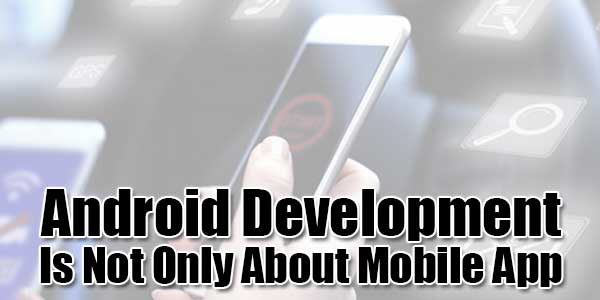 Android, you'll agree, is a powerhouse when it comes to smartphone operating system. Statistics by Statista show that Android-based smartphones take up some 85 percent of the smartphone market. But do you know that, besides smartphones, Android also powers numerous other devices across the world? It won't be surprising that the classic fridge you are using at home might be Android coded.
Thanks to its versatility, Android OS has become a go-to operating system for developers and manufacturers who are seeking to enhance users' experience. So, what has made this operating system a favourite for developers and users alike? What other devices utilize Android operating system? How Android operating system is eating the world?
Use of Android Operating System beyond the Smartphone:
Beyond using Android to power smartphones and tablets, companies have increasing leveraged on Android interfaces to develop embedded systems for their leading consumer electronic devices. Here are a few standout systems and devices that run on Android system.
Android TV:
Android TV allows the user to stream programs and videos directly to your TV from sites such as YouTube, Hulu, and Netflix. Since a TV box runs on ARM-based processors, it's easy to install and run Android operating system on the box. A TV box doesn't convert an ordinary TV into a smart TV, but it also enhances its output since the box has inbuilt HDMI viewing capability.
More than 8 million Android TVs have been activated till date. More than 3k apps and 1 million new Android TV activations happen every 2 months.
Android-Powered Cameras:
With Android-based smartphones featuring high-quality cameras, manufacturers have started infusing Android operating system in mainstream cameras to derive the versatility and power of the Android platform.
Leading cameras that are based on Android include Nikon's Coolpix S800c, Samsung's Galaxy camera series, and the L camera.
Android Auto:
Android Auto is designed to augment your driving experience by essentially letting you mirror your Android device to your car's (touchscreen) dashboard. Android-based smart applications make driving an enjoyable ride. The smart application enables you to get weather and traffic info, stream music, read your emails and navigational maps to help you reach your destination. Nearly 40 million cars will be using Android Auto by 2020.
Android-Powered Smartwatch:
This is perhaps the one area that Android has proved the dominant force. Leading manufacturers including Samsung, Huawei, Polar, and Asus lead the pack with their smartwatches powered by Android Wear 2.0. Most of the smartwatches can install any of your favourite Android apps. You can track walks, runs, rides and strength training from Google Fit and your favourite apps.
Samsung Android Powered Refrigerator:
Samsung is no doubt a pioneer in manufacturing of home area items that utilize the power of Android. The company's T9000 refrigerator features a 10-inch LCD from where you can compose a Tweet, check on current weather and also alter your fridge's functionality.
Other features include applications such as Evernote, Epicurious, which enables you to check for various recipes, and calendars.
Xfinity Home Security:
How would you feel if you had a security system that enables you to use your Android-based smartphone to remotely arm and disarm, get notifications in real time and monitor everything via your TV? This is Comcast's home security system enables owners to achieve.
The system is connected to a user's mobile device thus enabling homeowners to use their mobile devices to create customized and fully automated security system through an Android interface.
The Ouya Gaming Console:
The Android-based micro-console runs on Android version 4.1 Jelly Beans and has storage of 1GB primary memory. This is coupled with 8GB of secondary storage.
Today, Ouya has been changed to Razer Forge TV as the earlier versions weren't successful in the market necessitating a sale to sustain the founder company. Either way, it was one of the best gaming consoles to use Android system as it was light, fast and generally user-friendly.
Amazon Fire TV:
Amazon Fire TV is a unique version of the Android TV already outlined above. It runs FireOS 3.0 Mojito which is modified version of Android Jelly Bean version 4.2.2. The plug-and-play TV allows users to access HDR and 4K content on major media brands such as Hulu, Prime Video, and HBO.
The Amazon Fire TV boasts of a vivid Ultra HD display and doesn't require the use of cables.
The Smart Contact Lenses:
This product, which is a brainchild of Google, is used to monitor the glucose levels in diabetic individuals. The contact lens measures the amount of glucose in the tears' fluidal composition and relays the resulting data to a connected Android App.
The App analyses the data and then displays the same to the user or to a healthcare professional. The method is fast and convenient in comparison to other methods used for estimating the glucose levels in diabetic patients.
Another of Google's invention in this sphere is the Mod Live, a minute HUD that skiing enthusiasts by displaying the altitude, temperature, and coordinates on its tiny screen.
Bonus Tip:
The NASA's floating space robots are fitted with robotic manipulators that are coded in Android. According to Zach Moratto, a NASA research engineer, the space robots are discreetly built on some future android based smartphone technology.
Final Word:
Google's Android system has risen to the pinnacle owing to its flexibility and compatibility with third-party software and related products. Though the iOS has been angling for a market share, there is a prime chance that manufacturers and developers will continue leveraging on Android to enhance their users' experience.
Going forward, expect to see more medical equipment based on Android especially as Google releases, newer, more powerful versions of this operating system.