It seems that the number of writers is constantly growing. More and more people are going in for writing and make it their primary occupation, as it is truly is amazing to do your hobby for a living.
However, an ability to make the living by having a personal blog is now challenged with new policies search engines have established. Today, one should add posts to his/her website or blog every few hours to stay attractive and get enough traffic. According to the standards set by Google, your posts will appear at the top of search results page only if you update the content on your page regularly. Now you will ask if it is possible to post updates to your blog every few hours after all! And our answer is yes, and marketing gurus have come up with several ways to make it work.
We will not discuss all of the ways like writing in advance and setting the timer on publication, but we will tell you more about the guest blogging idea and what its benefits to your blog are.
First of all, let's define the notion of guest blogging: it is the phenomenon of posting your articles on the blog or a website of your fellow bloggers. You can offer bloggers that specialize in the same topic you are currently writing about to write a unique article for him or publish his article instead. This way traffic of these two bloggers will grow and so will the recognition of their names (brands).  So if are aware of the blogs that are in the same niche with your own blog and you are willing to send an opinion on a blog of your fellow, offer him your services. If you have previously gained trust with the target audience and have a number of regulars that trust you, other bloggers are more likely to give a chance to write about your experiences or share a professional idea on a particular topic.
If you still have doubts about guest blogging and whether it is worth a try, see its benefits that will make you change your opinion.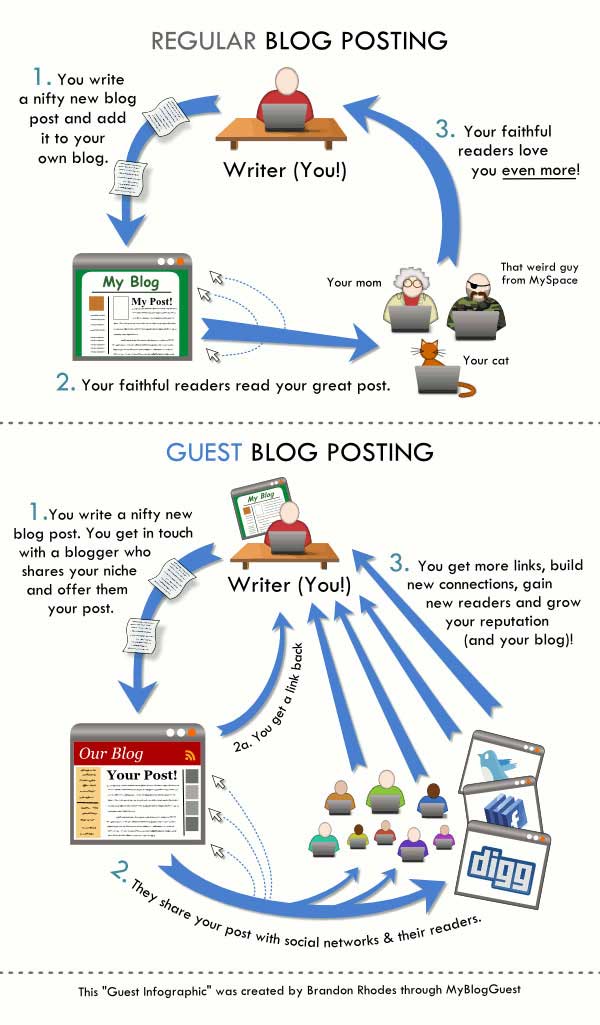 Should I Try Or Why Guest Blogging Matters?
First of all, think of it as of a perfect practice of your writing skills. Sure thing, you are talented and gifted in writing, but everyone needs practice and so do you! If anything, a few articles for your fellow bloggers will not hurt, and you will get much better. Moreover, you will be able to ask the owners of the sites you post them on about their suggestions and comments on your writing style, the freshness of the idea and ability to intrigue. So keep in mind that practice makes perfect – and go for it.
The other reason guest blogging is useful for you is that it gives you a chance to establish your name as a writing standard of the niche. If you are writing expert articles on a controversial subject or share your personal experience with the target audience of your fellows, they are more likely to visit your resource as well. Otherwise, you will remain an unknown artist for them, and they would rather read the articles by someone they know than yours.Provide your readers with quality texts and lots of useful facts in them, and this will guarantee you will become a success of the writing niche.
On top of that, you will be able to move your blog to the top of the search results page. The system is quite simple: when you are writing posts on the sites that are similar to yours and leave their links to your blog, then search engine believes that you are a trustworthy writer and moves your page up to the top of the search results. Therefore, do not lose an opportunity to make it to the top by writing for the blogs of the same niche.
By writing on blogs other than your own, you are not only reaching the target audience of those blogs but also the connection of that audience. What I mean here is that once your article gets noticed, the readers are likely to repost it to their forums or social network communities and groups to discuss and share the opinion on the thoughts and ideas disclosed by you. So you are not only getting famous among the readers of the website you wrote on, but also among people that would not get to know about you if it were not for the reposts and discussions. So reach out to a bigger target audience and do not lose your chance by ignoring guest blogging.
Another reason why you should try this kind of blogging is that you will encourage other writers to post an article on your blog. Never say no to such suggestion, by the way, as once s/he posts a piece of writing on your site, his readers will be informed about it, and will visit your blog. If you have a smart subscription system which is easy to work with, they might subscribe to updates from your website and start following you as well. And that is a secret of making money from your blog. So be proactive in writing for other blogs but also make sure you leave the door open for other writers to contribute to your blog.
Of course, bloggers state that they are not in this business for money only, but who would not like to be paid for doing what you love and loving what you do. Think of guest writing and traffic increase as of a "side" benefit that can help you promote your product, stay afloat and keep doing what you are doing.
To sum up, guest blogging has a lot of advantages you should not miss. You will get to know the leaders of your blogging niche, build a strong connection with fellow writers, increase the traffic to your blog and will get a great chance to sound your opinion not only to the followers of your own blog but also to those that would never get to hear what you think if it were not for the guest blogging. Moreover, do not lose a chance to make your brand known and loved through writing for the blogs of writers like you.
Finally, do not underestimate the power of sharing the experience. Those writing in your blog will be able to add new colors to your resource and make it even more attractive. But even if they add some controversy, it will still serve as a perfect "hook" to attract more discussions and people on your website. So you will benefit anyway.  Let us know what you think about these benefits and whether they motivated you to consider writing for a different blog yourself.