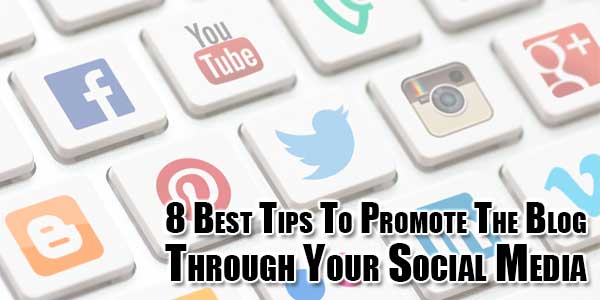 Maintaining a blog is a lot of fun, you can write as much content as you want, and make sure that it appeals to your readers and followers. However, it is not enough that you fill up your blog with engaging content. You should also be able to drive people to read your blog. And you can do that by promoting your blog via social media. How do you promote your blog through social media to ensure that you get maximum readership? You can follow these tips.
1.) Be Consistent:
Be consistent in updating your readers when you put new content. Don't just post on social media when you feel like it. You should have a schedule with you, and know when you need to post on your social media accounts. Consistency also includes the content that you post on your social media accounts. Messaging should be the same, even the tonality of your posts. It goes without saying that it should also be consistent with the character of your blog.
2.) Be Relevant:
You should always be aware of trends in the social media scene. Pay close attention to trending topics and be sure to capitalize on them. You will generate additional traffic by posting about relevant and timely topics. However, you have to be careful with this. You cannot just ride on any popular topic even if it is not related to your blog. Make sure that the topics that you post about are relevant to your blog content. If you are a travel blog, and you post about a school shooting, then it doesn't make sense. Not to mention, distasteful. Learn to choose the trends that will work best for your blog, and you will surely bring in additional readers to your site.
3.) Be Aware Of Your Readers:
How will you know what to write about if you don't know who your readers are? Study and research on what appeals to your readers. What are they passionate about? What do they hate the most? Once you get this information, you will surely catch their attention. Speak their language, and they will be your most avid readers and followers. In the same way, know when your readers are the most active on social media, and make sure that you are present during these times. It is important that you are present wherever and whenever your readers are.
4.) Be Interesting:
Be interesting. In fact, try to shock them every once in a while. Post about something shocking or really interesting, then link to your blog for the full details. Some say it's click-bait, but if you don't overdo it, then it will be an effective tool to drive more people to your site. Write something interesting – something your readers can't resist – and you will be sure to grab their attention every time you post something on social media.
5.) Be Shareable:
Make sure that your blog is integrated with social media. Just as you post on your social media accounts to promote your blog, so can your readers do it for you in a more natural way. Make sure your blog entries have social media buttons that make it easier for them to share your entries on their own social media profiles. Include the top social media sites in your blog – Facebook, Twitter, Pinterest. This is a great way to generate organic hits. The more shareable your blog articles are, the more your blog entries are promoted. Take advantage of this and watch your site stats improve.
6.) Be Educated:
Read up on different ways on how to promote your blog via social media. There are different sites out there that can provide you with tips and tricks on how to drive more traffic to your site. Even more, than that, there are also countless ways on how to improve the content on your blog. You can read up on how to make more interesting headlines, or which topics you can post about. The key is to keep on learning. There are many ways to go about it, just keep yourself constantly educated so you can continue to improve the quality of your work.
7.) Be Automated:
Sometimes, you just don't have time to post across all your social media platforms. Don't worry, there is still a way for you to do this without sacrificing your time. You can automate the process and schedule posts every time you put up new content on your site. This way, you don't miss out on anything, and you get to have more free time on your hands. If you think this is a complicated process, it really isn't. There are a lot of easy to use sites and plug-ins out there. Learn what works best for your requirements, and you are well on your way to having automated posts on social media.
8.) Be Organized:
Draw up a content plan for your blog posts and your social media posts. Prepare something every month, and you will find yourself posting regularly – which is a vital part in retaining regular readers. Having a content plan also prevents you from being a victim of writer's block. If you have topics in mind already, then it will be easier for you to write. Anticipate holidays and occasions, and write content for it. Of course, be as flexible as you can. If an important event suddenly comes up, or if a topic trends suddenly, then be sure to bite the bullet and write about those too. You can just adjust your schedule accordingly.
These are just a few tips for you to follow in making sure that you promote your blog properly via social media. Among all these tips, make sure that all your efforts support and complement your blog. Make sure that it is relevant to what your blog is about – and most importantly – relevant to your readers. Provide them with valuable and entertaining content. You don't have to try too hard. Just write about something that you yourself are passionate about and you will realize that it will come easily for you.