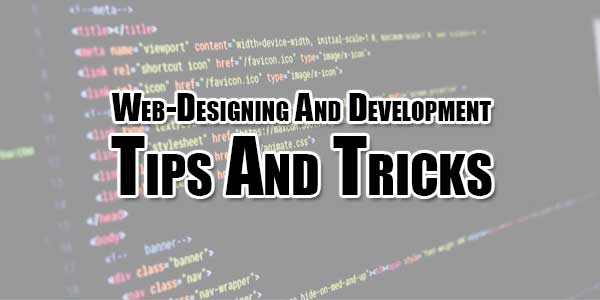 Just like fashion, web design and development is constantly changing, with trends and fads come and go. When it comes to creating a website to give a professional impression, it is always good to keep everything in order and in accordance with the trends. Considering these facts here are some important web design ns development tips and tricks for you to keep in mind:
Web Design Tips:
1.) Keep It Clean And Clutter-Free:
The world around us has become quite confused and the web is no exception. Ads, banners, icons, badges, signs, pop-ups, buttons, and so on – sometimes it all gets a bit heavy. So why not give your visitors a break from all the noise and clutter? Taking things like a flat design and blank can do wonders for the visitor's experience of your site. Try to keep it simple or even minimalist, with only your most important content highlighted.
2.) Search On Web Design:
If you are reading this blog you are already on the right track, but you can take your research a step further and start viewing sites with a specific purpose: to find out what works or not in them. Make some mental notes or paper about what you would like to try on your own site. Do you think a long page scrolling would work well on your site? Maybe you really like someone's contact page. It can be something as small as imitating the use of an arrow pointing to an important message. Whatever you find attractive, think about how you can implement this in the design scheme of your own website.
3.) Use A Visual Hierarchy:
Visual hierarchy, what really is it? It is a term which means, basically, our eyes watch web spaces in a particular pattern – a pattern that can help you optimize the most important content of your site. For example, if you create a button "sign up now", you probably want the largest possible number of people click on it and complete the registration process. The visual hierarchy tells us that the eye movement from top to bottom, left to right. This means that you will get more attention to your button if it is in the upper left corner of your site, which may lead to more clicks. Remember to only put your most important content in these coveted spaces – if you put too much in one place, the visitor will feel overwhelmed and you will not get the result you are looking for.
4.) Make Your Text Easy To Read:
Text is important. It is there to provide information and answer questions even before they were made. Having said that; do not shake your reader's eyes to read. There are some simple rules that you can join to keep your way from the text it should be.
Make sure your colors work together. For example: putting beige text on a white background will let visitors to your site with headache, or make them give up and go away. None of these outcomes is desirable – so make sure that all your text is easy to read.
Do not use a tiny font. While it may look cute, it's just not practical. Make sure your readers will not need a magnifying glass to understand your message.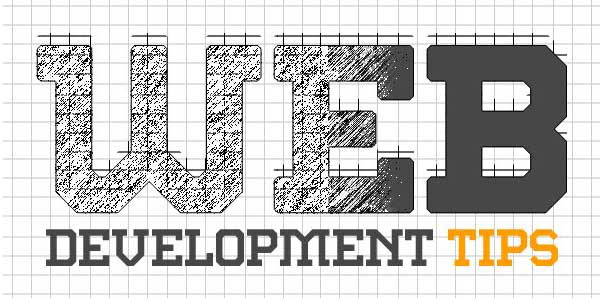 Development Tips:
1.) Analyze Other People's Code:
This applies particularly to designers, but sometimes developers have front-end design expertise for which this point is essential. It is important to look at other sites to understand how they are encoded. If you like any style or element of a site, look at the source code and analysis! The Firebug works wonderfully well in these cases. This is the way most people learn to code. So is the "rule of thumb": you can even copy some code here and there – this is the way to learn how to do things – but never steal a design!
2.) Enter A Network Of Knowledge:
Another important thing is to participate in a network within the field of knowledge. You're never too late to meet other developers and designers. A not very interesting scenario is you have to return back and get things on Google; a better scenario is to have interesting discussions and be able to get help through discussions with people from the same area. You can even collaborate with your fellow developers on larger projects, which almost always is good for everyone involved.
3.) Understand Designers:
It is highly advisable that you understand the designers, if you have no idea of how they work. This is as true for graphic designers and for front-end developers. It is always good to learn how they work and why they can deliver static pages that do not really correspond to the latest web standards. Learn to talk to them and explain what is wrong and know how to ask to correct their own mistakes. Thus, their working relationship with you will be closer and the results will be much better.
Conclusion:
It is quite common that good web-developers and web-designers face difficult times in this deep field, but these tips just serve to help each one find his/her way. With these small tips in mind, the web designers and developers can venture into the world of creating websites with more accurate focus and thus develop more consistent designs.