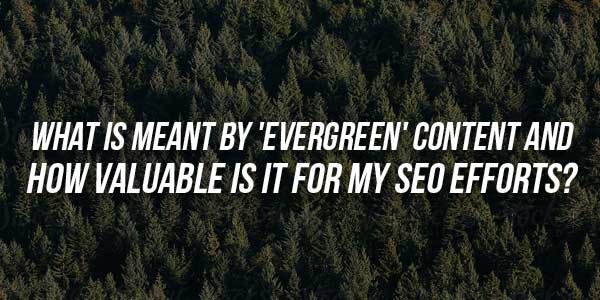 During your adventures in the world of search engine optimization, you may have come across the term 'evergreen content' before. But, what does it actually mean? And how valuable is it for your long-term SEO efforts?
Read on and we'll tell you everything you need to know…
What Does Evergreen Mean?
In the simplest terms: an evergreen tree maintains its color all year round. Evergreen content is not so dissimilar, in that the subject matter never changes; the content never needs updating and remains true – indefinitely.
What Are Some Examples Of Evergreen Content?
Here are a few clear examples of what evergreen content looks like in digital marketing:
What is evergreen content and why is it so valuable?
How to do the perfect push-up.
Teach your dog to roll over in 5 simple steps.
The ultimate guide to applying Venetian plaster.
What Are Some Examples Of Non-Evergreen Content?
And here are some examples of content that is not evergreen:
Is AI coming for your jobs? Everything you need to know about ChatGPT in 2023.
10 home renovation trends for 2019.
2010 statistics for email marketing.
How much does the average Miami SEO company charge?
Why Is Evergreen Content So Valuable In SEO?
Evergreen content brings great value to SEO in a multitude of different ways:
It's good to offer variety: you should always strive to create and share a variety of different content in various mediums. The good thing about creating evergreen content once in a while is that it makes a nice change from writing about what's currently trending.
Always attracts traffic: evergreen topics never change and as such you will always attract a steady stream of traffic over the years (provided the quality of the evergreen content is on point of course).
When it's done it's done: once completed, you may only need to make a few updates (if at all) to the piece. Otherwise, it's finished the moment you finalize edits and put it out into the world.
Reliability: evergreen content is reliable in that it's never going to change with the time of the year or current events. This means that you can optimize each piece of evergreen content for search and you can always earn steady clicks and customers from your offerings.
Long-term value: writing about trending topics can yield great value in the short term, but once those topics fall from relevancy, they become largely obsolete (or need repurposing to make them relevant again). Evergreen content, however, provides exceptional long-term value because it is always relevant.
What Kind Of Evergreen Content Should I Focus On?
A great place to start is by looking at the most frequently asked questions in your industry – and indeed your business. Using keyword research tools, you can see what your audience is most frequently searching on Google, and then you can create awesome evergreen content around that.
Certainly, not all of their FAQs will necessarily be suitable for evergreen content, however, for the most part, frequently asked questions tend to be evergreen in nature.
Conclusion:
Quick recap:
Evergreen content "maintains its color all year round" – in that the subject matter is always true and relevant.
Evergreen content is reliable, sustainable, and provides excellent long-term value.
If you want to start creating evergreen content for your website, begin by tackling some of the most frequently asked questions.