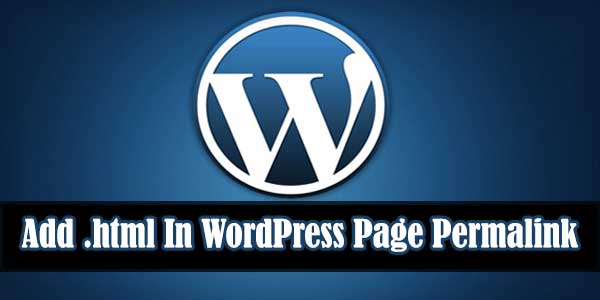 As we previously shared a tutorial about How To Add .html In WordPress Posts Permalink?, here we started receiving many request to share the tutorial about How to add .html in WordPress pages. WordPress default pages permalinks are www.exeideas.com/contact and cant be customize like post permalink that we explained in our previous article.
Now you want to add .html or any other extension in the end of your WordPress pages permalink then you have to follow the simple tutorial that have a simple plugin which will help you to add your desired extension in the end of your URL without any extra coding. You just have to add your desired extension in plugin setting and its done.
How To Add Any Extension In WordPress Pages Permalink?
Step 1:) Open your WordPress plugins dashboard.
Step 2:) First of all you have to install "PAGES with Extension" plugin from WordPress directory.
Tip: For Newbies: How To Install Plugin In WordPress Blogs?
Step 3:) Open "Tools" in WordPress Dashboard.
Step 4:) Select "Page with Extension".
Step 5:) You here you have to add your desired extension like .html In Extension input space.
Step 6:) Click "Save Changes" and done.
Last Words:
This is what we have and shared in easy steps for newbies so that they can easily know how it works. Stay with us because we are going to share a whole guide step by step about WordPress and make it easy for you. If you liked it then share it and be with us to get next tutorial. If you have any problem then feel free to ask us. We will help you with what we can or have.