Online furniture selling can be daunting thing for new furniture store as it encourage dual competition for the store owners. That means, if you engage in this business, prepare your mind to compete with physical furniture stores which are highly preferred by customers and also, get ready to battle with other existing online furniture stores which are already working in the market.
So, pushing your competitors back can be a big challenge for you if you don't get succeeded in making your company a stand-alone brand. For this purpose, you need to get unique, advanced and responsive website. For an advanced and responsive website building, first thing is to select ideal themes for a furniture store. And if you have a website on WordPress, then here are top 5 WooCommerce themes for your new furniture store.
Before you learn great furniture store WordPress theme for your business, you must know the right way to choose great furniture website templates.
Choosing A Right Furniture Website Templates:
The selection of a right WooCommerce furniture theme for your website is not as it is as many of you think, but you have to consider several aspects before finalizing one for you. So, the concept of selecting a right template is greatly subjective. Only aesthetic beauty will not work, but other features play a significance role in determining your new store success.
Aesthetic Characteristics:
When designing a website for a furniture store, do not put all your effort to get an appealing look to your site, but consider the perspective of your target audience also. While planning aesthetics of your site, keep your brand, audience and your products in your mind. At that stage, you should go for a theme that you goes well with all of these aspects at some extent. For example, if you are into selling minimalist type furniture, then go for a theme featuring clean typography and whitespace.
Frequency:
Choose a WooCommerce theme that should be compatible with advanced WordPress version. It should support the latest WooCommerce version. To ensure the compatibility, you can check with the demo of the selected WooCommerce furniture theme on the latest WooCommerce version.
Support:
Support is something that every WooCoommerce user would require at some time. So, while selecting a WooCommerce theme for your furniture store make sure it comes with quality support that is must to get timely assistance in case you face any problem. On spotting a bug in that theme, you can easily patch it if you get support. While buying premium WooCommerce themes, do not forget to read on support policy carefully.
Custom Functionality:
Check the custom functionality offered by the WooCommerce theme that you choose for your furniture store. Some authors of these themes pack several custom functionalities to their WooCommerce themes that help a website in many ways.
The best thing will be to choose a theme that should be lean and lightweight because, you can easily include additional functionality using extensions and plugins available on WordPress.
Responsive:
When you expect your website to be a profit-driven source, it should be responsive to all types of customers and devices. For this purpose, you should only go for a responsive WooCommerce theme for a furniture store. When you use a responsive theme, it will respond to all types of devices like TVs, computers, smartphones, tablets etc.
These 5 top WooCommerce themes accompany all those features which give a website a stand-alone feel. Furniture buyers would definitely appreciate your WooCommerce themes if they find your website different and better than others. So, let us explore all top furniture website templates now.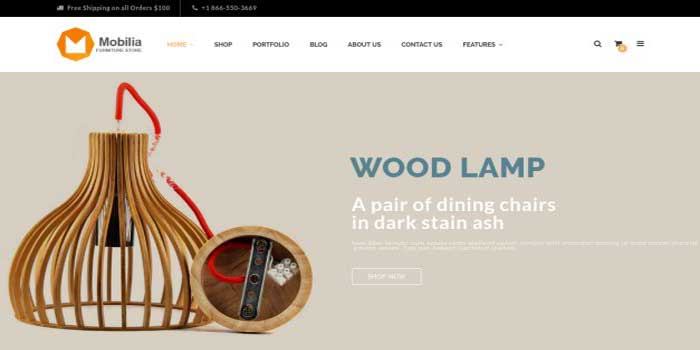 Mobilia is a great WooCommerce theme that features modern design and is loaded with exceptionally great features that help new furniture stores to enhance their presence on the web. The modern design of this template helps building attractive WooCommerce store that leaves customers and online visitors spellbound. Following are few key features of Mobilia that you should be aware of.
Mega menu
Page generator
Wishlist
Cursor
Quick view product
Compare
Zoom
Features tabs and carousel sliders for pleasant presentation of the products.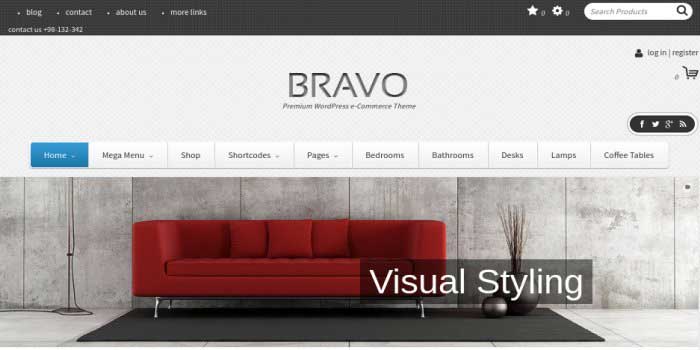 Bravo can be a wonderful theme for a new furniture shop as it accompanies several user-friendly and great features. This theme works on WPEC and WooCommerce carts. This theme is enriched with following features.
Custom 3 step checkout
Carousel and slider
Shopping cart quicklook fly out
3 skins
Easy to customize
Customizable section for testimonials
Product quickview feature.
3.) Cheope – An Advanced WooCommerce Furniture Theme:

For being easy to customize, Cheope secures a worthy place in the list of top 5 WooCommerce themes for furniture stores. It is a clean and a responsive theme that is loaded with several attractive features.
Responsive design
Unlimited sliders of 8 different types
Catalog mode
Cart tab
Zoom effect available in product detail page
Mega menu
Popup plugin to display promos and offers
2 custom checkout pages
Stretched and boxed layout
Unlimited layout

Supershop is one of the prettiest WooCommerce thems for online furniture stores. There are several reasons that support the popularity of Supershop in WooCommerce themes. Using this theme, the new furniture stores can have an attractive and lavish WooCommerce portfolio which will encourage online visitors to buy furniture from there. The list of features that Supershop bring are –
Great design
Well-structured layers
Amazing user-experience
An integrated visual composer to enhance usability
Supports Revolution Slider
5.) Trendy Room – Impressive WooCommerce Furniture Theme: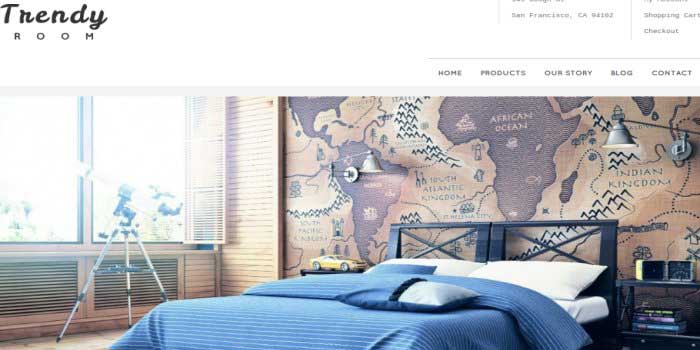 In WooCommerce themes for furniture stores, Trendy Room holds a respectable place for being clean, professional and simple theme. It is a greatly customizable theme that can be used not just for furniture, but any niche. Featuring attractive grids, it has an organized, sophisticated, clean and amazingly professional look. Not only a great look, but there are countless features that make it a versatile theme of this time which are as below –
Great design
Professional feel
Well-structured layouts
Unique typography
Conclusion:
These are top 5 WooCommerce furniture templates of this time that are loved by most of the furniture store owners online. Enriched with great features, these themes help delivering flawless performance and add value to the business.