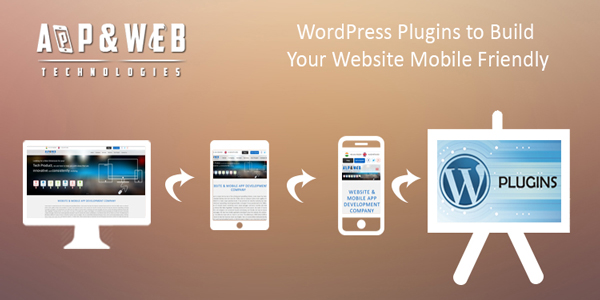 WordPress is known to be one of the easiest CMS solutions. This is because it is very comfortable to manage and access. Its ease of usage makes it super favorite of all web development companies. While you can have a blog designed around it, you can also plan a magazine or e-commerce store with WordPress. WordPress Website Development has always been a popular choice because of amazing ease of usage it offers. Most of web developers across the globe choose WordPress as the most preferred CMS platform to creative amazingly impressive websites.
This post unveils 6 WordPress Plugins that promise a responsive website that keep every web development and Mobile Tech Product Development Company ahead. Each of these Plugins is widely used for the comfort they offer and performance delivers. Know about these Plugins that can transform any website into a responsive one with no complications.
Amazing 6 WordPress Plugins For Responsive Website:
Read on to find out these superb six WordPress Plugins that are no less than a blessing for your website.

MobilePress is a first and the foremost Plugin on the list. This is the simplest Plugin from all the Plugins as it needs minimum involvement. With easy coding process, it also ensures creating a mobile-friendly website. This is probably the most precise Plugin with everything to the point. It ensures the best of performance with minimum efforts. It is very much compatible with different mobile devices available in the market. Therefore, it is all the more popular as it can be used for tablets, android mobile phones, Windows mobile phones etc.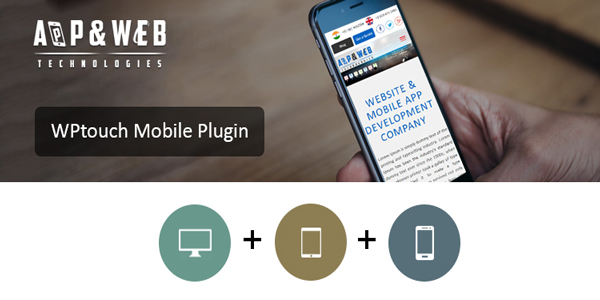 WPTouch is another quite popular plugin which is known to offer amazing results. To make conversion of your present WordPress site into a mobile friendly website, this plugin is a great help. Not only you can convert your site into a responsive one but also ensure seamless loading across different platform. This hassle-free conversion makes WPTouch a widely used plugin by developers. The best part of this plugin is that it automatically makes a pick for one simple theme to give your present site a new version to run on mobile devices.
If you are a WordPress Website Development Company, then use this Plugin to have your present site transformed into a responsive site for Android, iOS, and Windows. Smart mobile switcher edition of this Plugin automatically detects the device. Therefore, allowing user to use the desired version. Another set of features which make WP Mobile Edition so famous include its light weight theme which doesn't take long to load. This makes your site swift to work. Not only this, you can also enjoy mobile advertising depending upon your usage.
4.) OBox Mobile: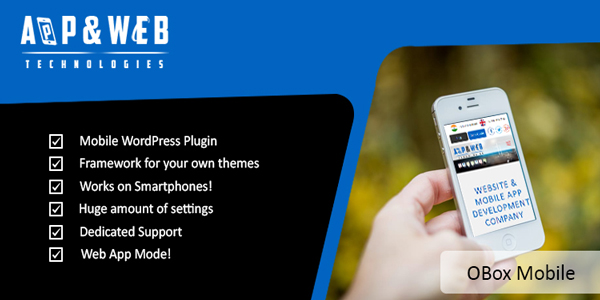 Especially relevant Plugin is used for making your WordPress site quickly compatible with any operating system and any mobile device. In addition to its effortless configuration, you can also enjoy various sliders, color schemes, adverts etc. Give your customized WordPress website an impeccable look on any mobile device with OBox Mobile.
Designed with best potential, WP Mobile Detector is a wonderful Plugin. This is so because it doesn't make your website compatible with a limited number of mobile devices but for over 5000 devices. Therefore, offers effortless compatibility. With this plugin, seems like you don't have to bother about resolution and screen size as everything is taken care of. This is an amazing plugin which comes loaded with features. Whether it is automatic resizing of image or mobile themes, this plugin promises a lot.
Another plugin for mobile friendly website is JetPack. Since this plugin makes your site mobile friendly, it is just what you need. With no hassles of complicated coding, this is a wonderful plugin. To make changes to your WordPress website, you can use this plugin which comes with 24 different modules which make the whole process so easy and comfortable. While some of these modules are just what you could have asked for but the rest are not that great. So you can conveniently pick what suits your purpose and drop the rest.
These Plugins mentioned above surely make WordPress website conversion into mobile friendly websites much easier and more effective. So if you are hiring custom web development services of a Web Development Company in Jaipur, these Plugins promise complete ease. To get best results, hire Mobile Tech Product Development services offered by startup consultants in India. And with experienced and qualified brains, you can enjoy smooth working responsive website. With professionals, WordPress Website Development has become much easier.
In conclusion, use these WordPress Plugins to make changes in your present website by making it seamlessly mobile friendly with nothing much to do. You can see which one meets your requirements to the best of the levels and just let it go!!!