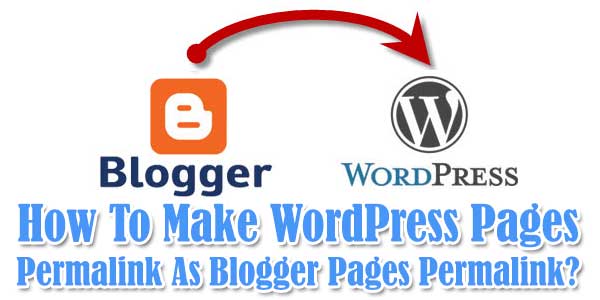 If you are migrated from Blogger to WordPress then you know that Blogger pages permalink are completely different from WordPress pages permalinks. In Blogger, pages permalink are as www.example.com/p/sample-page.html and in WordPress, you will find out that pages permalink are www.example.com/sample-page
Now if you will migrate to WordPress then you will get your pages permalink change that will effect on your SEO becasue you have many backlink linked directly to your pages or also have internal links linked to your pages. So if you will not make your WordPress pages permalink to Blogger pages permalink then you will loose all backlink that will Effect on your PageRank and also got 404 error on your pages so Google will also get error in your blog too.
Now to avoid all these error after migrating your blog, here we are with a little tutorial that will help you out to make similar pages permalink as was in Blogger to avoid all upper described errors in simple way.
How To Make WordPress Pages Permalink As Blogger Pages Permalink?
Step 1:) First of all add .html in WordPress page permalink.
Note: If dont know how then read For Newbies: How To Add .html In WordPress Page Permalink?
Step 2:) Now go to "Pages" section.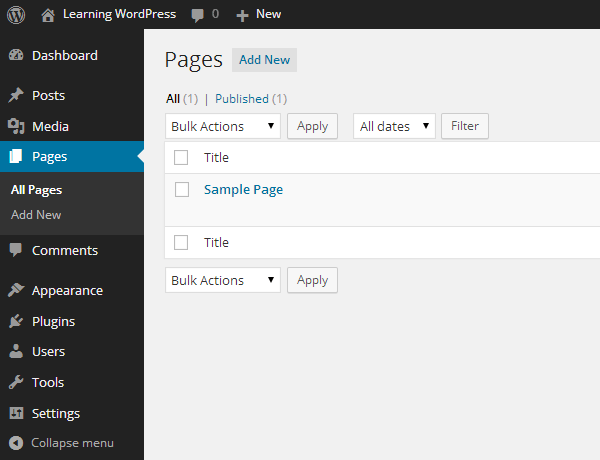 Step 3:) Click "Add New" to add a new page.
Step 4:) Give that new page any title but change it permalink to "p" only.
Step 5:) Add the below code in the "Text" section of your new page.
<script language="javascript" type="text/javascript">
document.location ="https://www.exeideas.com";
</script>

Step 6:) Leave "Page Attribute" section as it is and "Publish" the page.


Step 7:) Now create a new desired page that you have in your Blogger page.
Step 8:) Add your desired page title and your desired page permalink.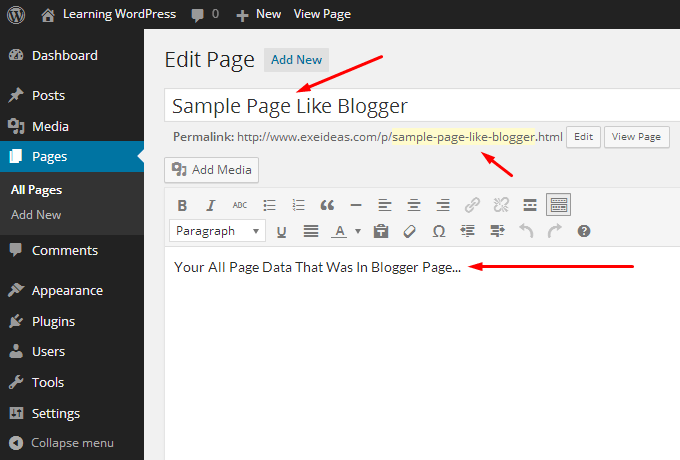 Step 9:) Change "Page Attribute" section setting and set "Parent" to you just created "p" linked page. There you will see your "p" link page title so select that.


Step 10:) Now "Publish" the page.
Step 11:) After all above, again go to your "Pages" section on dashboard.


Step 12:) Now view your desired page there and see that permalink and enjoy.
Last Words:
This is what we have and shared in easy steps for newbies so that they can easily know how it works. Stay with us because we are going to share a whole guide step by step about WordPress and make it easy for you. If you liked it then share it and be with us to get next tutorial. If you have any problem then feel free to ask us. We will help you with what we can or have.