While web development is a fulfilling profession with its own unique set of rewards, it also comes with some drawbacks. One of the main problems in this line of work is that if something happens, you have to react quickly, especially if you are maintaining an important, profit generating website. Even minutes of downtime could end up severely damaging the site's reputation, and consequently (or directly) profitability.
That's why you have to constantly be on the lookout and have means to fix any issues on the spot. The apps listed here will not only allow you to remain ever vigilant, but also to do some work while you're commuting, or are otherwise prevented from using your PC.

1.) WordPress:
If your job is maintaining WordPress sites, this app is a definite must have. You can make the entire website with the help of this app, but most people simply use it for site maintenance, managing comments, publishing new posts or editing old ones. Even though the app is intended for use on mobile devices, it comes with a ton of features, allowing you to do almost anything that you could do on your PC.
2.) Analytics:
Yes, Google Analytics, if you were worried about getting an inferior product. There is probably no need to explain what this app does, we should only mention that the free version only gives you some basic statistics on the traffic, while Analytics Pro will give you a full range of features that you can use to track all the important aspects of your site's performance.
3.) WhatTheFont:
A great app for web designers who are constantly on the lookout for new and interesting fonts. If you come across a typeface that you would like to incorporate on your website, simply snap a photo of it, and the app will recognize it for you. Needles to say, it can also identify fonts used in web pages and documents, so you are covered on all fronts.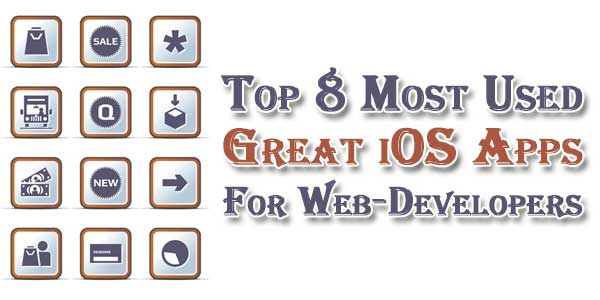 4.) ServerMonitor:
One of the apps that can be crucial in site maintenance, ServerMonitor uses an SSH protocol to help you stay informed on the performance of your server. The app covers most of the used protocols, including SMTP, POP3, DNS, FTP, IMAP, HTTP, HTTPS and MySQL, so you don't have to worry about it supporting the one you need. The app will only set you back $1, and can help you save quite a bit more.
5.) CSS Cheatsheet:
Even though most web designers know most of the things that they need to know about CSS, the sheer amount of data can easily make you forget a crucial piece of information, which is where this app steps in. It holds a ton of instructions that experienced web designers can use to refresh their memory, or that less experienced ones can use for perfecting the craft, and learning something new.
6.) HTML Viewer:
If you are used to browsing on your PC, transition to an iPhone or iPad might have left you frustrated due to the simple fact that viewing the source code of the page is not an immediately provided option. If that is the case, this app might save you quite a bit of nerves, by allowing you to easily do just that. You can change the view, use line wrap, bookmark items, and generally, view the source code as easily as you would on a PC.
7.) MySQL Mobile Database Client:
This app for the pros allows manipulation over MySQL databases from user's mobile devices. There is a number of useful options, varying from running different queries to creating detailed reports. You can choose between a local network and a secure virtual private network as your preferred way of access to the app, depending on the level of security needed. The app comes with all the tools you need to deal with your MySQL, which makes it worth paying the $10 for.
8.) FTP On The Go:
When it comes to having a fair amount of control over your website and no access to your PC, this app is great to have. It allows text editing, changing file permissions and fixing a number of other issues. You can always try the free version, but by paying $10 you will end up with a more ample set of features.
About the Author:
Leana Thorne is a devoted blogger and a regular contributor to several tech blogs. She enjoys exploring new internet technologies and sharing newly found information, and loves writing and covering any valuabe Internet information and services.