LinkedIn is a social media network, but one that is built around the professional and business community. You are still going to get dumb posts and even dumber people, but there are mostly people in professions and businesses within the site, and even the non-professionals are trying to get work from those who are.
10 Hot Do's On LinkedIn:
1.) Do – Use The Name You Are Called In Business Circles:
This means the name you are called at work or online and not the name your kids or partner call you.
2.) Do – Use Your Headline As A Branding Element:
You are free to put a tag line in there or to name your best feature or service in there if you wish.
3.) Do – Tell A Story With Your Summary:
A lot of profile summaries are dull and boring, so do try to add a little spice to the summary.
4.) Do – Mention Your Specialities:
These are what elevate you up from being just another overqualified chump into someone who is of value.
5.) Do – Add In All Of Your Qualifications And Education:
Missing something out is really dumb because the more you add then the more impressive it looks.
6.) Do – Make Connections With Other Users:
This may be the aim of the game, but do not wait for others to make the first move. Put yourself out there.
7.) Do – Load Your Current Contact Lists Onto LinkedIn:
These contact lists are on your email and organizer programs. Add them to your LinkedIn by sending them a request to make contact.
8.) Do – Run A People Search:
This is simply what you do if you know a person who is of importance and you want to make a connection.
9.) Do – Run A Company Search:
This works on the same principle as running a people search in order to find a new connection.
10.) Do – Lie A Little:
Everybody lies a little on LinkedIn. That social media network has more "A"s than a hard of hearing convention on Canada.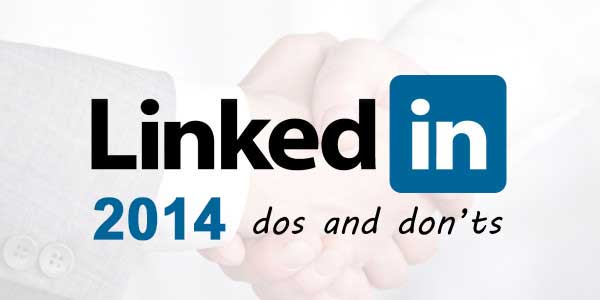 10 Hot Don'ts On LinkedIn:
1.) Don't – Add An Unflattering Or Unprofessional Photo:
It is painful to see a geeky grin and a crooked set of teeth on a LinkedIn profile picture. A silly hat should be avoided and any sort of dressing up or Halloween costume is just a really bad idea.
2.) Don't – Forget To Use Your Personalized URL On Emails, Business Cards, Etc:
You have your personalized URL from the site so use it and embed it wherever you can. It is a nice and easy way of spreading your profile around and you can put it on other social media networks too.
3.) Don't – Leave Out Your Work History:
Your work history may be of importance to some of the people who want to make contact with you, so make sure you add it all in.
4.) Don't – Fill It With Personal Information:
The size of your shoes or how many kittens your cat has just had is not relevant for the site. You need another of the many social media networks if you want to write about stuff like that.
5.) Don't – Rush The Contact You Section:
This is the bit that allows you to decide who you want to contact you. Make sure you do not rush it or you may shoot yourself in the foot when it comes to using the site.
6.) Don't – Forget That You Can Make Connections By Asking Questions:
Some people do forget that the nice way of making connections is through asking questions and awaiting answers online.
7.) Don't – Overlook The Benefits Of Groups:
They are a great way of making connections or simply keeping up with the LinkedIn pace.
8.) Don't – Just Use It To Find A Job:
There are too many people treating it like a personal job directory and you should not be one of them.
9.) Don't – Rush Creating Your Profile:
You can tell the people who have rushed because it looks on their profile as if they have lead a very slow and dull life. Take your time over your LinkedIn profile and make sure keep adding to it and improving it over time so that it is more condensed with data.
10.) Don't – Claim To Work At A Place Where You Do Not:
It is okay to lie about a few things such as how long you really spent in Oxford University, but lying about your previous work experience may have you found out as people search for ex employees on there all the time.
About the Author:
My name is Sonia Jackson. I am the author of this post. I am also in a team of writing service assistant that helps students to find the most reliable and professional writing service.