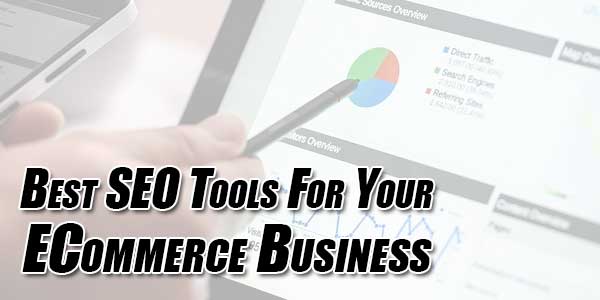 ECommerce is a solution enabling many businesses to sell their merchandise online. Unlike the old days when things were limited to eBay, Amazona, and the giants, anybody can run an eCommerce store. But setting up your site alone is far from achieving the progress and business growth that your business needs. You need to market your business and optimize products, among other housekeeping stuff.
Talking about marketing your business, you have numerous approaches. However, SEO will stand out to be your ultimate goal to reach more people both now and in the future. Growing your SEO score takes time, and patience is paramount. Since SEO is extensive, you cannot do everything in your head. That is why there are so many SEO tools that every business owner must consider for their business needs.
For eCommerce owners, these five SEO tools can help you to get started with proper online presence management.
1.) Google Search Console:
Let us start with Google's SEO tool, knowing that Google dominates the search engines in the world. The tool allows you to access everything you need to know regarding your online presence. With Google Search Console, you can also find security and content issues as well as learn about your site's traffic and online performance.
Simply put, Google Search console helps you to rank your eCommerce website as well as improve the user experience. The first thing you will learn on this tool is the number of pages ranking on the internet. You will also identify any replicated metadata, which you can fix and improve your overall ranking and performance.
Using search analytics, you will know which keywords people use to reach your website. You can then update your content and help your prospects to find the products they need seamlessly. The tool also includes mobile experience insights. Is your eCommerce mobile-friendly, or do you need to create an eCommerce mobile app for hand-held device users?
2.) Ahrefs – Keyword, Competitor Research, And More:
Ahrefs has more popularity among all SEO tools professionals use to rank and improve their online presence. The tool comes with so much that you may not have anticipated. Apart from finding the right keywords for content to rank, you can learn how your competitors are ranking and what you can do to beat them.
In eCommerce, learning about competitor ranking strategies and keywords helps you to target the right audience with the most converting keywords. Apart from the ranking keywords for your competition, you will get information about the exact traffic they receive from the keywords. The insights can help you to determine what keywords are most appropriate for your business.
Do you need a complete SEO report with statistics? Then you need to employ Ahrefs SEO metrics. One of the statistics is finding the total number of backlinks to your web pages. The tool crawls more than 54 billion web pages, with database updates every 15 minutes.
I cannot write enough about Ahrefs but know that in case you or a competitor loses a backlink, the tool will inform you. Knowing about backlink drop will help you to understand what might have changed, and any steps to take to your business' advantage. But remember to use the content research to know which content ranks best for a keyword and which one gets viral on social media.
3.) SEMRush – All-in-One Marketing Tool:
What is better than understanding your website ranking and in-depth analytics about your traffic? Better yet, you can monitor your competitor's traffic information and how customers engage with their eCommerce business. But that is not enough. You can compare your website performance with three competitors using the Domain vs Domain tool.
Watching your eCommerce website for SEO performance has never been easier. From a single dashboard, you can find your business' website pages that rank on search engines. You also get other SEO metrics like the number of social media shares, word count, and the ranking keywords.
Apart from organic SEO, backlinks, and on-page SEO audit, you get more tools like social media performance, paid marketing performance, market research, among other tools. SEMRush is a complete marketing tool. But you can try it for your SEO needs as well.
4.) Kwfinder – Keyword Research And Analysis:
While many SEO tools focus on how you are currently ranking with a keyword, KWFinder helps you to find the best keywords to rank your eCommerce business. Apart from ranking products, the tool also helps you to rank your business in places using local keyword research.
KWFinder focuses on finding the top-ranking and performing long-tail keywords suitable for your business. You also get the history of search volumes of a particular long-tail keyword you might need to use. This information can help you identify seasonal keywords and separate them from trending and hot topics around a particular product or region.
With the competitor keyword research, you can identify how your business rivals rank their content. You will also see the search volume for the particular keywords and the number of visitors each competitor received from the keyword. The information will help you to choose the perfect keywords for your business.
5.) Yoast! SEO:
While all the keyword tools can help you to choose a keyword or identify problems on your site, Yoast! SEO will be your friend when updating content on your eCommerce website. For businesses hosting their e-Shops on WordPress, Yoast! is a must-have plugin. The company also offers SEO solutions for other platforms like Magento, Drupal, and any other platform on which you run your eCommerce.
Yoast! SEO mainly focuses on content. You use the plugin to identify any SEO problems as you write your business content or product description. It also gives you recommendations you need to take to improve your business SEO score. These include using images, alt tags, and content formatting. With this Yoast! SEO, updating product keywords and metadata is a breeze. Use it to include enough keywords for ranking and avoid being spammy.
In Summary:
Everybody wants to spend less on marketing and earn more from sales. SEO is the ultimate solution for ensuring that customers can find your products on search engines. I would recommend that you begin with the Google Search Console for insights on improving your site then choose a product that meets your needs.