Messenger Marketing is set to become the world's single biggest marketing channel in the next 5-7 years. Businesses and websites can now talk back to their customers, community, and visitors, even when they've left their site.
Messenger Marketing combines the speed and attention of SMS with the attractiveness and automation of email. Messenger also feels more personal than email, but less invasive than SMS—striking for the perfect balance for business communication.
To start your first messenger marketing steps, you can either create channels inside another messaging system or create your own messenger, to send out notifications and content directly. If you're thinking about creating your personalized product, Zangi has great business solutions to save development time and resources.
Regardless of your messenger marketing strategy, you will need to focus on : building communities, running campaigns, and having conversations.
Build Communities:
The marketer first needs to get the user's permission to send messages by building a community of subscribers. These can be acquired by joining channels or integrating links and bots into existing marketing channels such as websites, digital ads, social media pages or even billboards and print ads.
If you decide to create your own messenger, you just need to notify your current users to download your app. And current, new and other interested people will unassistedly join your platfoull control over who has admin permissions, you can create groups, send rm. Employees and team members can also join the messenger, and you can take fnotifications,  block users, monitor sales and expenses, have a look at statistics and manage and monetize using your management business panel.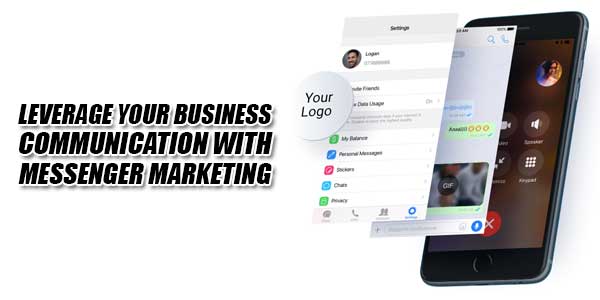 Run Campaigns:
Afterward, the business can run campaigns to engage these customers. These campaigns may be specific promotions or ongoing engagement activities. Along the way, the marketer can also profile and tag specific users to further optimize their future campaigns.
With your own messenger,  you can send out notifications directly to your users or interested community. You can post promotions or content related to your brand, directly to your target without having to look for them from other platforms and social media.
Engaging And Communicating:
Lastly, each outbound message is not the end of the campaign, but in fact the start of a conversation. These messages can have clickable, interactive elements. The business can set up chatbots to automate these conversations.
With your own messenger, conversations can take place anytime, and the best part is that users, finding a common interest, can talk to one another too. Groups, channels, admins and more can collaborate and engage through secure messaging, audio and video calls, group chats, file sharing and more.
Messenger marketing is a new emerging frontier, but it is positioned to become one of the most significant marketing channels going forward. Marketers and businesses, alike, should start focusing on messenger marketing now—the rewards are many for the early movers.