White Hat SEO is "good guy" SEO. It doesn't employ spam tactics in an effort to hasten the website indexing process. Rather, white Hat SEO is an "I'm in this for the long haul" type approach. While black hat techniques may be tempting for the new web marketer – they only hurt in the long term, with varying, inconsistent results in the short. With Google's highly evolved algorithm, Black Hat SEO methods are becoming less and less effective.
Steer Clear Of Black Hat SEO Methods:
Black hat SEO finds ways to cheat by simulating what a white Hat site has:
A white hat site has many sites linking to it. Black hat sites will spam links all over the internet on sites not related to the target site.
A white hat site has relevant keywords naturally and tactfully included in its content. Black hat sites "stuff" their target keywords all over the page.
A white hat sites contains strong, unique content. A black hat contains spammy, poorly written content or content copied and pasted from other sites.
Good SEO vs. Cheap SEO:
Solid SEO is knowing how to prepare a site for long term growth and success. This is a process that takes determination, patience and know-how. Cheap SEO or black hat methods are really for those who are deluded into thinking they are going to be successful gaming the system. It is easy to fall into the trap. What you are going to want is an awesome site that withstands the test of time. For this to be possible, it is best to gear up, put in the time now and optimize your site white hat style.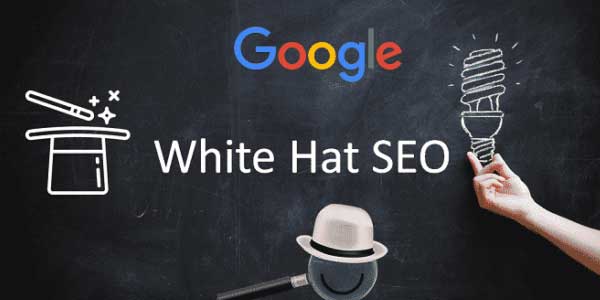 Watch Out For SEOs Who Guarantee Results:
SEO is a philosophy more than a methodology. It comes to the table with an understanding of what it means to create value to our readers. If we understand innately that this is the attitude of success, than our SEO implementations are going to pay off.
Guaranteeing results is difficult in SEO because there are many variables. If you are marketing in a particularly competitive market, you may achieve results, but they make take a long time to achieve. If you find a so-called expert that is telling you they can promise results, they are either lying, or they don't know what they're doing.
Summary:
White hat SEO is superior to black hat. Black hat SEO is for those who are looking for overnight success. While they may make a sale here and there, they are actually going to be putting in more work for less results than the white hat marketer. This is clearly seen when Google decides to penalize a site that is stuffing keywords or is creating spammy backlinks; in this case, the black hat's domain name itself gets flagged and is, therefore, damaged beyond repair. Don't let this happen to your site.
Make sure your SEO specialist uses tried and true methods and offers you realistic, attainable goals. Success in the SEO space is possible. However, to build an audience of people who are going to buy your products, you need to be offering them value. Work with your SEO expert to create value in your site and value for your reader.