Have you ever used the voice to search for something online? If so, you are not the only one. Voice search has become quite popular and has a huge impact on SEO. As businesses continue to strive to stay ahead of the curve, optimizing for voice search is quite essential. In this article, we will look into how SEO can impact voice search and discuss some tips to optimize your website for the upcoming trend. So let's start and learn about optimizing the website for the search result and stay ahead of the curve.
The Impact Of Voice Search:
As per a recent study done by Google nearly 27 percent of the global online population uses voice search on their devices. This number is expected to rise soon. Hence it is important to know how Voice search can impact SEO.
Voice Search is quite different from traditional text-based search in various ways. First and foremost, it always uses conversational language that always starts with the words like "how", "when", "where", "what" and "who". Secondly, voice research is more likely to give a single direct answer to the user's questions rather than a long list of words. As an outcome, voice search has quite different implications for SEO. Here is a list of some ways in which voice search is impacting SEO.
Changes In Keyword Research:
Mostly, SEO is about optimizing the content for specific phrases or keywords. Hoover, voice search uses more conversational phrases known as the long tail keywords. This requires businesses to adapt this and make changes to their existing keyword strategies.
To optimize for the voice search, businesses should majorly focus on the long tail keywords that are in a conversational tone. For example, if you are targeting the keyword "best Italian restaurants", then for voice search, the long tail keyword should look like "What are the best Italian restaurants near me?"
Give More Importance To Local SEO:
Voice search majorly uses local queries like "Where can I find the nearest coffee shop?" This emphasizes that local SEO is much more critical for businesses specifically optimizing for voice search.
To optimize for the local voice search, businesses should optimize their website using local search items like the name of the city and the region. Also, they should regularly update their business information on Google My Business like directories.
Focus More On Featured Snippets:
As discussed earlier, voice research often results in a single and direct answer to the user questions also known as the featured snippet. This requires businesses to focus and optimize their content for the featured snippets to increase the chances of appearing in voice search results.
To optimize the content for featured snippets, businesses should write the content clearly and concisely providing direct answers to the questions. Also, they should use bullet points and headings to break up their content and make it easier for the users to understand.
Emphasizes Mobile-Friendliness:
Voice search is mainly done through mobile devices, hence businesses need to have a mobile-friendly website. If your website is not properly optimized then users would never stay on your site for a long duration.
To optimize the website for mobile, one should focus on making the website responsive for different screen sizes, using mobile-friendly navigation, and optimizing the speed of the mobile app. Also, ensure that there are no intrusive interstitials, content is easy to read and loading time is short.
Focus More On The User's Intent:
With voice search, search engines can understand the context and intent in a better way. This means that businesses need to prepare content that addresses common questions and user needs. This requires a good understanding of the pain points and common questions of the target audience and creating the content based on it.
To effectively improve user intent, businesses should focus more on researching the target audience and try to understand their behavior, demographics, and preference. One can do surveys, customer reviews, and a lot more. After the information is properly gathered then one should create content based on that.
Use Structured Data Format:
It is quite essential to use structured data as it makes it easier for search engines to know the content of the website. And especially for voice search, structured data plays a crucial role to help search engines provide relevant and correct answers to user queries.
To optimize for the voice search, one should make sure that their website's overall code has structured data. This would make it quite easy for search engines to know the content of the website and provide relevant results. Also, you can improve the ranking by adding some rich snippets such as product information, reviews, and ratings.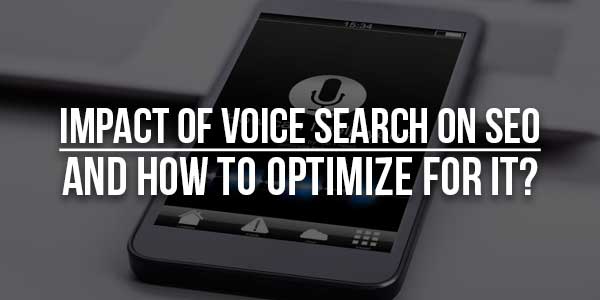 Different Tips To Optimize Website SEO For Voice Search:
In this section, we will discuss some of the tips that would help you to optimize the SEO for the voice search. A few of the tips are listed below.
Create A Section For Frequently Asked Questions:
This section should cover all the basic questions that most people tend to ask and create answers for them in easy to understand style and tone. This will help you to increase the chances of your content appearing in search engine results.
Create A Proper Structure For The Position Zero And Featured Snippet:
While you create a structure, you should use bullet points and headers that make it quite simple for search engines to understand the structure and context of the website content. You can also use the structured data makeup.
Always Try To Create Content In Several Formats:
When you create the content in several formats, then you can easily optimize it for voice search. The voice search expects content to be available in different formats. For example, if someone asks for a tutorial, then it can be a video or a step-by-step article. Creating content in different formats also helps to improve the overall website rank.
Constantly Optimize Your Website:
It is not a one-time task of optimizing the website for voice search, rather it requires constant effort and monitoring to stay along with the latest trends. Also while you do voice research optimization ensure that you keep an eye on upcoming standards, and changes in the target audience's preferences and behaviors. Doing constant optimization would help you to stay relevant in the industry and get high ranks on search engines.
Mobile App Development Company In Dubai For Voice Search Optimization:
As your business continues to grow it is quite important to do voice search optimization. By choosing the correct mobile app development company in Dubai, you can easily achieve your goals. These companies have got great experience in building mobile-friendly and responsive websites for multiple devices and further optimizing for voice search.
You can also hire dedicated UI/UX designers who understand voice search and its optimization. They can help you to create an interface that can be designed as per voice search and later optimized for local and mobile SEO. To make certain that your internet site ranks excessively withinside the seek engine.
Conclusion:
For any website SEO, Voice Search is a game changer. A lot of businesses nowadays need to adopt this to stay ahead of their competitors. If you optimize your website for voice search then you can maintain a competitive edge over others. A few of the ways that you can focus on optimizing your website voice search are user intent, local SEO, and conversational phrases.
Choosing the correct mobile app development company in Dubai can help you to optimize your website as per the voice search and improvise overall user experience. Voice search is constantly gaining popularity, hence it is quite essential for your business to take advantage of it to stay ahead of competitors.