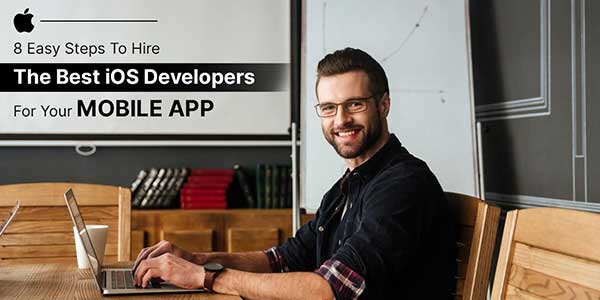 Keen on building a flawless iOS application for your business? This write-up has your back! Know how to hire iOS app developers that best meet your development demands and can help you develop an app that stands out.
Whether you want to expand your market, reach more users, or reinforce your brand – it can all be achieved with a top-notch, user-friendly app. But, how do you ensure to get a high-performing, exclusive iOS app? Well, the solution lies in getting the best iOS development team by your side.
To get a wonderful app, you need premium features that offer high security and deliver an excellent user experience. And, all of this can only be achieved with skilled developers. But, finding suitable and skilled iOS developers is not a cakewalk. With so many freelance developers and iOS development companies in the market, the real challenge is to find suitable developers that best understand your development needs and exceed your expectations in terms of delivering the final product.
However, we've made your job easy. Following these steps, you can gauge your developers' skills and find the right developers for your development project:
Step 1: Decide Your Hiring Model
When it comes to hiring iOS app developers there are three options to choose from- in-house, freelancers, or outsourcing. Depending on your specific requirements, you can choose from the different hiring models available. However, each of them comes with its own set of benefits & drawbacks.
Freelancers: There are different sites like Upwork, Fiverr, Freelancer, etc., where you can find thousands of freelance developers for hire. If your iPhone app development project is not too complex, hiring freelancers is the cheapest way and a favourable option to go with. However, you may get freelancers at cost-effective prices but you cannot be assured of the development quality.
In-house team: Though an in-house team gives you greater control over the development process, developing a team of iOS developers, testers, and designers from scratch can be highly expensive. If you have a short requirement or only one project in hand, creating an in-house team will not be profitable.
Outsourcing: Outsourcing iOS app development services to a reliable service provider is a smart way to get cost-effective solutions and leverage higher expertise. Additionally, you can be assured to get high-quality development in a quick turnaround time.
Step 2: Select Your Outsourcing Location
If you choose to outsource, considering it is the most feasible and cost-effective way to get a premium iOS app, the next step is to choose your outsourcing destination. The average cost of hiring an iOS app developer may differ from region to region.
Here are some of the most popular outsourcing destinations along with their average cost of hiring an iOS developer:
| | | | |
| --- | --- | --- | --- |
| USA | Western Europe | India | China |
| $150-$250/hour | $70-$150/hour | $15-$25/hour | $35-$55/hour |
Note: More and more businesses are hiring software developers in India. It is currently one of the biggest outsourcing destinations because, when you hire iOS app developers from India, you can easily secure quality development solutions at cost-effective prices.
Step 3: Hire Ios Developers From Reliable & Trustworthy Companies
Now that you have chosen your hiring model and outsourcing destination, the next step is to find a suitable outsourcing partner. This requires some decent research and background checks. Make sure that you join hands with a trusted, well-established, and reliable company. Moreover, ensure to check online reviews and feedback from the previous clients.
Step 4: Check For Developers' Technical Skills
iPhone app development requires developers to be adept with specific technologies. To get the best iOS developers by your side, make sure that they possess the required technical skills. Some technologies that any iOS developer must be familiar with include the following.
Swift
Xcode IDE
Objective-C
Spatial Reasoning
Core Data
Design Guidelines
UI and UX
Step 5: Look For The Required Soft Skills
Businesses often tend to ignore the soft skills of a developer. However, when hiring developers for your project, soft skills cannot be ignored. As you have to continuously collaborate and work closely with your development team, it is necessary that your developers have the required soft skills.
Communication skills: Make sure the developers have good interpersonal & communication skills. Having clear and strong communication will enable developers to clearly express project queries, updates, and ideas. Also, make sure that developers or your project manager also have command of written communication so that he/she can clearly draft emails and project documentation for accurate & clear communication.
Time-management skills: You want your mobile application to be delivered on time, right? Well, this requires you to make sure that your outsourced developers have time-management skills so they invest quality time on your project and ensure that it is completed within the deadline given.
Teamwork: Another thing to pay attention to is 'teamwork'. This becomes more important if you have an offshore team working for you. Hence, You should evaluate if your selected developers are good team players and open-minded to working in a diverse setting.
Step 6: Look For Experienced iOS Developers
If you have a complex app requirement or are looking forward to building a custom mobile app, make sure to hire dedicated mobile app developers with rich experience and relevant expertise. Having experienced iPhone app developers not only helps you solve complex requirements with ease but also ensures quality development. Hiring developers who have relevant experience working on similar projects will give you confidence and will ensure that you get the exact product, just as you've expected!
Step 7: Explore Company/Developer's Portfolio
Before you hire dedicated mobile app developers & finalize your development team, make sure to check their portfolio and previous projects handled. Having a look at their portfolios will help you gauge their skills and check the quality of projects they have worked on in the past. This will also help you figure out whether or not they are suitable for your project. The best way to select ideal developers is to ask your iOS development company for developers who have worked on similar projects so that you can shortlist candidates, examine their portfolios, and hire iOS app developers who closely fit your criteria.
Step 8: Set Up A Clear Timeline
If your project is time-sensitive, setting up a clear timeline is a must. Make sure that you have a written agreement that outlines the project duration, delivery time, and deliverables. Remember to discuss your deadline in the initial meetings. This will allow you to avoid any disputes, speed up the development process, and meet your deadline promptly.
App Design & mockup (May take up to 2-3 weeks)
Development & testing (May take up to 4-7 weeks)
Submission to the app store (May take up to 1-2 weeks)
However, the total time to develop an iPhone app depends on your unique requirements, including app complexity, number of features, functionality, etc.
Bottom Line:
Going ahead with iOS app development is sure to open up a myriad of opportunities for your business to expand and scale to new heights, provided that you have the right developers to build an excellent app.
Though selecting developers can be tough, when you know of the best practices to hire the right iOS developers, finding suitable developers is no more an overwhelming task. The crucial steps outlined above can help you narrow down the search and find ideal developers for your iOS app development project. Once you develop an excellent app and market your iOS app effectively, you are all set to roll a successful mobile app!