Times have changed quite a lot recently and while once, people may have been reluctant to pay money for virtual events, today, online is the name of the game. From online meetings and conferences all the way to online concerts and online courses, there is no doubt that internet-based events are both necessary and popular today. As a business, you can also get a piece of this pie if you have something valuable to offer to your audience.
A webinar is a great way to connect with your audience and consolidate your authority at the same time. However, you have to make sure that you will, indeed, have an audience. Here are a few tips that will ensure that you get the most out of your webinar marketing.
Start On Time:
When talking about marketing, you probably already know that time is of the essence. However, it gains an even greater significance when events such as webinars are concerned. Your webinar is getting closer and closer by the day, so putting your marketing plans in motion cannot wait too long. However, timing event marketing campaigns is actually a rather delicate matter. Sooner is not always better in this regard, and you will shortly see why.
If you commence your event marketing campaign too early, there is the possibility that interested parties might simply forget about it or lose interest by the time the event rolls around. However, it also takes some time for your marketing message to spread and reach its audience. Getting familiar with the ideal timeline is thus highly recommended. Beginning the execution of your plan about 4 weeks before the event is a solid decision. This is enough time for your message to reach the ears of qualified leads and to even retarget them if you don't manage to convince them the first time around.
Nevertheless, remember that registration rates typically increase the closer the event gets, so you should save some of your best shots for the last two weeks of event promotion. The last week is an especially crucial period, so make sure you are active around this time.
Content Is King:
You already know that content is king in the marketing world. This motto naturally applies to event marketing as well. Relevant content is a great way to reach people who are already interested in what you and your webinar have to offer, which makes them more likely to convert. So find a number of topics that are related to your event and start publishing content right at the start of your marketing campaign.
Remember that your content marketing efforts should not end once a blog post or Youtube video is uploaded. That's merely the beginning. You need to actively promote your content to get the most out of it. So, optimize your content for sharing, and be sure to post it across all your social media profiles. Well-optimized social media content will earn you shares as your followers send it to their friends. Be aware of the most effective format for each social media site and repackage your content to fit it.
Finally, the last step is starting a conversation. Be sure to create a hashtag for your webinar to encourage people to share their thoughts and promote you effortlessly at the same time. It also makes it easier for you to follow what people have to say and interact with them as needed.
Reaching Out:
A webinar is not a one-man show and recognizing this is what's going to boost your attendance rates immensely. It's time to take out those network connections that you have and put them to good use. Do you know someone who could contribute to your webinar constructively? Why not have them as a guest and leverage their already established audience?
Connections can help your webinar marketing efforts in other ways, too. For instance, you can promote your event in a subtle way by including a link to it in your email signature block. News of your event will spread to your clients and partners seamlessly this way.
Finally, consider leveraging the power of influencers. If you already have brand ambassadors, this will be a breeze, but you can try it even if you haven't yet tapped into influencer marketing.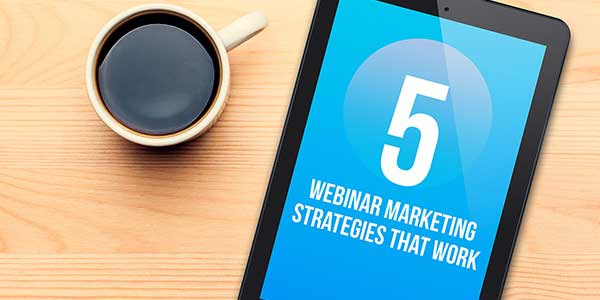 Clear The Way:
No matter how hard you work on reaching your target audience if you cannot convince them to click that sign-up button. Therefore, a crucial part of your webinar marketing strategy will be clearing the way leading to conversion. That is, creating an impeccable landing page.
Your landing page needs to have all the information one might need regarding your event, presented in a clear and organized way. It should clearly communicate what customers will be able to learn and why that will be valuable for them. If you don't have the capacity to fully manage the creation of your registration pages, looking into solutions that will facilitate the process will make your life easier. Working with professionals like Redback Connect will ensure that your event is well-planned every step of the way.
Finally, be sure that your CTAs do their job. There's nothing more frustrating than struggling to find where you can sign up.
The Day After:
For the maximum success of your webinar, your marketing efforts should not end when the event ends. In fact, your webinar should be just the start of a conversation. So, don't forget about the whole thing once it's done but gear up for the follow-up that will consolidate all your efforts thus far.
First of all, providing recordings of the event is incredibly important. Not everyone who registered will be able to attend the show live, so don't let them miss out. Even those who did attend will appreciate the gesture and might find it useful the skim the content once again.
In addition, don't forget to send out follow-up surveys. A thank you note will help you keep that customer you just gained while the survey will provide you with valuable feedback. You can even encourage people to share their experience online—another free way to gain some exposure and even more interested parties for your next online event.
Considering that online events experienced a definitive surge in the recent past, there's no better time to organize a webinar than now. However, ample marketing is essential for it to pay off. Optimize your strategy with these tips and get the most out of your event.