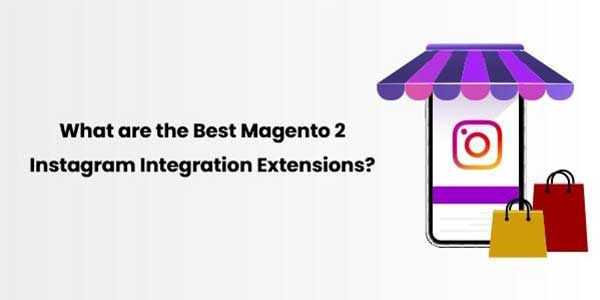 Instagram is a photo and video-sharing social networking website expected to have approximately 1.2 billion users globally by 2023, making it an excellent platform for eCommerce businesses to introduce their items to clients. It will be even better if they can effortlessly post their Instagram photographs right on the eCommerce store. It is possible with Magento 2 Instagram Feed Extension. They may use this to increase client commitment and close more agreements.
This extension can increase product sales and attract more consumers to your store by improving its appearance, making it a very powerful Magento 2 Instagram widget. Try integrating Instagram with your Magento 2 store to make your online store more appealing.
The Best 5 Magento 2 Instagram Integration Extension:
Here we share the 5 best Instagram Integration for Magento 2 extension that you can use right now – whether you're looking for something cheap or free.
1.) MageAnts

MageAnts Magento 2 Instagram Integration allows e-commerce enterprises to incorporate high-quality product images from Instagram into any page on their Magento store. Store administrators can arrange all product photos in single, multiple, or modified rows to suit company needs. Authorize this extension to display a professional and attractive Instagram chunk on any page and in any position, attracting clients' attention more effectively.
Key Features:
Enable Instagram photographs to be shown across your entire store, certain categories, or specific pages.
Limit the number of photographs that can be shown.
Possibility of displaying it on various CMS pages.
Using several hashtags or usernames to find images.
2.) Magecomp:

Magecomp makes it easy to add Instagram photographs to your Magento 2 store. It also allows you to include eye-catching graphics on any of your eCommerce website's pages or places.
Key Features:
Feature Instagram photos and videos on the homepage and product pages.
Compatible with the most recent Facebook Graph API
Get Instagram images and videos based on a user's username or hashtags
An image manager who has been approved has control over the photos that are displayed.
3.) Magenest:

Magenest's Magento 2 Instagram Feed is another option. This Magento 2 Instagram widget displays your Instagram photographs to attract customers to buy your stuff.
Key Features:
Import Instagram stories photographs to the gallery page
A variety of layout possibilities
Pin products using hotspots on photos
Customer engagement and produced orders are tracked in a performance report.
4.) Magepow:

Magepow is a premium Magento 2 plugin that combines your Instagram account with your eCommerce store by bringing all of your great and creative Instagram photographs into your store with an only click or by through relevant hashtags.
Key Features:
Allow for the display of Instagram images/streams on any CMS page
When hovering over an image, the number of likes and comments is displayed.
Extensions can be easily disabled or enabled.
Direct customers to your Instagram network and encourage them to follow you there.
5.) Solwininfotech:

The Solwininfotech add-on allows you to link Instagram to your online store. Another free Magento 2 Instagram widget to consider when looking for something to use.
Key Features:
Allows you to select a photo set to display on your store's front page.
To display products, place a gallery-style block anywhere in the store.
The number of posts allows you to control what appears on the interface.
What Are The Advantages Of The Instagram Extension For Magento 2?
So, if you want Magento 2 Instagram Integration, you've come to the right place. Read this comprehensive tutorial to learn how to improve your Magento 2 store's customer experience by displaying stunning Instagram photos. The advantages of the Magento 2 Instagram extension may be divided into two categories: those for customers and those for store owners.
Benefits For Customers:
Instagram has entered the e-commerce market. There's no disputing that Instagram is on a quest to make the app into a simplified shopping experience, with a fresh new menu shortcut, curated shoppable feed, and an entire host of equipment geared at promoting small companies.
1.) The Discovery Feeds Is Fully Curated And Shoppable:
Imagine entering a store where everything on the shelves was tailored to your specific style, wish list, and budget. Our Home feeds are personalized to our likes and dislikes thanks to the already established and super-savvy Instagram algorithm, which surfaces stuff the algorithm thinks we'll like most to the top of our Home feed.
We're entering a curated, personalized, shoppable location to apply that concept to the new Instagram Shop feed. User is bright to "Browse Shops," "See Editors Picks," "discover Guides," and
"Shop Collections" in the new shopping location, making finding inspiration and shopping right in the Instagram app much more accessible.
Instagram has exposed a way to proffer you more of what you're expected to buy based on previous interaction, the posts and companies you follow, and the engagement of people similar to you through this new feed.
2.) The Purpose Of Your E-Commerce Journey:
When social distancing initially began in early March, a survey by Engine indicated that consumers were spending 10-30 percent more time online on average.
After the COVID-19 limits were released, the scroll-to-shop trend continued, especially on Instagram, where the route from exploring to purchase is easier than still.
Brands may use Instagram accounts to create a portfolio of products and services that users can browse, bookmark, share, and even buy.
By assisting businesses in getting their products in front of the correct audience, we can help them succeed.
3.) Word Of Mouth (WOM):
It's easy to appreciate how impulse purchases are made when we think that Instagram is a realm where influence reigns supreme.
We might tell our closest friends, in the real world, family, and co-workers about a product we enjoyed.
This type of word-of-mouth advertising has previously been established to be effective. In fact, according to one study, 92 percent of individuals prefer referrals from friends and family than any other form of promotion.
Benefits For Shopkeepers:
Your determination to be able to draw extra clients.
The Magento 2 Instagram Feed Widget comes with a variety of essential features that will help you improve your store's aesthetic and customer experience, especially by adding fantastic features and a bit of additional flair to it, enticing more customers.
Fortunately, simply clicking on a post, the Magento 2 Instagram Feed Extension allow you to draw potential clients to your eCommerce site.
1.) There Are Many Designs And Layouts To Pick From:
Magento 2 Instagram Feed can assist you in creating a polished Instagram feed. Instagram media can be displayed on your eCommerce site in various ways. Whether you want a full-featured gallery in the main menu or just a basic Magento 2 Instagram Feed widget on each product page to display A.R. items, it's entirely up to you.
With this plugin, store owners may pick from various design options to suit their Instagram page dimensions and content displays. This functionality adds to the overall value of the extension.
2.) Use Of Hotspots To Highlight Products Visually:
Another valuable aspect of the Magento 2 module for Instagram Integration is that it allows you to pin featured products to each photo, similar to how shoppable product tags on Instagram work. Furthermore, this feature is useful when an image contains many things or when you want users to be sent to specific product sites when they click on a pin.
3.) Create A Magento 2 Instagram Widget To Show Postings On Any Page Of Your Website:
Photographs can be embedded anywhere on a store's website, including on any page and in any position. They can also post their Instagram profile photo from the Magento admin backend. This made tweaking and adapting this Magento 2 Instagram module a breeze. This arrangement will also help your business develop by attracting more clients.
4.) Show Specific Instagram Posts Based On Keywords/Hashtags:
You may also use Magento 2 Instagram Feed Extension to display Instagram photos on your site based on hashtags or keywords. This will supply customers with the relevant content they want, increasing consumer contact.
Using hashtags and keywords, store administrators may quickly manage all the images in the gallery on the backend.
5.) Keep Track Of Your Progress:
The extension gives you a detailed report. This shows how often each photo has been clicked and how often the product(s) depicted in the image have been added to shopping carts. Furthermore, it shows which photos and products have got the most attention.
Conclusion:
As you can see, this Magento 2 Extension provide store owners with the most advanced methods for better Magento 2 Instagram Integration with their eCommerce stores, making it easier for users to click on photos and be directed to product pages, where they'll most likely make a purchase.