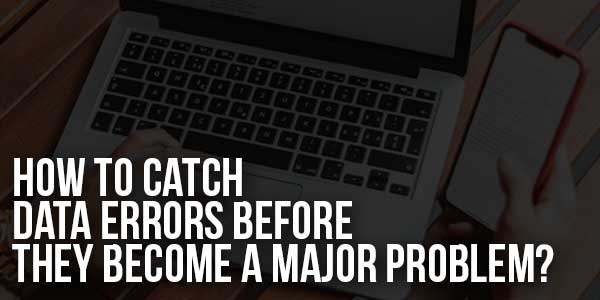 Data entry, one of the most viable and rewarding careers out there. The reason why data entry pays so well as a career is because the input of data is very important. You must make sure to enter the data carefully and double-check for errors. When entering data for a company, you are completing a task for them that is indispensable in value. It is important that all errors be caught when inputting data. Here are three ways to catch data errors before they become a major problem.
Proofread For Errors During Input:
It's important that whoever is responsible for entering data into the system actually checks for errors throughout the process of entering the data. Just as you would proofread an essay a second time after writing it, the person entering data needs to reread the data they have input after inputting it. This is a way for them to catch any errors that they may have made while typing the information into the program. It is absolutely necessary in order to prevent data errors, as the average person of course makes small mistakes.
Entering Data Slowly: Better Safe Than Sorry:
There should be no rush when it comes to entering data. The slower the employee works at entering data, the less likely they are to make mistakes. When a person is rushed, he or she makes small errors that can add up over time. You should make sure that you offer your employee ample time in order to complete the data entry task at hand. You will be happy that you did because in the long term you will have fewer errors in your data that take a significant amount of time to go back and correct. You will save yourself from having to use data error software in the long term. In the long term, you save time if you give your employee ample time to complete their data entry task.
Get A Second Pair Of Eyes To Double-Check:
There is nothing like a second pair of eyes for detecting errors. When you have someone else look over your work, he or she may be able to notice mistakes that would have been invisible to you. When you get used to looking at a certain amount of data, sometimes you don't notice the little subtleties in the data. A second fresh pair of eyes will notice small discrepancies that you glossed over mistakenly.
Entering data correctly is of crucial importance. You should make sure that you go slowly so as not to make mistakes. You should also double-check your work as you enter the data and you should have another person double-check your work for you, too. If you do these things you are likely to have a data entry result that it's free of any errors.