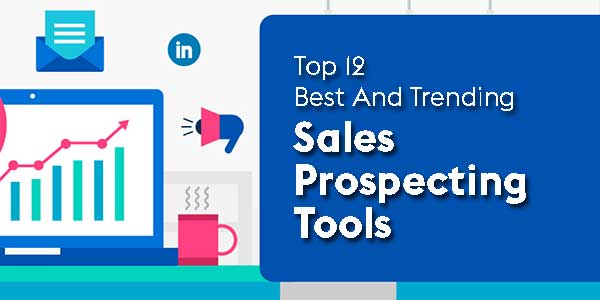 Business is a competitive race that all entrepreneurs have to keep up with. The ultimate objective is to keep your client list growing and make more money, and the only way to do this is through marketing. This is where sales prospecting comes in. Keep reading to find out more about sales prospecting as well as the best sales prospecting tools available.
So, What's Sales Prospecting?
When it comes to sales and business development, sales prospecting is the ultimate driver. You need to not only generate revenue but also bring more customers on board. Sales prospecting is the process of venturing into new markets and identifying potential customers. It is a straightforward process with a fair share of challenges. When you set out for sales prospecting, many people will say no to you. But if you are persistent and consistent, you will eventually get a good number of your prospects saying yes.
How Is Sales Prospecting Done?
There are many ways to get your sales prospecting endeavors underway. You could send emails or make outbound calls to your prospects and possibly convert a few leads. If you are going to do sales prospecting manually, it could be immensely challenging. Concerning human resources, you will incur a sizable cost.
Luckily, technology has made things much easier. You can automate your sale prospecting process and measure results. However, you will need the relevant software and tools. The best part is that there are a lot of sales prospecting tools available on the market, but you have to choose the right one for your business model. In this section, we will look at the best sales prospecting tools. Without further ado, let's get started.
1.) Troparé Sales Prospecting Tools:
Troparé is a reputable software development firm that provides a myriad of business solutions. This helps other businesses to survive in the ever-changing markets. With a special focus on sales, Troparé boasts of having exceptional business prospecting tools. For example, the mProspector is a prospecting tool from Troparé. It helps you to not only locate but also prepare and qualify potential partners. As such, you only focus on the leads with the most promise and are likely to convert them easily. Given that this is a location-based app, it always points you in the right direction. Furthermore, the mProspector app is user friendly. You can navigate through this platform with the utmost ease.
2.) Email Hunter:
Email Hunter is another excellent sales prospecting tool. It helps you to identify your potential customer's email addresses. As long as you have the company domain, you can find their email address. Besides that, using this tool is quite straightforward. You can use the Chrome extension to find whichever address you like.
3.) Headreach:
Do you prefer to search for prospects using the company website, name, as well as job position? You can rely on Headreach to get the job done. What's more, is that you can use this resource to connect directly with the decisions makers in the target company. Its job position features allow you to do that. Also, if you are interested in finding your prospect's social media profiles, you will realize that this tool is extremely friendly.
4.) Yesware:
If you'd like to focus on qualified leads, try Yesware. This software will make sending multiple emails easy. Apart from that, it will recommend the best time to send your email and increase the open rate. To make use of this feature, you need to start by entering your location, followed by that of the recipient. After that, head to the time zone section and you will see the recommended time to send your emails.
5.) LinkedIn Sales Navigator:
LinkedIn is arguably the largest network for professionals, and this includes marketers. What makes it better is that it is also a social media platform. The LinkedIn sales navigator connects with qualified leads. With additional filters, this prospecting tool can get your business to the next level.
6.) Owler:
Owler is more like a browser tool that helps with sales prospecting. So long as there are company profiles that you'd be interested in, this software can help you reveal potential customers and competitors. If you use this intelligent platform well, then attracting new business should not be a problem.
7.) Siftery:
If you can tell if your prospect is doing business with a competitor, then you'd have an idea on how to pitch them and win. You can use Siftery to know what your prospects need and customize your services to beat the competitors. This software can help you garner new customers quickly.
8.) Hemmingway App:
Ever wondered why the HemmingwaApp is popular among business owners? Well, it is a top sales prospecting tool. The site comes with a myriad of useful features. You can use it to edit and optimize email campaigns. Once you are done doing so, you can easily copy them on Outlook or Gmail.
9.) Clearbit Prospector:
Clearbit Prospector is a simple tool that helps sales reps to discover new opportunities. In matters of lead generation, this software delivers up to date information including contacts. Users can access up to 200 million contacts of their prospects. Since the entire process is automated, you certainly will not break a sweat when finding potential customers.
10.) EverString:
If you want to work with a prospecting tool that has exceptional analytical features. EverString leads from the front. This tool analyses data to pinpoint people who could be interested in your products or services. It boasts massive data that includes over 30 million verified contacts. With EverString, you can hit the nail on the head by getting in touch with the right people. What's more, is that you do not need an extra tool to accomplish this.
11.) Reply:
Reply is a combination of email automation and prospecting. You can easily add different types of leads to your Reply account using several clicks. Once that's done, you can proceed to create multichannel outreach for your prospects. What sets this tool from the others is that it allows you to gauge how interested your prospects are and give suggestions on which emails could lead to conversions.
12.) Prospect.io:
The top sales prospecting tools will let you use chrome extensions to land new leads. Aside from that, you can use these tools to look for website domains. Prospect.io then helps you create drip campaigns and you can get automatic follow-ups from such campaigns. The software is user-friendly and this makes it ideal for novices and beginners. The interface guides you step by step on your prospecting journey. If you like to use email campaigns when finding new clients, you cannot go wrong with Prospect.io.
In the past, prospecting could only happen over the phone. Sales representatives would have to walk door to door to get more customers on board. This was a labor-intensive endeavor and its efficiency was questionable. Thanks to sales prospecting software from renowned companies such as Troparé, the process is now easier. If you have been prospecting the old school way, it is time to change your approach. Automate the process by investing in prospecting tools and this will change the way you do business. These smart tools will save you a lot of money and time while helping you pitch and win new customers.