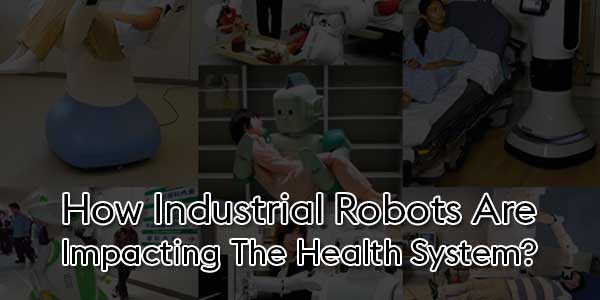 AI and robotics have proved to be increasingly sophisticated and efficient at doing what humans do, sometimes even faster and at a lower cost. Robotics has proved to be vastly affecting the healthcare system.
They have become part of the healthcare eco-system assisting surgeries, dispensing medication, disinfecting rooms, keeping patients and doctors company in hospitals. We have already witnessed robotic medical assistants monitoring patient vital statistics and keep nurses in the loop when patience needs special attention. As a result, nurses have been able to monitor many patients at a go effectively.
Robotic assistants in hospitals also help in entering patient's information into the electronic health record. In some hospitals, we see robotic carts moving through hospital halls carrying supplies. Here are more ways industrial robots are impacting the health system:
Knee Surgery System:
The FDA recently granted 510(k) clearance for Think Surgical Robotic knee surgery system. The system is an active robot with total knee replacement, including providing surgeons with implant choice options and offering full automated bone preparation.
It comes equipped with improved surgeon accessories, enhanced pre-surgical planning user interface, advanced bone model generation, and quick-change tooling. Its been a year since the FDA cleared the first generation. This second-generation has only proved that Think Surgical and dedicated to investing in advancing robot technology use. This has made robot-assisted surgery, especially in the orthopedic setting, a hot area in medical technology.
Robotics Help Stroke Patients Regain Balance:
An essential part of rehabilitation, particularly for stroke patients, is re-learning how to work. The University Rehabilitation Institute in Ljubljana, Slovenia, has been testing a unique robot that helps people walk again and regain their sense of balance.
The device is attached to the pelvis. It comes with sensors and six motors that accompany a patient's different movements. It is then controlled to follow the patient's movement without further influence to retain natural movement.
During stroke rehabilitation, doctors can apply corrective forces when they want to work on a patient's symmetry of walking. From a screen, the doctor can follow the patient's real-time performance, which helps them motivate the patient. Thanks to robotics, this program is assisting doctors in understanding and solving problems.
The machine aims to improve abnormal gait patterns and improve gait velocity and dynamic balance, important from day-to-day moving. Another prototype is also being developed with an exoskeleton for the legs. The goal of these machines is to help reproduce a complex mechanism of balance.
Blood-Drawing And Disinfector Robots:
For the longest time, 'care' wasn't entirely included in healthcare. Patients tend to interact with the nurses a lot during hospital stays. It has always been the nurses' responsibility to check a patient's vital signs, draw blood, ensure the patient's hygiene where needed, and monitor the patient's condition.
This was physically and mentally overwhelming to the nurses that the unpleasant experience was passed down to the patients. The introduction of robotic nurses will help bring back care in the healthcare system. These robots are designed to carry out monotonous and repetitive tasks effectively.
This will give the nurses more energy and time to deal with issues that need human decision-making skills, care, creativity, and empathy. Blood-drawing robots will also help relieve nurses from this exercise and perform better on lab tests.
Robotic lab assistants are considered better at drawing blooding because it doesn't take them long to locate the right blood vessel and draw blood with less anxiety and pain for patients. Robotics are also in pharmacological labs preparing and dispensing medications. In ample facilities, robotic carts are also used to carry meals and bed linens from floor to floor.
Conclusion:
Industrial robots will continue to advance the healthcare system when robotic technology such as humanoid is better advanced in offering personal care, training, and socialization. Hopefully, robotics can also be used in training hospital personnel to respond to trauma in case of an emergency.