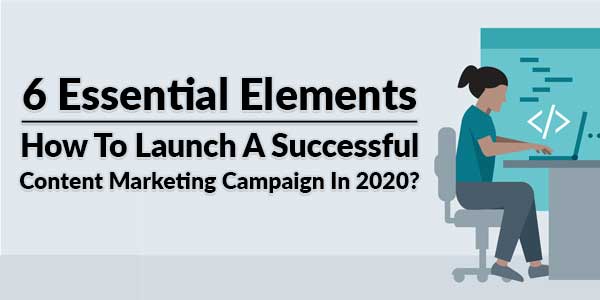 There are approximately 1.6 billion sites on the web and more than 70 million blog posts appear every month. This flood of content is overwhelming. While users have an infinite number of web sources to explore and brands to choose from, businesses are faced with the challenge of paving the way amongst thousands of pages that make it hard for every company to stand out.
However, there is a way out of it. To become more visible and conspicuous, one should approach the process of content creation mindfully. What you are telling your audience has an immense impact on how they take your company's image. With the right emphasis on the content, it is easy to build strong brand positioning and show your brand in a way that captures customer attention and pushes them to find out who you are.
The guide below is aimed to give the basic rules for creating engaging and purpose-oriented content for any type of business.
Step-By-Step Guide On Building A Content Strategy:
When it comes down to setting up a good content strategy, you might feel somewhat baffled by content diversity and a number of factors defining its relevance and usefulness to your business. But it is not hard to realize what content will benefit your very case best if you take the following steps:
Step 1.) Define Marketing Objectives:
Content is basically one of many tools for interacting and affecting the audience's mind and behavior. To leverage it smartly, you should clearly understand the purpose of the content. Businesses differ, and so do their objectives. Big enterprises attempt to win a few wealthy clients as much as startups strive to scale up and catch on with social media users, but each of them selects a different strategy to achieve it. So, the first thing to do is to align your marketing campaign with your long-term business goals. If your aim is brand awareness, the content should be tailored to increase the number of your followers on social media, whereas the need to boost sales will require a marketing strategy focused on better lead generation channels. Thus, your strategic vision and long-term goals should lie at the core of any marketing campaign and define its direction.
Step 2.) Research On The Audience:
The knowledge of your audience gives you the power to hit their weaknesses and appeal to their needs. The audience is a wider concept than buyers. It involves all individuals who engage with your brand directly or indirectly. While a segment of the audience will eventually convert into leads, part of it will remain inactive and indifferent but will still increase your brand awareness through word of mouth or in other ways. Therefore, at this point, your task is to figure out your audience's demographics, namely age, gender, location, etc. Alongside these attributes, you should look into their psychographics – their likes and dislikes, fears and expectations, beliefs, and interests.
Step 3.) Create A Buyer Persona :
Based on the insights you gathered during the audience research, now it is a great time to create a buyer persona, i.e. a general representation of your target audience. It happens that the audience may be quite diversified and so needs to be grouped into several categories, each standing for a separate buying persona. Strong brands appear to rarely have one perfect audience and deal with more than one audience persona when building their content marketing strategies. Another valuable thing to bear in mind is that you should not narrow your focus. For example, if it is a sports brand, you should think of all people who are one way or another involved with sports activities and not merely professional athletes.
Step 4.) Make A Content Plan:
First off, analyze what you published before. Reevaluating the content is necessary to realize what forms of content are most likable by your audience: videos, infographics, blogs, podcasts, etc. For instance, how-to videos and podcasts are both said to drive the ROI and have been growing fast in popularity in recent years. Before choosing the topics, you should think of the motives leading users to your website or social media profile: What can drive them to continue reading your content? There are four basic purposes of content: entertain, inspire, educate, and convince. With a clear mind purpose in, you can come up with content ideas, or topics, to match your audience's needs and develop a content roadmap. For instance, a typical content plan for a software development company would include a blog about the latest trends in the IT world, a bunch of articles about the events in the company's life, and some educational content targeted at IT community members. If your business operates in a niche with a high level of competition, it is also reasonable to think of competition-free content that is scarcely presented on the web and which you can turn to your advantage.
Step 5.) Choose The Best Content Distribution Platforms:
Omnichannel marketing is the best in efficiency and the hardest in implementation. Before starting off an omnichannel marketing campaign, it makes good sense to be present where your audience exists – Facebook, LinkedIn, Instagram, etc. – and analyze which platform is equally convenient for you. Since every digital platform is specific and oriented on a few types of content, you should select the one that fits with your voice best.
As an alternative or an addition, you can also engage emails in your marketing campaigns. Their advantage lies in direct contact with a specific customer, which at times gives better results than being promoted on social media. With automated messaging tools, you can schedule emails and always stay in touch with your target audience.
Startups might be faced with many difficulties at this stage as promoting a start-up with no extra money is almost impossible these days. In this case, the use of paid ads is desirable as it can give a strong start-off for any new business.
Step 6.) Measure Performance:
Once you have started a marketing campaign, it is vital to measure the KPIs to keep track of brand growth and visibility. Such measurements as downloads, views, shares, inbound links, etc. will let you understand how strong your company's position in the market is. The power of content marketing strategy lies in helping you fulfill your core business objectives faster as building the right relationship with the audience opens up lots of perspectives for quick business growth.