From a customer standpoint, all of us receive a lot of promotional emails on a regular basis. This tells that email marketing is still a significant approach in digital marketing campaigns. Not only this, but those plain repetitive promotional lines have even evolved in a completely diversified way in today's email marketing campaigns. We can clearly see that emails are now highly engaging, captivating, and enticing for shopping enthusiasts. They quickly whirl around the website to make the most of a personalized sort of offer.
Not only do customers bear out on the effectiveness of email marketing, but statistics also show the evidence.
Email marketing brings the highest ROI (return on investment) for small businesses. (Campaign Monitor, 2019)
A study of thousand small business owners showed that email marketing is the second most effective medium for building brand awareness. (Campaign Monitor, 2019)
In 2019, the number of email users mounted to 3.9 billion worldwide and is expected to grow to around 4.48 billion users in 2024. (Statista)
Since the email and newsletter strategy has improved over the years, more diverse than ever, it is one of the most beneficial digital channels to bring quick results.

Impact Of Email Marketing:
Besides sales, another impact that email marketing does is building a lasting relationship with potential buyers. When you send them an email all on a regular basis, it becomes a habit. They keep on waiting for your greetings and discounts on occasions. This is the end goal of all the efforts made on newsletters and email marketing.
Make sure to not become so obvious about selling at the beginning of your email connection. Focus on connecting only and keep growing to start profiting from it.
To make your email campaign more impactful, try to set your style. Go for a selective color palette, or stick to a recognizable illustration design associated with your brand only. This will make people take notice of your emails and build your brand identity. Also, this allows your email subscribers to remember you easily.
Send a welcome email to the new email subscribers. An auto-response email can greet people with a warm welcome. You can also send a personalized email using email segmentation for different types of subscribers. It will help you set a different voice for your brand without being too boring or generic.
So, with no more delay in creating an impactful email campaign; craft your email and newsletter strategy with the following practical tips:
Craft The Subject Line Professionally:
Among the heaps of emails descending daily in your emails, do you open an email with no subject? Not at all! Those emails are most likely to go unnoticed, especially when they are sent as a promotional message. Similarly, a bland subject line with no excitement might remain unopened in your customers' mailbox.
How to deal with this?
Write something that holds value. Make sure you make an impact on readers with the subject. Show professionalism in it, but you can be a little informal too. Be careful that being informal shouldn't make you unprofessional.
Endeavor to achieve a tone that makes you approachable as well as professional. Using a little less formal writing and include trendy phrases and familiar terms suitable for your target audience can be an effective way. However, you can be a bit experimental in your email marketing campaigns, so try to find a voice your readers respond to the most.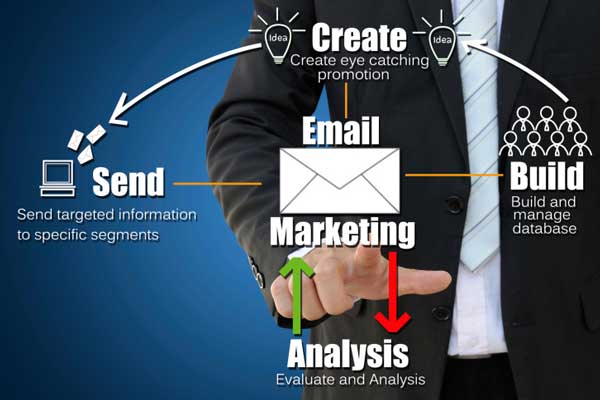 Use Words Carefully:
You should be careful about what words to use and what to not. Do not use words that make readers perceive your brand as inadequate or below standard. Eliminate words like "buy now," "cheap," "bargain," and other cheap catchy phrases. Instead, try to allure your subscribers with something they give value to. Remember, selling is the final goal of all of the marketing campaigns but not a direct goal in most of them.
If you try to lure people in a way that it becomes too obvious, they are most likely to ignore it or delete it eventually. You don't want your painstaking efforts to be thrown in the bin or listed as spam.
Make sure you do not use all caps in your email subjects. It makes users feel that someone is yelling right in their faces. Avoid using too many exclamation and question marks, as well. Use them only if they fit well. Beware not to use multiple times. You can add emoji to your emails to add joy factor, but it's better not to use it since there are still many email recipients whose devices do not support them. Of course, you do not want to confuse your recipients because of those weird squares and shapes.
Start A New Relationship With A Giveaway:
Free things are perfect to start a new relationship with your customers. With free gifts, you can connect with a potential client base. Depending on the nature of your services or products, you can decide what to offer free, a guide, an e-book, screen wallpapers, or a free service. Make sure whatever you offer free has value for your users and your brand.
Also, don't spend a lot of time or resources on something you offer for free. Estimate how much time you should devote to this campaign and try to stick to it.
Email & Newsletter Services:
You can use different email & newsletter services such as Mailchimp and SendinBlue. Let's have a quick introduction to both.
MailChimp is the most popular email service providers. Most people would recommend you Mailchimp for this service probably because they offer a forever free plan.
SendinBlue offers you an SMS marketing option along with the email marketing service. It's simple to use and a good option for newbies in such campaigns.
Conclusion:
Email marketing can offer valuable results to a company. With the right strategy and implementation, you would definitely bring results that exceed your expectations. However, it might take time, but you should know that you do not always get results after the campaign, but it keeps users aware of the brand and attracts them to make a purchase.
Once your audience becomes used to receiving offers, personalized suggestions, and value in any other form, they are likely to look forward to your emails and become a part of the potential and returning customer base.
Don't hesitate to try new ways. Keep taking healthy risks and try different approaches to articles, design, and anything else that makes you stand out from others. Try to make your emails interesting and fun with a hint of energy and creativity in them. Always prioritize quality over quantity. Send often but send something that actually engages.
The email marketing strategy has improved over the years, more diverse than ever. It is one of the most beneficial digital channels to bring quick results.