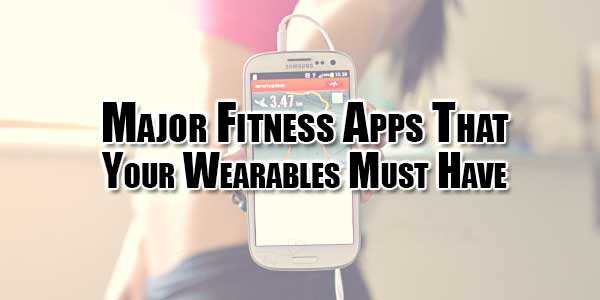 When it comes to fitness, most of us do not care about many things and these things may include healthy food, daily workout, right posture etc. However, we start taking care of it only when things go out of control and we have a long prescription left in our hand. This may seem a very horrifying and awful picture of their future to many, however, you can prove each aforementioned word wrong by bringing a change in your lifestyle.
Thanks to the ever-growing technology, which has brought a healthy lifestyle to our door-step and latest devices are making it happen for you, especially the wearable technology. You can have a tab on your fitness level through some apps easily available on all the platforms. Now, there are plenty of fitness apps around us to choose and it is very difficult to pick the best out of a pile.
At present, most of the top brands are offering fitness wearable devices and apps related to it and we have brought to you a list of major apps that are making a huge impact.
UP:
This app is not just topping the list for its iPhone five star rating, but it is worth the words of praise as it comes with a number of features. UP is designed to couple with jawbone wearable fitness devices. It helps you achieve all your fitness goals. It comes with a Smart Coach function, which makes you take wiser health decisions, and provides you feedback on your sleep, diet activity levels. Your higher inputs will make this app provide more output. So, make this app a vital part of your life and monitor your daily meals, workouts, especially when your goal is to get rid of some pounds.
Download For iOS | Download For Android
Couch To 5K:
This app proves to be a great savior for those who have already put numerous efforts to lose weight and reached to the verge of losing all hopes to get a healthy physic back. The training tools of Couch to 5K can turn anyone who is plus size into the owner of an athletic body. The beginning will be slow, but get speed gradually. This app offers much more than mere providing training program. Offering coach feedback is one of them. Couch to 5K leaves no stone unturned to motivate you and whenever you break your own record, it acknowledges and appreciates your efforts and zeal.
Download For iOS | Download For Android
JEFIT Workout:
This is one of the best apps, especially for those spend a lot of time in weight room and strength training machines. Coming with more than 1300 exercises and the ability to create your own workout routines or select from one of the pre-programmed alternatives. JEFIT Workout keeps a tab on your weight and reps from workouts done previously. With this app, it becomes convenient to detect the places where exactly you are making gains and where you require additional work. Cardio and stretching routines can also be tracked through this app, however, strength training is where this app really shines.
Download For iOS | Download For Android
Map My Run:
Another is a well-known tool to provide you a healthy body. This app is an exceptional tool whether you are a professional racer or a common health conscious fellow. It helps you provide the details of the tracking progress and routes. It maps each route as well as adds distances and elevation details. Map My Run will provide feedback on you speed, burnt calories and much more.
Download For iOS | Download For Android
Run Keeper:
To update you with each single detail including routes, elevation and more, Run Keeper uses GPS to track. This is the reason, it enjoys four and half rating on both iPhone and Android platforms. Using this app, you can simply set goals and follow training programs to boost your pace or have yourself ready for your next exercise. Feedback to the users will be provided through an audio during their workouts. This feature will eliminate your inconvenience to stop exercising, look down and check the progress.  Through this app, you can easily find local routes, perfect when you are travelling and want to get in a run.
Download For iOS | Download For Android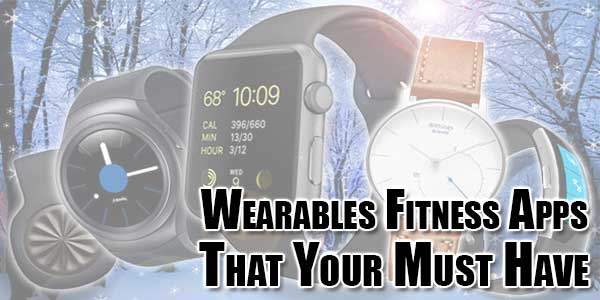 Fit Star Personal Trainer:
Unable to find workouts for your daily exercise, FitStar Personal Trainer provides you a wide collection of workouts right at your fingertips. This app works like a personal trainer for you and serves you with all the features. You are guided on each step through videos in which moves will be displayed.  This will help you create your own workouts in the Freestyle section. Other than this, you can try one out of a number of premade workout sessions. The widest range of videos helps a large community to achieve their fitness goals.
Download For iOS | Download For Android
Charity Miles:
This app helps people make you feel good, but when this help is based on the length of your run. Charity Miles is an app that makes you feel exceptionally great, especially when you have health benefits too. This unique app pledges to charity money to your favorite unit for each mile you cover. It helps you keep an eye on your progress as well as devote money for a good cause.
Download For iOS | Download For Android
Spring:
Other than music, there's nothing else that stimulates to have a tough workout. When perfect music beats come pump your heart up, the motivating effects are multiplied. This app was built to have your workouts faster with minimal added efforts. It does this by offering playlists that go with you cadence. Choose a faster tempo for an instant run overall or to run intervals. Spring will automatically trace your rhythm and find the music to fit it.
Download For iOS
Cyclemeter:
Cyclemeter has emerged as the best bicycle-ride tracking app. Its commendable accuracy and a number of well-thought-out features appeals to all the fitness enthusiasts who take part in more than one sport. Do not misunderstand its name as it allows you to monitor walks, runs and other activities. Available only on iOS platform, no calorie-counting component is included by Cyclemeter, however, you can access the data about your biking outings.
Loose It:
This free website and app is specifically designed for counting calories and logging exercise, and that is how it helps you shred some pounds, more specifically if you tend to eat fast food. It is not very long when Loose It came into existence; however, in a significant amount of time it has impacted the masses and guided them towards a healthy life style. Its best part is, it is compatible with a long list of other fitness devices and apps such as Nike+FuelBand, Fitbit devices etc and this enables you import your calorie intake and put a balance without any effort against your calorie expenditure.
Download For iOS | Download For Android
My Fitness Pal:
Probably, this awesome fitness app gets the highest rating among the listed apps and that too with a reason. MyFitnessPal is available as a website as well as an app and it provides you a wealth of tools for monitoring what and how much one has to eat and how much calories have been shed through an activity. Among an array of fitness apps, this is the easiest app to manage despite the fact that it carries the largest database of foods and drinks. No matter where you are, with the help of this app you can keep a track of the food you eat 24/7.