Building a website on WordPress is just a few clicks away, but, getting your website content that can rank higher in Google results is not that easy. With more and more websites trying to optimize their search engine rankings, the task at hand gets steeper.
With a blog post every 0.5 seconds, you can imagine the amount of cut-throat competition in blog posting and website content. With WordPress providing  SEO optimizations options and plugins, these tools can be leveraged for better rankings.
These plugins can help you in content curation, creation and promotion to attract higher traffic and rank higher in search engine results. We are exploring eight such plugins that can help you create content that is optimized for SEO(Search Engine Optimization).

1.) Yoast SEO:
Without a doubt, the no.1 SEO plugin on WordPress, it has earned the reputation of a plugin that can help create content that can guarantee high rankings. Working with Yoast SEO is quite simple. You can add the plugin through your WordPress and start optimizing the content on your website instantly.
Yoast SEO Features:
XML Sitemaps: As you create several pages on your website, Google indexes them, with faster retrieval of the pages from the website. To optimize your sitemaps for the Google search results, you can use the XML sitemaps feature in Yoast SEO that helps sitemap index and individual sitemaps to be updated automatically according to the content updated.
Readability: With this feature, you can increase the readability of your content on the website. This feature can be activated through the feature tab. Further, it uses Flesch-Kincaid Reading Ease to create easy to read posts.
Link Juice: You can increase the link juice through effective link support to external and internal link support.
Keywords: It helps in curating unique keywords by identifying the already used keywords on your website and it can also help optimize the keyword density.
Social Sharing: This plugin helps in the social sharing of the content on your website with in-built tools.
2.) Google Search Console:
This is a totally free tool offered by Google for monitoring the websites important metrics by the site owners. As soon as Google is unable to access your website pages, it will warn you with effective tips and tricks to fix these errors.
It helps you know the anchor texts, keywords and other vital parameters on which you are ranking on the search engine and where exactly you rank. It also helps you to improve your index coverage along with tools to analyze your web pages.
It provides AMP(Accelerated Mobile Pages) status reports, that helps you fix errors for AMP pages before appearing on the Google search engine results. Further, it provides Mobile Usability Report to you that can help you understand the usability issues of your pages on the mobile.
It also helps you find relative errors that can be fixed and helps to know how to fix them and keep the process aligned with the live content.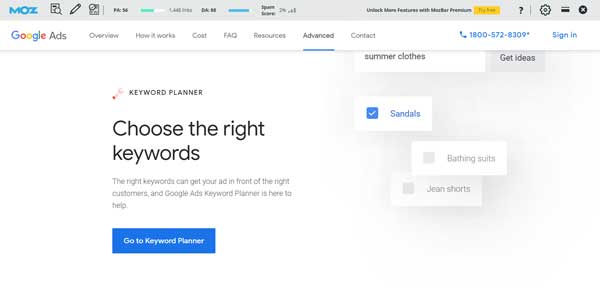 3.) Google Keyword Planner:
Get your own keyword ideas through the free keyword planner tool from the Search Engine Master itself-Google. Offered by Google Ads for its advertisers to know the right keyword to plan their campaign with, it can help curate the right SEO-based keyword for your website.
As a website owner, blogger or content marketer, you would be looking for the right keyword to target and this tool provides the same.

4.) All in One SEO Pack:
This is another popular plugin that allows you to add meta tags, XML sitemaps, one graph meta tags and image sitemaps to your websites. If your website is an e-commerce website, this plugin provides excellent support towards other WordPress plugins like Woocommerce.
It provides many addon options and that is the reason, it is considered as the second most popular plugin after Yoast SEO while being more cost-effective than the former.
5.) SEOPress:
It is a lightweight plugin that provides great features like open graph support, meta title description, redirects, content and image sitemaps, etc. This is a completely white-labeled plugin with no footprints and allows you to manage all your posts.
Some of the important features are:
Write better SEO optimized content through webmaster analysis of the content.
A better option to Yoast SEO when it comes to the premium plan.
Breadcrumbs are optimized by the plugin for better SEO.
Developers can leverage local business SEO.
Interoperability with e-commerce plugins like Woo-commerce and EasyDigitalDownloads.
You can leverage your app developed by mobile app development company by testing your pages for mobile usability through SEOpress.
Google structured data and Google Pages Speed V5 integration.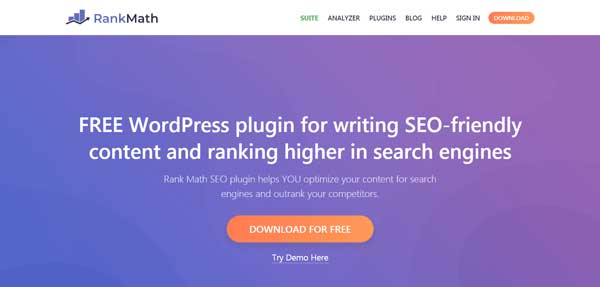 6.) Rank Math:
This plugin integrates Google Search Console to provide vital insights into your website content and pages right at your integrated dashboard provided by the Rank Math. Along with these tools, it comes with 404 monitors, Redirections, rich snippets, local SEO, XML sitemaps, etc.
Other important features are:
Each post and page runs through the SEO analysis tool.
It is quite easy to use with a simplified User Interface.
It provides special provisions for you to add alternative/title tags to your images.
It has a 404 monitor tool and a Redirection tool to identify the error leading to 404.
It automatically alerts the search engine as you make any changes to your content.
You can choose from six different rich snippet options such as Article, Product, Recipes, Events, Video, etc.
There is support for open graph and twitter cards with built-in Breadcrumbs.
7.) Broken Link Checker:
SEO efforts of yours are in vain if your site shows up with a broken link making your users end up reading "404". Google Search Engine crawlers would see this as a sign of weakness to your site and it may even be removed.
The tedious affair of going through all the content to finally find the broken link can take time and that is the sole thing not on your side. At this point, a plugin like Broken Link Checker can make a huge difference to your website.
Though it is advisable to use this tool for checking the broken links in batches rather than one go as it could risk of you missing some of the links due to constant scanning.
Other Important features are:
It provides the option of filtering and fixing the broken links.
All the links can be checked through a central page and you don't need to go to specific content for the same.
It also monitors the images, comments, custom fields and more for broken links and missing items.
It also restricts the search engines from following the missing or broken links.
8.) WordLift:
Probably the most innovative plugin of all the plugins in the list as it uses Artificial Intelligence to help marketers and developers to organize the content through structured data markup.
It improves the search of a particular content through the addition of internal links, rich metadata, and recommendation widget. Through this plugin, you can translate your content into Natural language that is identified by the AI-based machines like chatbots, smart speakers and smart voice assistants.
Other important features are:
It uses NLP(Natural Language Processing) for automating the data markup.
It helps you know your website's performance and errors related to it.
Google Analytics is integrated into it to help you gather and analyze vital data related to content and SEO.
It is used by many e-commerce giants and innovative firms like Airbnb, Amazon Audible, etc.
Concluding Lines:
Managing the SEO of your content can be a tricky affair on WordPress, without these plugins. But, you would be needing only one SEO plugin for your content and not all of them. So, you need to consider one of them based on functionality, features, and cost.
So, if you are looking to optimize your content for better SEO and higher traffic towards your website, you should be strategizing about the use of the right plugin for the same.