Running a business today is probably more difficult than at any previous point in the past several years. With record high inflation and a labour shortage, many business owners are looking for ways to slash costs and do more with less. Thankfully, there are strategies you can use to save. Below are four ways to save money on common business repair costs.
HVAC:
One thing most businesses will have to pay to repair at some point is their heating, ventilation and air conditioning system. Without that HVAC system, being able to safely keep workers inside the office or employees inside your store may be impossible. To prevent the need for repair bills in the first place, perform routine maintenance on your HVAC system according to a schedule. You can do things like replace air filters and clean different components on your own. Install a programmable thermostat so your system only runs when it's really needed. Seal up leaks around your buildings especially near doors and windows to put less pressure on your system.
Commercial Roofing Contractors:
Roofing repairs can also be quite costly. Improperly installed roofing could be blown off just from a strong wind storm. At that point, you may have to pay to have the roof redone completely with new roofing. Instead, make sure it's done right the first time. Look for commercial roofing contractors that have a strong reputation for doing quality work. If your roofing is installed correctly and is sturdy enough, it should last for years and years without incident.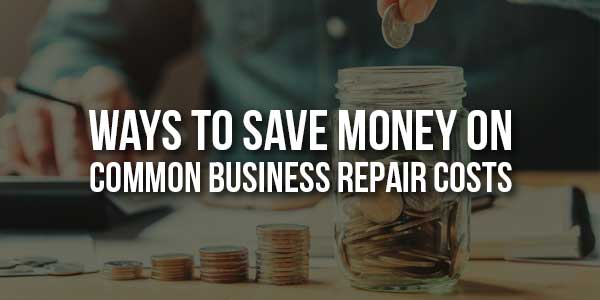 Company Vehicle:
Many business owners need to use a vehicle to perform their business. As such, car repair bills can become big issues that eat away at profits and badly affect productivity. To keep these repair bills at bay, never use a company vehicle for anything other than business. This will limit the amount of mileage you put on the vehicle and lessen the need for repairs. You'll be able to depreciate it using mileage and save a lot of money in the process.
Factory Equipment And Machinery:
If you run a factory, equipment and machinery that breaks down can cost you a lot of money. This isn't only measured in the cost of repairs. It's also measured regarding the amount of downtime your factory assembly line experiences. In this case, you should implement specialized factory analytics software that uses sensors to observe and assess the operation of your factory equipment and machinery. If the software detects issues developing, you can have them fixed immediately before a complete break-down actually occurs.
These are only a few repair bills you can try to lower to save money. Overall, be more cognizant of how what you do in your business affects things that could end up costing you money. Even things like repair bills can add up and wipe out profits.