Every functioning commercial kitchen must contend with their facility layout, type of service, work environment and volume of meals prepared and served. Within each kitchen framework, restaurant owners and managers can always make improvements to strengthen profits, gain customer loyalty and boost their food service reputation. To help illustrate this, here are three ways every commercial kitchen can improve.
1.) Communication Is Key:
Whether you struggle with poor kitchen design, the space is too small for the volume or you have a space that is big and bustling, communication is the key to success. While too many cooks may spoil the broth, establishing and assigning roles allows for the hierarchy of leadership to run the show. Kitchen staff can anticipate and effectively participate with fluid acuity when the communication is clear, consistent and open.
A smooth-running kitchen performs the dance of fast-paced movement transferring hot food items quickly and safely without incident. It does not matter the size of your facility. It takes effort to promote a work culture of communication that both opens channels and encourages feedback. It is also what saves the day when you achieve effective communication across all stations.
2.) The Right Tools For The Demands:
Your kitchen encompasses a high-paced diversity of functions performed in concert by as few or as many employees as are needed for peak periods. Provide them the right tools to get the job done. The best kitchens are those designed with the necessary equipment in the right placement. While there is fixed placement for such things as ranges, ovens and fryers due to the hookups and fire-safety vents, it is possible to establish stations with moveable stainless-steel tables and utility stations.
Other stationary fixtures are sinks, clippers, prep and washing stations since health code regulations require floor drains to be situated beneath the water sources. Some of the latest tools for organizing your kitchen include the latest technology in hydro construction products. Today, it is possible to create a cloud strategy to help you better understand every aspect of your service requirements using metrics.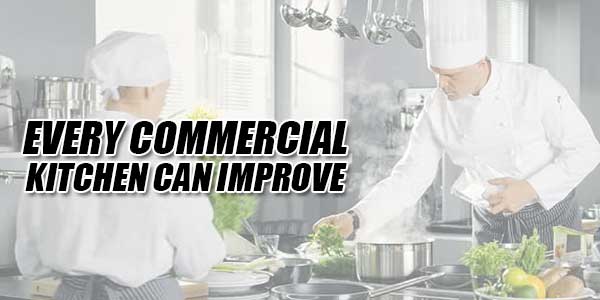 3.) Equipment Maintenance:
Best practices in the kitchen include a vigilant maintenance schedule both for safety and to comply with food code inspection requirements. Vent hoods and duct cleaning should be cleaned by contracted workers at least bi-annually. The ANSUL System also must be serviced by an outside contractor every six months. The grease filters contained within the hoods are easily washed and replaced clean once a week by your crew.
Deep fat fryers have recommendations from the manufacturer as to the frequency of cleaning. However, the level of use will dictate how often you need to either filter or replace the grease and clean the pans and interior cabinets. Annual contractor inspections should be performed on fryers at least five years old. This covers the inaccessible and more dangerous elements of the fryers.
4.) Food Inspections:
You can use your regular food inspections as a guide to help your kitchen remain in compliance as well as staying on schedule for cleaning and maintenance. A well-maintained kitchen tends to avoid costly catastrophes. Once your schedule of maintenance is established, your staff are humming along because they communicate effectively, and you have the tools they need to get their jobs done, you will have a more reliable basis for your metrics. If you can measure it, you can improve upon it.
Proper compliance is essential for any business, especially for those who work in the food industry. Take the time to consider these methods to keep your kitchen in perfect compliance while improving your overall service in the process.