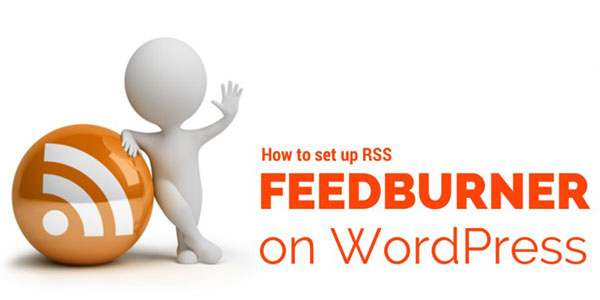 RSS stands for Really Simple Syndication.  An RSS feed is is your sites news feed or to put it more simply, an RSS feed gives you updates on all your favorites blogs, all in one spot, instead of having to visit each blog separately..or more importantly, it allows your readers to see all of your updates in one place.
Why Do I Need To Use An RSS Feed For My WordPress Site?
Readers can easily follow your content.
Helps to build your readership.
Allows your readers to easily share your content.
What Is Feedburner?
Feedburner is a plugin you can install on your wordpress site.  Your readers can subscribe to your RSS feed and get updates on all your posts automatically in one spot.
Why Should I Use Feedburner?
Most blogs already have a built in RSS feed.  However, if you would like to make it easier for your readers to subscribe to your RSS feed, Feedburner is the way to go.  Feedburner also allows you to track how many people are subscribing to your RSS feed, which is a plus if you're wanting to track your blog stats.
How To Create An RSS Feed For Your Site Using Feedburner?
Step 1.) Installing Feedburner On WordPress:
From your WordPress dashboard go to your plugins and select 'Add New'.
Search for RS Feedburner.
Select RS Feedburner from the search results, and select the 'Install'
Once the plugin has been installed it will ask you to activate the plugin. Select 'Activate'.
Step 2.) Setting Up Your Feedburner Account:
Select the RS Feedburner plugin and select 'settings'.
The instructions should tell you to create a Feedburner account if you have not already done so. Select 'Feedburner' from the create account options. This will take you to Feedburners site.
Add your site/blog address to the 'Address'
Select the 'Next'
On the next page, make sure your 'feed title' and your 'feed address' look correct.
If they do, select the 'Next'
You will be taken to a 'Congratulations' page. Select the 'Next'
Next, you will be taken to the 'Stats Configuration' page.
Select 'Clickthroughs' and 'I want more' boxes, and select the 'Next'
Step 3.) Adding Your Feedburner Account To Your WordPress Site:
From your WordPress dashboard select 'Settings', followed by 'Feedburner'.
Add your Feedburner account web address where it instructs you to do so, and click 'Save Changes'.
From your Feedburner dashboard select the 'Publicize' tab followed by 'Chicklet Chooser'
Here you will find many different options for adding an RSS icon to your blog. Selec
Conclusion:
Once you have your Feedburner account set up, and have incorporated it into your WordPress site you can start to track your subscribers.  The Feedburner RSS feed is easy to install and makes subscribing to your RSS feed a breeze for your readers.  Your readers will be delighted by the ease of use.
What has been your experience with Feedburner?  Share your thoughts below.