Show me the person who hasn't been on the road for a while and we… and we will wonder why! With the borders that seem pretty easy to cross and the variety of beauty out there, not traveling can be rightly considered as the 21st-century major crime. Yes, we know it involves a lot: the time to find the good deals that fit the budget, the people to go with, the accommodation to stay, the time, the insurance, the place to leave the pet, etc, etc, etc. Probably, we'd jump into an explanation of why dealing with those minor things could give a bigger return on effort but we decided to show, not tell. Following those 20 Instagram account will definitely contaminate your mind with the Travel disease.
How To Choose Out Of A…Billion?
Yes, you've read it right. According to 2018 statistics, the total number of monthly active users is more than a billion. No doubt, there are many worth-to-have-a-look travel accounts but this time we'll group the best ones into 3 travel categories: fashion, food, nature. You gonna love each of them!
Travel Fashion:
@muradosmann and his (already) wife @natalyosmann are a couple who shook the IG world upside down with their #followmeto project that quickly became super popular. They pioneered taking pictures in the traditional costumes of the places they go with the most famous landmark on the background. And yes, we've all tried to do that photo from the back while holding hands.
@gypsea_lust Lauren Bullen is truly living her dream, in style at that. From Morocco's sand dunes to Bali beaches, her camera lens absorbs the beauty instantly. And check the looks she has, a true travel style icon!
@taramilktea One of the most vibrant Instagram profiles on the web! Tara's photo collection includes pics from Asia, the Americas, Europe, and Australia. We're suggesting he definitely has a sweet tooth because all the yummies she snaps.
@samhorine. Sam Horine's account is an epitome of a head-to-toes Brooklynese. Stylish, extraordinary, and enormously talented photographer who captures the world in a way you'd want to follow. And this guy can easily be a style icon!
@marinacomes Girls, if you have no idea what to wear during the vacation, follow Marina for the inspiration for both clothes and places!
@lucylaucht Her minimalist approach will win your heart! Sophisticated inside and out, Lucy's shots are the little trip triggers.
@polkadotpassport Nicola's stamped-through passport has been to the incredible corners of the planet, and its owner rocked the trips in style.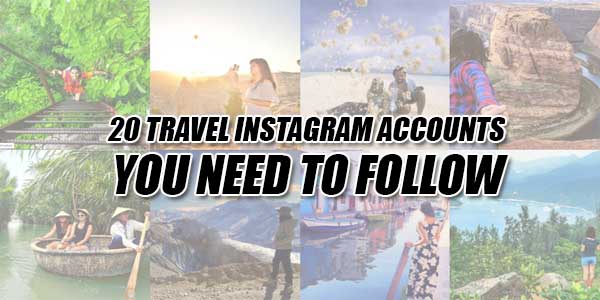 Foodie Corner:
@girleatworld If you're into the world's cuisines, Mel's account is a staple. She takes pictures of the typical food against the spots of the places she's traveling to so the followers guess where she is now. Melissa's colorful feed will be a great reminder for you to start planning and packing for the next great adventure with totally different flavors!
@food_feels It was hard to look at this one and don't salivate like a Pavlov's dog because the mix of a food photographer and traveler is a dangerous one. James Thompson, the behind-the-camera guy, surely knows how to trigger the appetite for food and travel with a sharp composition and crisp images. Is that what they call food porn?
@lostncheeseland Are you the one into French food culture? Like, you know, croissants, baguette, and a cup of delicious coffee? We've got something for you! Lindsey Tramuta will spoil your IG feed with endlessly elegant pics of the Parisian lunch life. Who doesn't need a pinch of chic here and then?
@alifewortheating A mix of everything with food having a special place. Served by Adam Goldberg, editor-in-chief of Drift magazine.
@driftmag And if we started about that. @driftmag is a printed manual for all the coffee addicts worldwide. London to San Fran to New York — they covered all the most caffeinated capitals of today's world for you to have the itch to check them yourself.
@breakfastinsydney After subscribing to this account, we guarantee you'll buy a one-way ticket to Sydney to try at least one thing from there. Good news is you know where to find everything!
Nature Adventure:
@earthpix is eye candy for an aesthet. One can find here everything: landscapes, cityscapes, and, most importantly, animals that you can meet during the trip to the places. All stunning quality!
@jackhardingJack Harding does an amazing job in combining nature and portrait photography. One can easily use his feed as a travel guide for the destinations and places he's seen. Even though he's recently into commercial photography and portraiture, his passion for landscapes is still there.
@bdorts You'd sing "What a Wonderful World" over and over again when you have a look at Bryan Daugherty landscape shots. He's taking on the American nature, and we don't think he misses any point. One can see the perfection in everything: composition, color palette, light, you name it. Even if you've never pondered how to make your own pictures better, he has the examples that teach.
@natgeotravel Now this is a must-follow account from a National Geographic magazine. It's like a library of the places you need to see while you can. The account contributors often shoot the typical activities from the areas, breathtaking views of nature, and the people you'd love to meet one day too.
@wonderful_places. The name kinda says it all. @wonderful_places is a perfect hub to get inspiration for the next trip, and you can choose the destination blindfold — you won't miss whatever you pick. Plus, it features the photos of the photographers around the world so you can drop them a line of appreciation. Or even send your photo hashtagged #wonderful_places to be featured!
@travelandleisure will up your wanderlust level to the sky! A crumble for thought while on the coffee break!
@nature_org. Another inspiring account for the nature lovers. Maybe this time you will go to places as a volunteer?