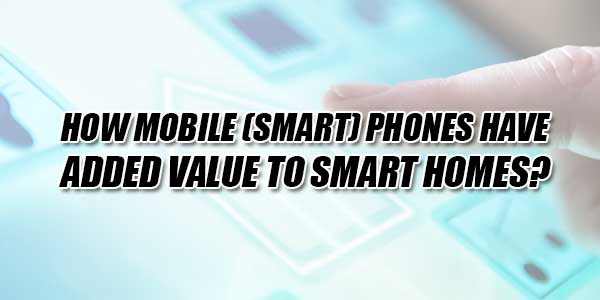 There are various components in your smartphone other than just applications. Features like Internet connectivity, cameras, and file storage, but when you get hold of the right apps, you can do much more than you can imagine. In fact, with accurate tools, your smartphone may even pay for itself. We live in an era where home devices are becoming smarter every day. These devices are installed with powerful computer chips within their stainless steel/plastic bodies, and they can communicate with each other and your smartphone via WiFi connectivity.
Here are six ways you can make use of your smartphone to control your home.
Control Your Home Appliance Remotely:
Let's say you forgot to turn the TV off because you were in a hurry to get to work in the morning. With a smart power outlet connected to your home Wi-Fi network, you can switch on or switch off the devices right from an app on your smartphone. This home automation technology can even let you know how much energy you utilise on your electronics, giving you valuable insights into which appliances and electronics are costing you the most each month.
Monitor Your Home Security With An App:
Ever wanted to keep a check on your house when you are not in town? With automated security technology, you can monitor your home security system 24/7 from your smartphone with a smart home security app. Some apps also give you a panoramic view of your home and alert you if any strange motion is detected.
If your home is supposed to be vacant during a family getaway, such apps can notify you with a phone text, call, or email. For example, a door is opened, or it detects unusual noise on your property. You can even see a real-time video of what caught the camera's attention right on your smartphone.
Control Your Lights & Ceiling Fans Through One Smart Home App:
Imagine if you were able to manage multiple devices in your house through a single application. Some mobile applications maintain partnerships with more with a variety of manufacturers giving you simplicity and convenience when it comes to linking to the devices you rely on every day such as ceiling fans, locks, sprinkler systems, lights and blinds. It doesn't stop there; the platform also enables multi-product connectivity; thereby helping your smart devices communicate in the same wireless language.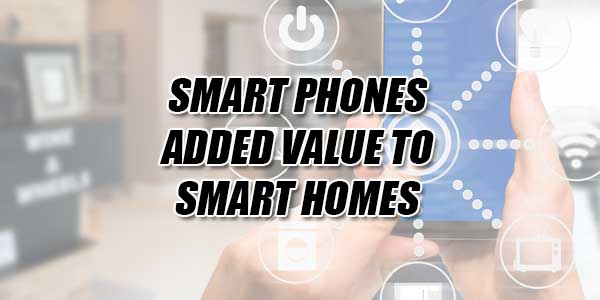 Lock Your Door Without A Key:
Do you ever leave home and constantly worry about whether you locked the door? Distressing about unlocked doors can be a cause of anxiety for anyone. But, what if you could control the door lock from your smartphone? This is made possible with a smartphone. With a smart door lock and an integrated mobile application, you have access to a virtual spare key, so you don't need to cover up anything under your doormat or flower vase. With this home automation technology, you can manage your locks from anywhere in the world with your mobile device.
Adjust Your Thermostat From Your Smartphone:
Not adjusting the thermostat when you leave the house can be a big waste of money. Smart thermostats are helpful in making this problem a thing of the past. With a smart thermostat and a mobile app, you can conveniently control your home's heating and cool right at your fingertips wherever you are. With a smart programmable thermostat, you can be in charge of the settings from your Android or Apple smartphone. Best of all, its advanced automation technology constantly learns to pre-heat/cool your house based on your behaviour and habits so that you are comfortable at all times. Coming home to a freezing house is the last thing you want after a long day at work, but with a Wi-Fi enabled thermostat, you can maintain your home's temperature settings effortlessly.
Respond To The Door From Anywhere In The World:
When you're on vacation, not everyone will be aware of the fact that you aren't home. Friends and relatives may drop by your home and ring the doorbell expecting to see you, but with a video doorbell device and mobile application, you can answer your door from your smartphone without actually being there physically. This smart device is a Wi-Fi enabled doorbell camera that lets you video chat with visitors through your smartphone.
Did you miss an important package because you were a few minutes late getting home? With a video doorbell, you can let the mailman know that it's fine to leave the delivery at your door.
A smartphone is quickly becoming an all-empowering device that can turn your home into a fully-controllable smart home. These six innovative home automation technologies can be used to control and protect your home directly from your smartphone. Though some smart home apps help make your home more efficient and secure, they, however, don't protect your belongings or property if something unexpected happens. Hence, choose a good quality home insurance coverage to enjoy peace of mind at all times.