The world of content marketing is a seriously competitive place.  And with the vast majority of marketers implementing similar strategies to market their work, it's crucial you provide content that's not only informative, but also unique, easy-to-read, and even aesthetically pleasing.
And we know this types of work doesn't necessarily come easy for a lot of marketers.
But with quality trumping quantity, and longer, value packed posts leading to bigger audiences and better rankings, it's critical to the success of your business that you put out content and maintain a site that not only attracts followers, but keeps them there.
And that's where your greatest content creation allies, the WordPress plugins, come in.
So relax and take a few moments to learn about some of the various plugins that can make your goal of high quality content creation easier to achieve.
1.) Editorial Calendar:

When you're creating lots of content, it can be tough to keep things nice and neat.  Scheduling, management, and organization can become quick afterthoughts as you burn through post after post, and before you know it, you can become lost in a swamp of articles and information that can drag down your ability to create content.
Thankfully, the Calendar plugin makes it easier to keep things under control.  Allowing you to keep up the pace of getting quality content out there and keeping your audience hooked.
Here's a quick break down of some of Editorial Calendar's features:
The ability to drag and drop
Provides you with the ability to manage content articles contributed by multiple authors
Let's you see all your posts and then they've been scheduled for publish
Quick access to seeing a post's status
Because remember, you can create all the killer content you want, but if you lose track of things, it will never see the light of day.  Your audience has expectations, and if you stop meeting them, they can move on to a different content provider very quickly.
2.)  Word Stats:

Words Stats is a tool that allows you access to a number of other tools designed to help you write superior content.
For example, the Reports Page gives you to select a particular author, and then gives you the ability to analyze the diagnostics for that authors work.  These diagnostics include:
The different types of articles and how they break down by percentage and number
Word count
Top keywords
A chart that shows the word count per month for each type of post
Even better, Word Stats provides you with a diagnostic table, linking you to articles that require attention.  Such types of posts will be ones that are too hard for typical readers to grasp, ones that aren't long enough or posts that are overloaded with keywords.
3.) Easy Content Templates:

Presenting your content in a format that's unique is crucial towards setting your site apart from others.  After all, with numerous content providers offering similar or even identical information, you need to do something that will attract them to your site over the others.  And with the ECT plugin, you can easily create unique content templates that will show off your work in a way that's aesthetically superior and easier to read and absorb than your competitors sites.
4.)  Edit Flow: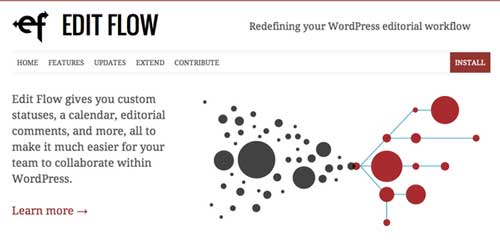 When you've got a team working for you and you're pumping out content left and right, it's critical to keep your workflow under control.
With Edit Flow's customizable features, you can perform such organizational wizardry as:
Organizing and editorial comments
Maintaining user groups
Updating and managing your monthly calendar
Keeping a close eye on user groups
Setting or altering notifications to your team
Monthly calendar is particularly useful when it comes to organization because it allows you to see an overview of the content you've created, including the status of a particular draft and whether or not a piece of work has been published.
The point is this, you can have the most talented writers in the game, but if your operation is disorganized you're going to struggle to get your content out and you will lost your audience.
5.)  SEO Internal Links:

While creating high quality and unique content is crucial your business's success, providing SEO Internal Links in your posts is a great way to make your work even more beneficial to your readers.  Simply by including links to other sites and articles that will supplement the information you're already providing within your own content, you're offering a tremendous amount of extra value to you audience which in turn will make them that much more appreciative and loyal to you.
And that's where the beauty of the SEO Internal Links plugin comes in.
With features that include:
A simple configuration
Customizable administration panel
Construct you own keywords list and matching URLs
You'll be able to not only create the most informative and unique website content, but easily and efficiently provide internal links that will make your audience see your site as among best content providers in the WebSphere.
6.)  Search Everything:

As with any business, the bigger it gets, the more challenging it becomes to keep track of things.  And when it comes to your every expanding blog, it get a lot trickier to remember what type of content you've already released in prior posts.
However, with the Search Everything plugin, you'll be able to easily recall what types of articles you've already published so you don't inadvertently repeat yourself as you put out new work.  Even better, with the new feature of "Research Everything", you're able to locate earlier relevant posts and create an internal link to them to supplement the new article you're working on.
7.)  ImageInject:

Killer content isn't just words, and considering the highly visual way people process information, including images into your blog is essential for attracting and impressing your audience.
But including an image or two into your posts provides more benefits than you might even realize.  Some of which include:
An image can break up your text to make for an easier reading experience.
A graphic image can serve as a way to more effectively explain an abstract concept.
Providing additional SEO benefits.
So How Does The ImageInject Plugin Work?
Simple.  ImageInject allows you to retrieve photos from Flickr database relevant to a particular post and insert them into your content.  Gone are the days of having to use your own pictures or wasting time surfing the net as you try to find a semi-decent image you won't get in trouble for using.  With ImageInject, the images or photos are brought directly to your site's dashboard, allowing you to quickly choose the best image and put it into your content.