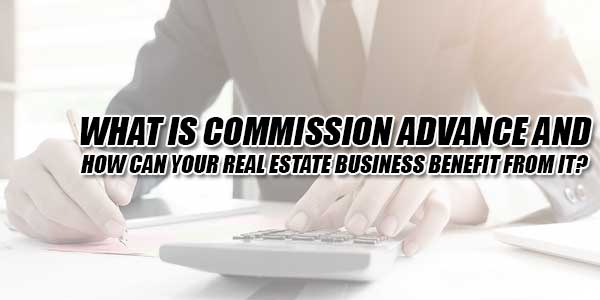 Are you in the real estate business? Then you are probably aware how difficult it is to continue with business in the intermediary period between deals when you still have not received your commission. In a highly competitive scenario, a slight change or shortage in the cash flow can jeopardize business continuity considerably. Lack of steady funds is one of the primary challenges that today's business owners face. If you are struggling to provide for your business activities in a similar situation, you can consider realtor commission advance.
Irrespective of whether you are a real estate agent or a broker, an advance commission will enable you to secure the necessary cash flow for the smooth functioning of your business.
What Is A Commission Advance For Realtors?
It is best described as a financial tool that makes it easy for real estate agents and brokers to convert the fund, which they have earned as a commission (but have not received yet), into cash for a fee which is based on the estimated settlement date. Since it is not a loan, realtor commission advances no credit check required. It is one of the most beneficial options available for real estate brokers and agents now.
What Are The Main Benefits Of Realtor Commission Advance?
Commission advance has been designed to specifically bridge the gap in cash flow between contract signings and closings. Here are some of the primary benefits that realtors can derive from it:

Financial Security: One of the significant challenges that real estate agents have to face is the long delay in receiving the commission after they finalize a deal. It takes time to process the payment since each transaction entails quite a few resources, time, and money. However, the funds that keep the realtors' business sorted can get exhausted in this intermediary period. This commission can help the agents to steer clear of downtime which typically results from fund shortage. Timely cash infusion can help to keep the business functional.
Fast Approval: This type of advance does not require extensive paperwork or appointment or discussion sessions at the bank for the funds to get approved. In fact, a simple application from the real estate agent is enough to get the process started. Also, the approval process is usually quite fast, and the fund is processed quickly too.
No Credit Check: As said earlier, there is no credit check involved as this is not a loan. There is no credit rating to worry about that can potentially impact the realtor's eligibility for getting a commission advance.
Lesser Business Debts: More often than not, business owners, especially those who have just started out in the industry, tend to borrow money from various sources or apply for business loans when they are faced with difficulties due to depleting funds. Commission advance can help them to avoid taking out loans at high interest rates which will be tough to repay later. Some business owners also go looking for venture capital, which causes them to lose control of their own business.
Easy Marketing: Real estate is a highly competitive sector. Thus, agents and brokers are always looking for ways to smartly market and thereby grow their businesses. Marketing is not exactly cost-effective, but business owners cannot put it on hold for months until they receive the money from the commission. Applying for a commission advance can help to continue with marketing as usual and secure profitable deals in that time.
What Factors Should You Consider For Choosing The Right Commission Advance?
No company should charge you more than a discount fee. Inquire about hidden costs.
You should not be asked for a credit check.
Same-day approval should be available. Most companies approve the deal within a couple of days if not on the same day.
The application process should be very simple. You should get all the assistance you need while preparing the application.
You should not be tagged with a minimum or a maximum size commission for the advance. There should be no minimum fees either.
You should be able to apply for more than one advance deal. Each deal should be treated and assessed separately.
No matter which company you choose, make sure that you read and understand all the terms and conditions thoroughly. Consult a financial advisor if required and read the company's reviews and client testimonials before signing the papers. Choose a deal that serves your requirement the best. Since commission advance is an easy solution to a common industry problem, many realtors deem it to be vital to their business. It is a cost-effective financial support system that you can rely on. There is no need to increase your business debts by taking out more loans. Try a commission advance instead.