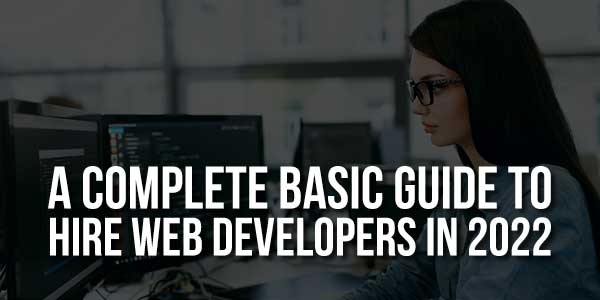 We live in a world getting digitized every second of the day. As a result, there are a lot of companies that feel the need to hire the best web developers. Businesses must adapt to the changing world in order to survive in the industry
In simple words, a web developer is a person who builds or develops websites. In general, they collaborate with web designers and work alongside them. After they have finished their designs, the task becomes to manifest them into reality.
The best web developers must have expertise in various programming languages, technical frameworks, and computer databases for proper execution. In addition, a web developer can have expertise in one or more aspects which helps to classify them. However, there are three types of web developers- front-end, back-end, and full-stack.
What Is The Purpose Of Hiring A Web Developer?
There are two very pertinent reasons why you must hire a web developer.
First, it will help you save a lot of time that you can invest in some other tasks.
Second, technology today is very advanced, and you might need help with specific issues and gaps.
These two are the standard and typical reasons. There can be more concerning the industry you need a website for. However, no matter what the reason, your focus should be on how to find and hire a web developer. While making your choice, you must remember the primary objective is to ensure your projects work smoothly.
What Are The Steps Of Hiring Web Developers?
Define What Are Your Requirements Precisely:
You must be clear with what you need. Before you jump on to hire someone, define your needs regarding the project. Without clarity about the project objectives, it becomes difficult for web developers to deliver proper outcomes. Hence, eventually, it is your money and time that gets wasted.
Moreover, you need to ensure that you have some knowledge regarding the requirements as per the technology. Only if you are clear about all the criteria will you be able to choose the fitting and best web developers or development companies.
Look For Candidates Relevant To Your Project:
Hiring web developers is not the end of your worries. First, you must remember that you will be working together. They are your technology partners and will remain a part of your company throughout the website development process. Therefore, you must make sure you choose the fitting candidate.
The Engagement Model:
Many web development companies all around follow the engagement model to offer their services-
The expense for Time & Material: As per this model, companies just need to spend money on the various resources and time required by a developer to build the website.
A Dedicated Hiring Team: In this model, you have the authority to determine the entire project's period. You can decide within what time the project needs to be completed. As per your definition, web developers can provide exclusive services if required.
Fixed Hiring Expense: Here, you can have a set price and time that you will spend on developing your website.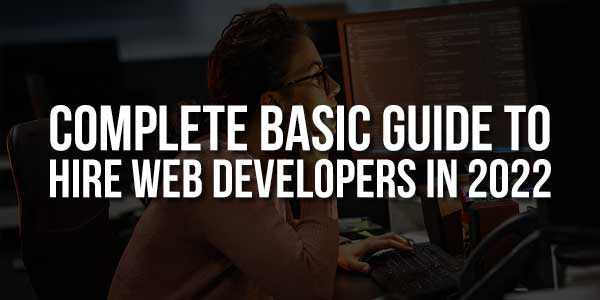 Now You Can Start Looking For Web Developers:
It is best to search for companies that provide offshore web developers. You can hire web developers from these companies on the following platforms-
GoodFirms: You can find a list of development companies and services on this platform. Moreover, prior clients also post their reviews regarding the services they received. You can find the fitting web developer for your project following the list and reviews.
Clutch: This is a very well-known platform. Companies who want to hire can look for reviews regarding the experiences and services of web developers.
Shortlisting And Interviewing Candidates:
Once you have decided upon a few web developers you would like to work with; you need to shortlist. Then, you can mail the development companies any queries that you have. They, in turn, can send you a list of candidates that you could interview for the further process.
You can ask them questions to test their technical skills and competence during the interview. Also, you can discuss their availability, experience, and the like.
Hiring The Candidate:
After the shortlisting and interview, you are likely to find a suitable candidate for your project. Once you have decided on the fitting developer, you can begin with the hiring process. There will be a lot of legal paperwork to be taken care of. You will need to arrange for aNon-Disclosure Agreement and the Service Level Agreement for the web developers.
After the legal aspect is over, you need to orient the web developer. You must help them become a part of the organization and cooperate with him.
Payment Structure:
Once the hiring and onboarding are over, you must decide on the payment structure. It is necessary to be clear on the payment dates and the total amount. You must review the current pricing structure for web developers in advance. You can assess the market value and then pay them accordingly. Also, make sure the payment structure aligns with your business expenditure.
To Wrap Up:
In today's digital world, anyone is capable of building a website on their own. However, hiring a professional web developer is essential for business ventures. An expert has the experience and skill to ensure the promising outcomes of your project.
They are capable of doing things that you might not be able to. Your job gets done within the deadline and that too quite efficiently. The entire process is less time-consuming. Hence, you can focus on some other task at hand.
This article tried to shed some light on how to hire the best web developers this year. Hiring one can be a little intimidating the first time. However, you are bound to get better with experience.
Moreover, with time you build a cordial relationship with the web developers. Having a good relationship makes it easier to work alongside. Hence, if you follow the steps listed above, you are good to go!